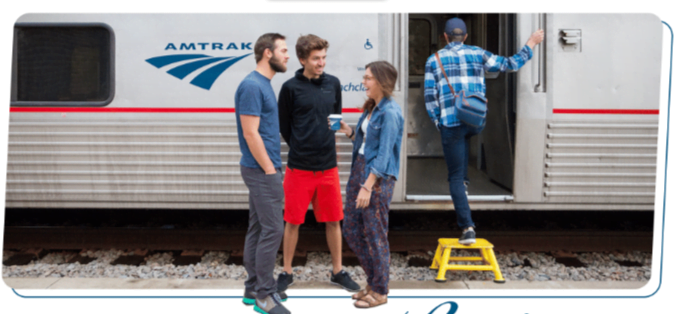 Many students fill the seats of Amtrak trains, especially during the school year. It is an ideal, quick way to go back and forth between home and school. It's also a great way to get away from campus for other reasons. Amtrak stations are in close proximity to several college campuses across New York State. SUNY Buffalo State College is only six miles from the Buffalo Exchange Street station, Vassar College is three miles from the Poughkeepsie Station and some universities are even under a mile away from the nearest station – like Union College to Schenectady station. See where the closest station is to your school here.
Additionally, many schools offer connecting services like shuttles, ride shares and public transportation. There is always a way to get home using Amtrak and it's the perfect option for those who do not have their own vehicle! Plus, students age 13 to 25 with a valid student ID are eligible for 15 percent off the lowest Value or Flexible Fare when you book your travel at least three days in advance.
New York By Rail Publisher, Tom Martinelli, surveyed six students who use Amtrak as their favorite way to travel home during school breaks. Here's why they choose Amtrak.

Q: How did you get to the train station?
A: I take the complimentary shuttle provided by Vassar College to the Poughkeepsie Train Station. It's only a three-to five-mile trip.
Q: Why do you choose Amtrak?
A: To receive Amtrak Guest Reward® points that I use to cutdown the cost of trips. Also, one time I missed my stop. The next one was half an hour away, and it was already past 10:00 p.m. I was distraught, however one of the Amtrak employees calmed me down and contacted someone from the upcoming station, explaining the situation. They were able to put me on a train back to my destination free of charge. That was above and beyond, and I want to sincerely thank them again.
Q: What is the purpose of your trip today?
A:I am taking a leisure trip to meet a friend at Penn Station. It is a lot more convenient than Grand Central Terminal.
Q: How did you get to the train station?
A: I took an Uber from campus. However, I usually take a shuttle back.
Q: Why do you choose Amtrak?
A: It's the easiest way to get from Poughkeepsie to Northern Vermont! I look forward to taking Amtrak® to the Burlington when they extend the service from Rutland. On top of that, I get to avoid driving. It's an easy way to get home, a sustainable mode of transportation, and I can enjoy the views from the window. If I'm feeling productive, I use theWIFI. The last time I was going home, I met another college student who attends the University of Vermont. We had a mutual friend. It made for an interesting ride.
Q: How often do you ride Amtrak?
A: I take it for all of my breaks to get home. A lot of other Vassar College students take Amtrak as well.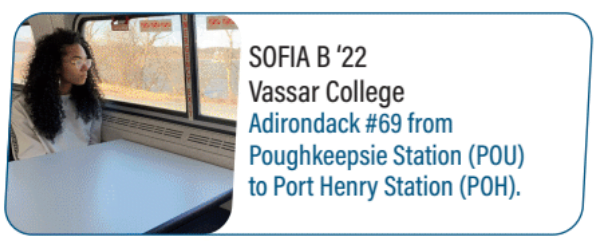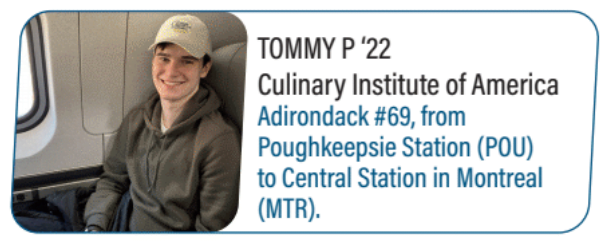 Q: How did you get to the train station?
A: Uber from campus.
Q: Why do you choose Amtrak?
A: Right now, I am traveling to Montreal to explore their restaurant scene. Amtrak gets me where I need to go without spending a large amount of money. I can enjoy sitting back relaxing, and not worry about driving. I am excited to use Amtrak to visit New York City with my friends in the future as well.
Q: How did you get to the train station?
A: A friend drove me from campus which was a three-hour ride.
Q: Why do you choose Amtrak?
A: I am familiar with Amtrak from taking it often when I was younger. It is a convenient way of getting home. I don't have to bother my parents to drive to [my school] to pick me up. Plus, Amtrak allows me to be productive. I can do my homework on the train to get ahead of it.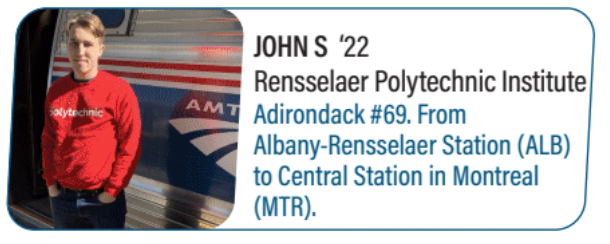 Q: How did you get to the train station?
A: I used a ride share from campus. However, sometimes I take the campus shuttle.
Q: Why do you choose Amtrak?
A: I like to stand up and walk around. It is also cheaper, and there's more space than flying. I enjoy using the WIFI to watch Netflix and relax. I also often take Amtrak from Rensselaer to New York City in the summer to visit friends.
Q: How did you get to the train station?
A: Ride share from campus.
Q: Why do you choose Amtrak?
A: It is the best way to go home for a weekend trip. I don't have to drive. I can walk around, grab a bite to eat with the food service onboard, and catch-up on my favorite Netflix shows. I take Amtrak a few times a year for breaks and to visit my family. I love the beautiful views of the lighthouses, mansions, and historic homes along the majestic Hudson River.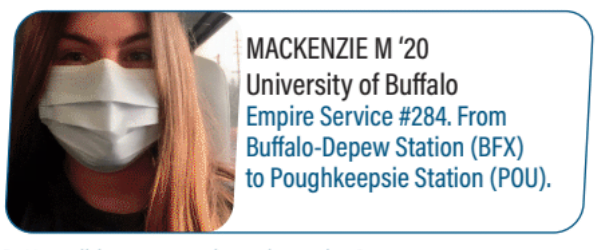 Students Save 15% In New York on Amtrak
Need some home cooking? Haven't seen the folks in a while? Amtrak gets you home for less. Enjoy comfortable, spacious seating, outlets to keep your devices charged and free WIFI on most routes. Carry on two bags and check two bags! Free laundry is just a train ride away.
Students, ages 13 to 25 with a valid student ID, are eligible for 15% off the lowest Value or Flexible Fare when you book your travel at least three days in advance. Tickets are available at Amtrak.com, via the Amtrak mobile app, at station ticket counters or by calling 1-800-USA-RAIL. Go to
Amtrak.com for full terms and conditions.
Hoping to travel with Amtrak but also need to carry sports gear? We have everything you need to know about what you can bring, what size it needs to be and what costs extra.
Sports Gear on Amtrak
Amtrak stations across New York State are the gateways to outdoor recreation. Small items, like running shoes or skates, can go on the train with you, but bigger items, such as snowboards or bikes, require planning.
Here's a quick overview of Amtrak's policies regarding some of the more common types of sports gear. For more details, visit Amtrak.com.
Bicycles
Not all trains permit regular bikes on board, though most allow folding ones. A collapsible bike counts as one of your two carry-ons. It must be smaller than 34″ x 15″ x 48″ when folded. If you don't have a true folding bike, your bike needs to weigh 50 pounds or less with a maximum tire width of two inches. You can check it in a bike box (available for $15.00 at most staffed stations) or a bike container on the Lakeshore Limited for $10.00. Sorry, no recumbents, tandems or any bikes that do not meet standard bike dimensions and fit in a bike box.
Golf Clubs
Check your clubs or carry them on, depending on the station and the train.
General Sports Equipment
Balls, bats, cleats, fishing rods, helmets, pads, rackets, in-line skates, skateboards, hockey sticks and lacrosse sticks can all be carried on the train if
the item is not considered a weapon or hazardous, weighs 50 pounds or less, and dimensionally is not more than 28″ x 22″ x 14″. Bigger than that, you'll need to check it.
Ski and Snowboard Gear
Skis/poles and snowboards must be in a bag or hard-sided case. You can carry on your snow and water skis, snowboards, boots and ski poles if they weigh 50 pounds or less and are 72″ or shorter. Otherwise they need to be checked.
Surfboards and Wakeboards
No carry-ons. Surfboards and wakeboards must be checked in a protective cover or hard-sided case.
Note: Only the Lakeshore Limited has a baggage car in New York State, so if the sports equipment you wish to transport needs to be checked, you'll need to ride that train.