By Malika Rao, Special to Poughkeepsie Journal Published 5:56 a.m. ET Oct. 19, 2018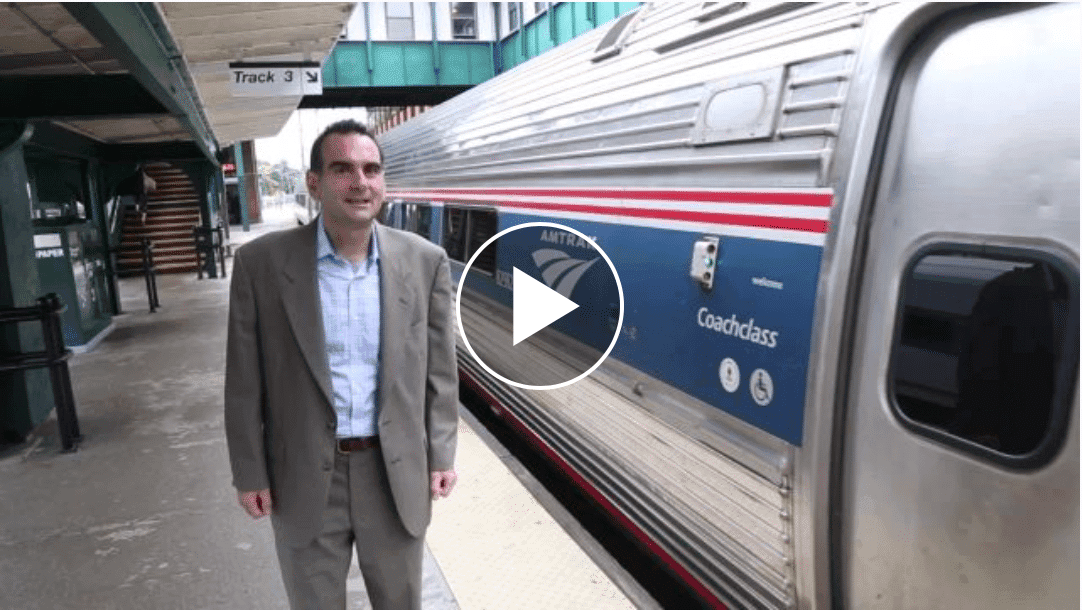 Tom Martinelli, publisher of New York by Rail Magazine talks about his passion for train travel, and his favorite rail destination. (Patrick Oehler, Poughkeepsie Journal)
A longtime Hudson Valley resident, Tom Martinelli has turned his love of traveling throughout New York state into his business.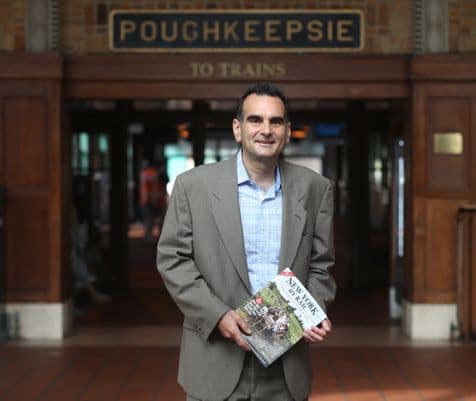 (Photo: Patrick Oehler/Poughkeepsie Journal)
Martinelli, a Poughkeepsie resident, collaborates with Amtrak on New York By Rail, a free magazine that publishes each spring and features travel-by-rail destinations, profiles of train enthusiasts and local history stories, along with listings of fairs and festivals throughout the year in partnership with I Love NY, which promotes tourism in the state.
The magazine has received 10 consecutive national Awards for Publication Excellence (APEX).
Martinelli believes the accolades speak to the positive feedback from both Amtrak officials and passengers.
"Amtrak gets a lot of great feedback from the publication, and train riders reach out to us all the time," he said.
New York By Rail print magazine is distributed for free on the backs of Amtrak train seats, train stations and New York State Thruway rest areas. Martinelli also maintains a digital presence through NewYorkByRail.com.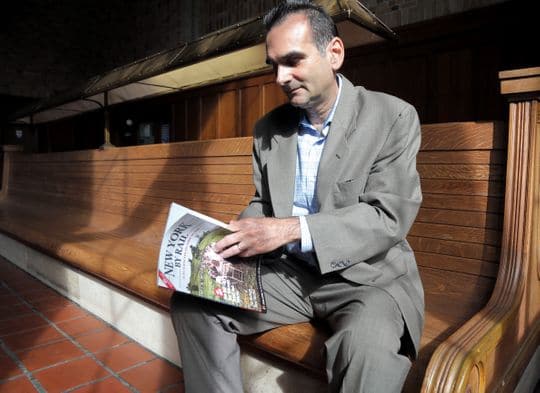 Tom Martinelli thumbs through the 15th anniversary edition of New York By Railmagazine at Poughkeepsie train station on September 13, 2018. (Photo: Patrick Oehler/Poughkeepsie Journal)
The Yonkers native is a veteran in the publishing industry. He started Martinelli Custom Publishing, now known as Content Studio at Martinelli Custom Publishing, after 16 years working with his family as publishers of Hudson Valley Magazine.
His company has had a long collaboration with Amtrak, publishing New York By Rail for the last 15 years.
The magazine was developed through a relationship with the upstate New York marketing director of Amtrak, who had an idea to start a magazine that promoted destinations within his territory, including New York state and parts of Vermont and Canada. At the time, Amtrak was only publishing brochures that covered destinations in all 50 states. Amtrak also produces The National, a magazine published by Ink that features rail destinations across the country, along with fiction, poetry, essays and photography.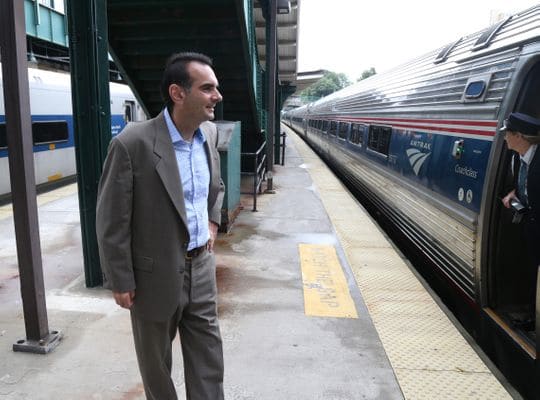 A rail travel enthusiast, Tom Martinelli admires an AMTRAK train as it pulls into the Poughkeepsie train station on September 13, 2018. Martinelli is the publisher of New York By Rail magazine. (Photo: Patrick Oehler/Poughkeepsie Journal)
Martinelli was not a train enthusiast when he started the marketing firm, but has become an aficionado now.
"I would occasionally take the train into Manhattan and other Amtrak destinations for business," he said, "but now I am a lot more aware of the value of trains. When you work on something for 15 years, you get to know the value of the product. It's my job now to keep up with it."
According to Amtrak, some 100,800 passengers used the rail service in Poughkeepsie last year.
Martinelli said he loves working in the travel industry, which he calls a "fun, positive industry." Working with Amtrak has given him the opportunity to learn more about traveling throughout upstate New York by train.
"Amtrak connects you to places that are not that far away, and you get to learn about different destinations," he said.
If he had to decide, he said the most interesting place in New York state he has visited is Saratoga.
"It combines a lot of the elements of a big city with a small town," he said. "It's got what you would expect from visiting a major city, such as restaurants, nightlife, shopping and spas, but it's in a rural area."
Saratoga also has history, with the Saratoga Battlefield from the Revolutionary War, entertainment venues such as Caffe Lena, where singer Bob Dylan once performed, the race track and some national halls of fame.
Montreal is another of Martinelli's favorite Amtrak destinations.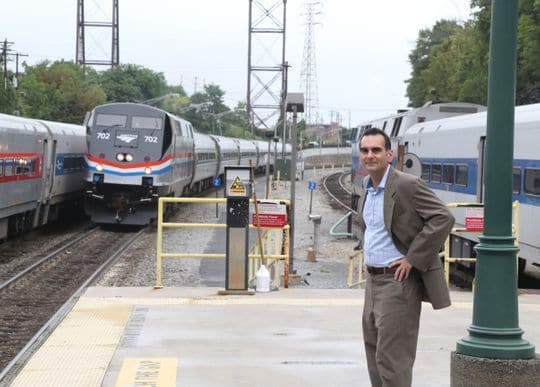 Tom Martinelli on the platform at the Poughkeepsie train station as an AMTRAK train pulls in on September 13, 2018. Martinelli is the publisher of New York by Rail magazine which explores rail travel throughout New York, Vermont and Canada. (Photo: Patrick Oehler/Poughkeepsie Journal)
"It's so close to New York and yet you're in a foreign country," he said. "The train ride along Lake Champlain to Montreal is so spectacular that National Geographic Traveler named it one of the Top 10 most scenic train rides in the world."
He has used New York By Rail as a resource to promote places to visit outside of the Big Apple.
"If you suggest great places to visit outside of New York City, it exposes (people) to different opportunities," he said.
Europeans, for example, typically take the train to visit the countryside in their native land, so they might find taking Amtrak around New York state appealing, according to Martinelli.
The marketing firm evolved when Josiah Brown, founder of New York Welcomes You, an upstate New York tourism company, started collaborating with Martinelli in 2015.
"We knew each other and had mutual respect," Martinelli said. "We're different in that Josiah's more creative and I am more analytical."
As a millennial, Brown offers a viewpoint that Martinelli said he was looking for, as millennials are the No. 1 demographic visiting New York By Rail's website on a regular basis, according to data from web analytics.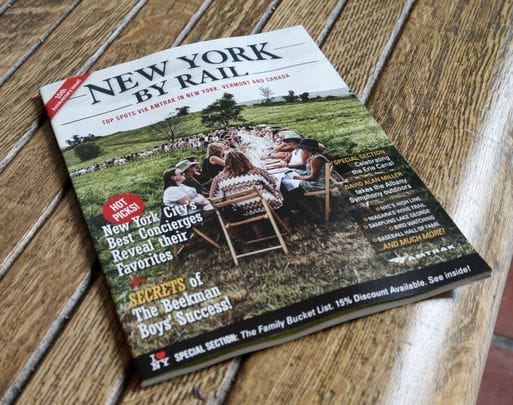 The 15th anniversary edition of New York By Rail magazine on September 13, 2018. The magazine is published by Tom Martinelli and focuses on rail travel in New York, Vermont and Canada. (Photo: Patrick Oehler/Poughkeepsie Journal)