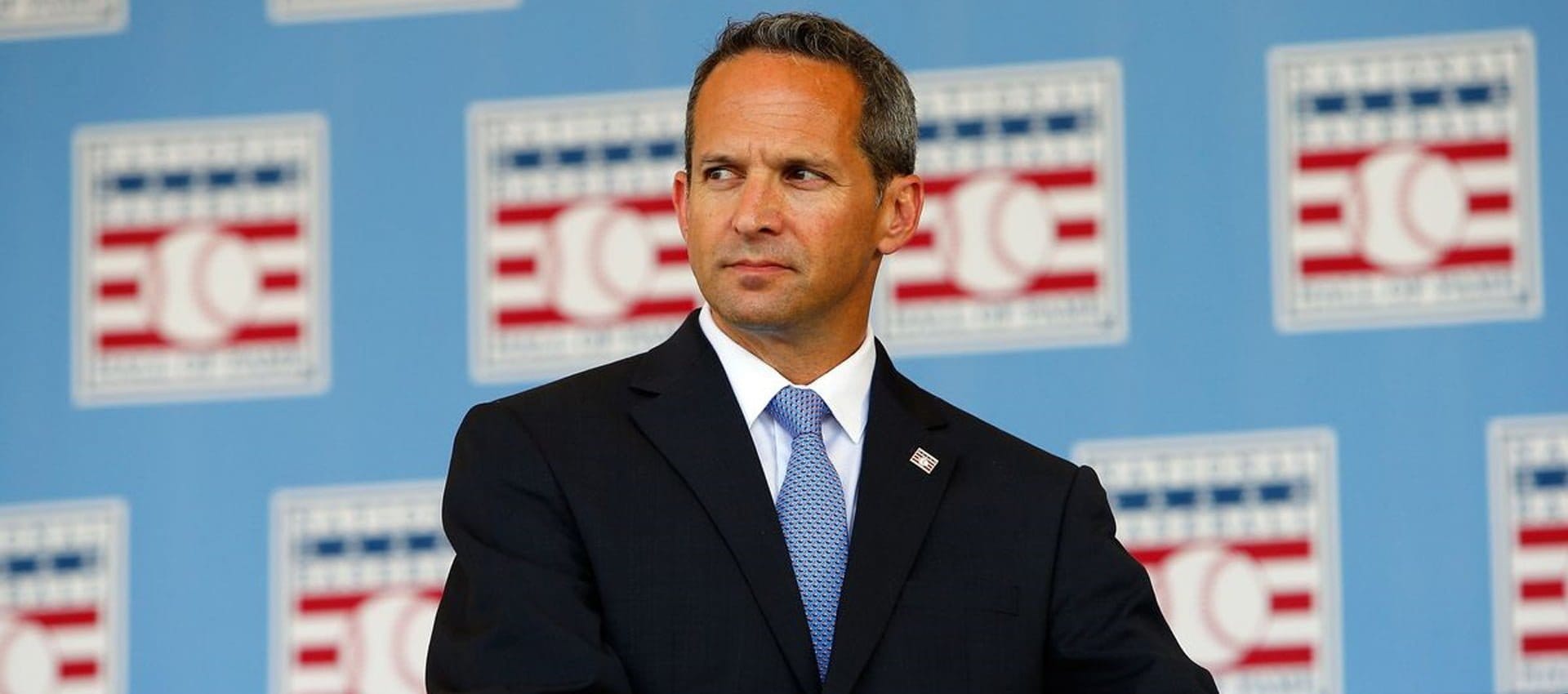 Jeff Idelson at a Baseball Hall of Fame Induction Ceremony. | Photo Courtesy of National Baseball Hall of Fame and Museum
NYBR: Do you remember your first day at the HOF?
JI: I became President 12 years ago, on Jackie Robinson Day, April 15, 2008, but I've spent a total of 25 years with the HOF in various capacities. My first day at the HOF was Induction Day 1994, when Phil Rizzuto, Steve Carlton, and Leo Durocher were inducted. That day had great meaning because I previously worked with Rizzuto when I was with the New York Yankees.
NYBR: How significant is the HOF as an upstate New York attraction?
JI: We draw 300,000 visitors annually and have welcomed 17 million total visitors since opening in 1939. Visitors come from across North America, and our international visitations continue to increase yearly as baseball globalizes. We're a tourism anchor within Central New York.
NYBR: What's new at the HOF?
JI: Am emotional, uplifting 14-minute film, Generations of the Game, welcomes visitors entering the museum. Nineteen HOF members narrate the film, weaving together the rich history of the game. The film is shown in our completely renovated grandstand theater which is the theatre in Upstate New York.
Memorial Day Weekend 2019, we'll open a new permanent baseball card exhibit, Shoebox Treasures, with over 2,000 cards from the museum's vast collection. It explores the history of baseball cards, the evolution of card design and how and why fans of all ages collect cards. There will also be a section on the "holy grails," cards considered the most valuable.
NYBR: What are the HOF's biggest accomplishments in your 12 years as president?
JI: Keeping the museum relevant, exciting and fresh. We always focus on what interests visitors and trends in cultural tourism. It's important to always be relevant, especially with the younger generations and to the Latino audience.
Digitizing our collections has allowed all baseball fans to access parts of our collection online. We utilize bilingual marketing to reach and embrace Spanish-speaking visitors.
A partnership with La Vida Baseball, a dynamic digital media platform that highlights the great Latino players shaping the game today and their cultures, allows us to reach an English-speaking Latino audience as we never have before.
NYBR: What's your advice to visitors planning to visit the HOF?
JL: Plan to spend three to four hours minimum. Many visitors take one to three days to absorb our entire 50,000 square-foot museum. Consider an individual or family museum membership, which keeps members connected to us the year-round, allows for unlimited visits and helps support a national treasure.
NYBR: How does the HOF work the local community to provide a positive experience for visitors to Cooperstown?
JI: We take our community responsibilities very seriously and want the local community to be our biggest champions, as we all benefit from HOF attendance. We work with local government, chambers of commerce, area businesses, tourism agencies and accommodations to ensure HOF visitors have a great experience. Our staff serves on virtually every local civic organization to constantly promote the charm of Cooperstown – beautiful scenery, great restaurants, hotels and, most importantly, the community's warm hospitality – well beyond the museum.
We work with area B&B's to market "VIP Experience" packages during shoulder and winter seasons. The program allows their guests to experience the HOF in deeper and more meaningful ways. We promote the region's antique markets, agritourism, other destinations, and Main Street, showcasing Cooperstown as a multi-day destination with plenty to do beyond baseball.
NYBR: What community activities do you arrange for Major League Baseball players visiting the HOF?
JI: We provide an orientation program for incoming HOF members to give them a sense of all that Cooperstown and the region offers. Once they become a hall-of-famer, they return often to the area. Doing so gives them a sense of all that our region has to offer.
With more than 75 living hall-of-famers representing the museum, many return early in the week ahead of Hall of Fame Weekend to golf, fish on Otsego Lake, experience the Glimmerglass Opera or even go blueberry picking. They love coming to Cooperstown to see their fellow hall-of-famers, residents they have befriended, and to enjoy all there is to do.
NYBR: Which hall-of-famers have a particular fondness for Cooperstown?
JI: Phil Niekro loves Cooperstown so much that I've joked he should pay taxes here. I was shoveling my driveway one December morning, and all of a sudden, he's standing in my driveway asking if I have another shovel. He seems to spend as much time in our village as his home in Atlanta!
Phil Rizzuto and his wife, Cora, felt very comfortable calling Cooperstown their second home. Phil would leave his golf clubs at the Otesaga Resort Hotel, as he enjoyed playing the Leatherstocking Golf Course. Phil was one of the first to let the HOF know he was coming to the induction ceremonies every year.
NYBR: Tell us about the class of 2019, headlined by New York Yankees great Mariano Rivera?
JI: The Class of 2019 has all the ingredients to be an all-time, top-drawing induction among local and big-drawing markets. This class has a great relationship with fans. When fan favorites make it into the HOF, they want to be there Hall of Fame Weekend to say thank you.
The class of 2019 is star-studded, highlighted by Yankees' great Mariano Rivera, who is still incredibly popular. Roy Halliday, who played in Philadelphia and Toronto, is being inducted posthumously. Mike Mussina played in Baltimore and New York. Lee Smith and Harold Baines represent both sides of Chicago. Edgar Martinez is incredibly popular in Seattle, where he still lives. We saw how well Mariners fans traveled for Ken Griffey, Jr. in 2016. This induction class has the chance of being one of the top three biggest inductions in history.
NYBR: What impact would a big draw for the class of 2019 have on the HOF beyond that one weekend?
JI: Not everybody can make it to Induction Weekend. The afterglow goes on and on. We've seen a direct correlation between 45,000+ in attendance at four of the past five inductions and HOF attendance around 300,000 annually. Nearly all of the hall-of-famers return every year after being inducted, to welcome the new class and spend time among the fans. 
NYBR: What do you enjoy about living in Cooperstown?
JI: Cooperstown is a great place to raise children, who benefit from a terrific school system and a close-knit community. People who live here are genuine. For a town of 1,800 to have a half-dozen great restaurants; the championship Leatherstocking Golf Course; Glimmerglass Opera; the Clark Sports Center, one of the world's great sports facilities; the HOF; Farmers' Museum; the Fenimore Art Museum; and so much more, is unique. Yet, you have the smallness and familiarity of a comfortable, small community. It's been a great way to spend the last quarter century.
NYBR: What are some of your favorite things to do in the area?
JI: Strolling the streets and enjoying all the beauty and splendor of Cooperstown are what I enjoy most. As an avid runner, I like the many routes Cooperstown offers. I love golfing and benefit from three unique golf courses within 10 miles of the center of town. The Clark Sports Center is a great workout facility. And I love having ample opportunities to eat at excellent restaurants in the village.
NYBR: Do you ever ride Amtrak?
JI: I occasionally take Amtrak to New York City. Parking in Rensselaer is easy. I enjoy the scenic ride through the Catskills. I know I'm going to have a smooth ride. No potholes on the tracks! Amtrak allows me to maximize my time and get work done comfortably, using the train's WIFI.
NYBR: What do you plan to do after your retirement from the HOF this summer?
JI: I'm staying involved in the game at the amateur level, something dear to my heart. Jean Fruth and I have developed "Grassroots Baseball", a program dedicated to celebrating the amateur game around the globe, with a focus on growing participation at the youngest levels. We are launching it this summer along historic Route 66. The Cal Ripken, Sr. Foundation will supply equipment and a number of hall-of-famers, including Jim Thome, Johnny Bench, and George Brett, who will provide inspiration and instruction. Jean, one of 45 Sony Artisans of Imagery, and I will publish a coffee-table book, Grassroots Baseball: Route 66, after the tour concludes, the second book in the Grassroots Baseball series.
I also look forward to spending time on Amtrak, seeing part of the country. I love train travel, which was part of baseball's early roots. Can you imagine yourself being on a train with Babe Ruth, having a beer and fighting over a hot dog?
The Baseball Hall of Fame Awards Presentation and Induction Ceremony
The Baseball Hall of Fame Ceremony takes place from Friday, July 19 to Monday, July 22. A weekend-long celebration, the Baseball Hall of Fame Ceremony honors a new class of baseball legends. Whether or not you are a baseball fan, this ceremony is sure to inspire the spirit of the sport, letting everyone experience this exciting and special moment. Festivities include the Awards Presentation, Parade of Legends, PLAY Ball game and meet-and-greet, and Legends of the Game Roundtable. Read more about this momentous weekend here.
Take Amtrak to the Baseball Hall of Fame Induction Weekend
Experience this Award Presentation and Induction Ceremony via Amtrak to Albany-Rensselaer Station—where you can pick up your reserved NYTRAIN Enterprise Rent-a-Car. Click here to reserve your car.
Don't forget to use the Amtrak See New York and Save 15% discount when making your Amtrak reservation.