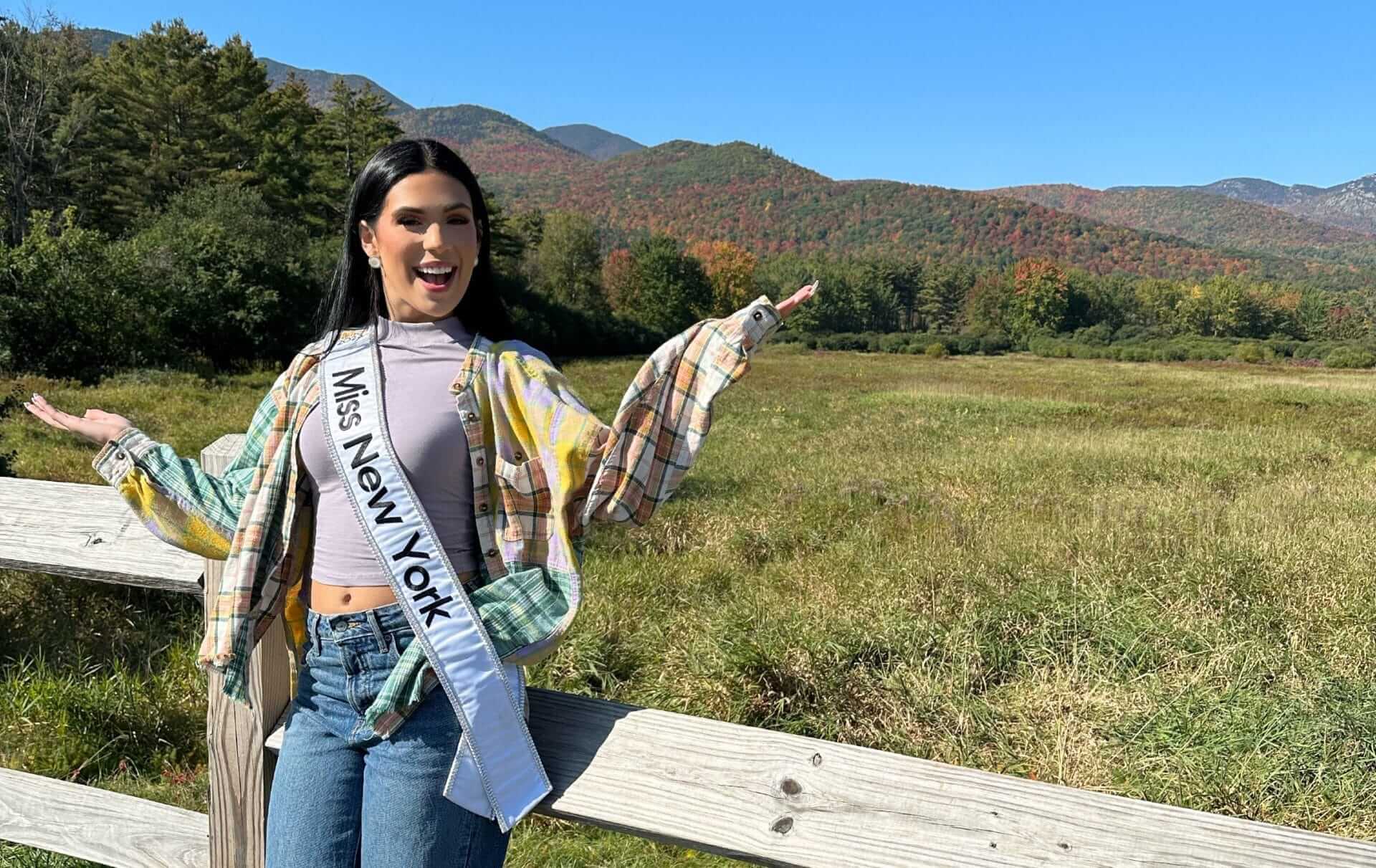 As I boarded the Amtrak train at Moynihan Train Hall in Manhattan, bound for the Adirondacks, I felt pure excitement to make the first stop on my tour of the state as Miss New York. Growing up in North Dakota and Arkansas, I spent a significant amount of time visiting family in Upstate NY, but had never seen the north country. It's the ideal destination for those seeking a perfect blend of natural wonders and historical charm.
Before I knew it the two and a half hour train ride was over and I had arrived in Albany. I was greeted by Jane Hooper, a dear friend and avid Adirondack enthusiast – Jane also happens to work for the Regional Office of Sustainable Tourism, so she is in the perfect position to share her knowledge about the region with me. I hopped in her car and our journey to the Lake Champlain region began. Throughout our travels, Jane shared her deep knowledge of this enchanting area that she calls home. The Adirondacks, encompassing 6.2 million acres, is more than just a mountainous realm with 46 peaks reaching over 4,000 feet. Within this dense wilderness lies an array of vibrant communities with unique characteristics, ready to embrace visitors with open hearts.
As we continued to drive through the Adirondack Mountains, I was captivated by the stunning fall foliage. The beauty of the scenery made it difficult to tear my gaze away from the window. After two hours in the car from Albany, we found ourselves in the charming town of Essex, New York. As we drove down Lake Shore Road, I saw various small businesses, including a public library and an ice-cream shop. I anticipated the moment I could step out of the car and immerse myself in this special little town, with a population of just 621 people. The entire Essex community, nestled on the shore of Lake Champlain, is listed on the National Register of Historic Places.  Home to the largest intact collection of pre-Civil War architecture in America, along with one of the finest collections of Federal and Greek Revival architecture in New York state. The tiny town is full of well-preserved 19th century brick and stone homes, churches and inns.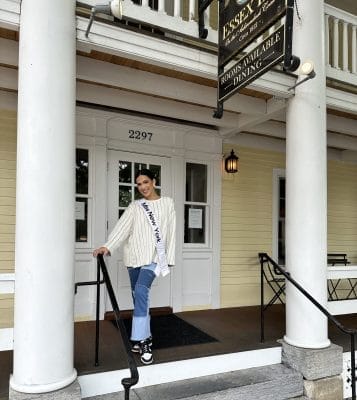 I soaked in the beautiful view of Lake Champlain and learned more about what makes Essex so special. On the far side of the Lake I could see the Green Mountains of Vermont and I was interested to learn that there is a year-round ferry from Essex to Charlotte, Vermont, located about 13 miles south of Burlington.
I arrived at the Essex Inn, a top-rated hotel in this region. Owned by Rick and Karen Dalton, the inn has a rich history itself. It welcomed its first visitors in 1810 and has continued to maintain its reputation as a welcoming destination for visitors. As I walked into the lobby, I felt immediately at home. We were greeted by various individuals and I discovered that the Inn's appeal extended beyond its rustic charm and wood interior; there was a sense of coziness and warmth everywhere.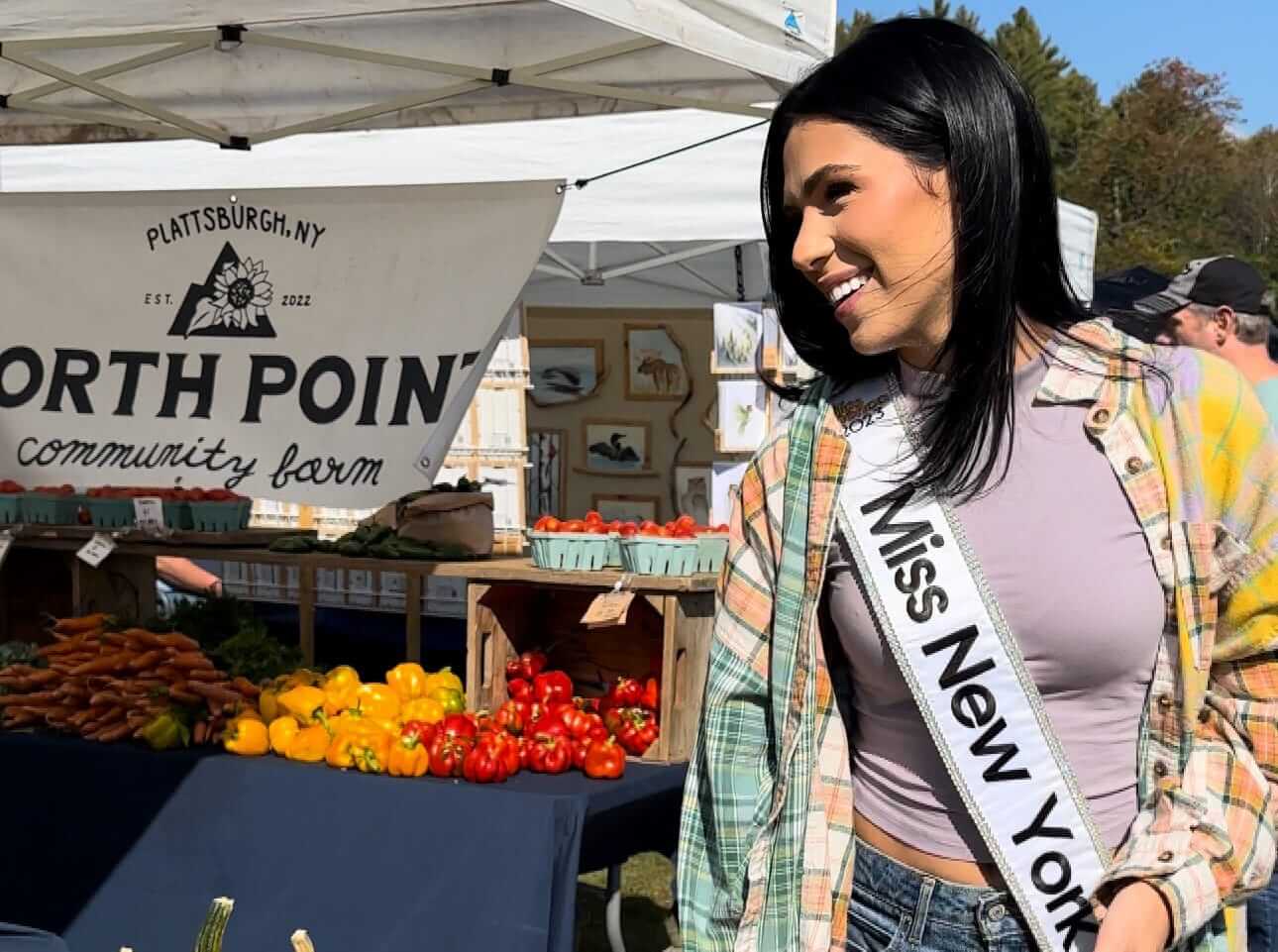 I was graciously led upstairs and I found myself walking into a spacious, cabin-like room. I was amazed at the Inn's ability to have both an old-timey, but modern feel. My room not only had a beautifully renovated bathroom and comfy bed, but a kitchen area with a fireplace to top it off! I also loved the beautiful view I had from my window that allowed me to experience natural lighting and the peaceful sounds of birds chirping.
Our next stop on this journey was the Champlain Peony Company. This business was much more than just a beautiful plant nursery. It also comprises a cut flower shop, self-serve coffee station, music studio and a car restoration business! I began my tour of this five-fold business in the flower garden that is home to a wide variety of peonies, sold locally and nationwide. Before we moved on to visit the music studio, I explored the flower shop and purchased an array of flavorful jams and honey, all produced at the local farms.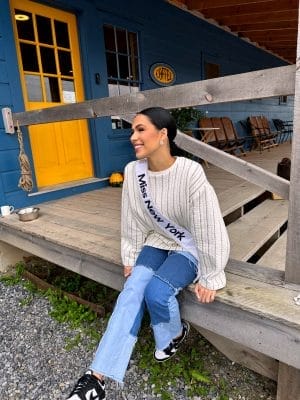 As someone who grew up in a very musical family (I played four instruments throughout my childhood) a rush of excitement and awe came over me as we walked into the recording studio. From the crimson red walls adorned with every type of guitar, to the floors covered in beautifully patterned carpets, to the vintage posters and pictures, I found myself speechless. Eric Sherman, the owner of the Champlain Peony Company, spoke to us about his passion for music and his gratitude for getting to share that with his sons. As our discussion of our shared love for music came to a close, Eric asked me to sign my autograph on his wall and explained that he hoped to have upcoming visitors do the same. This highlighted his dedication to not only cherishing the instruments and items in this room, but the stories' of those who visit, as well.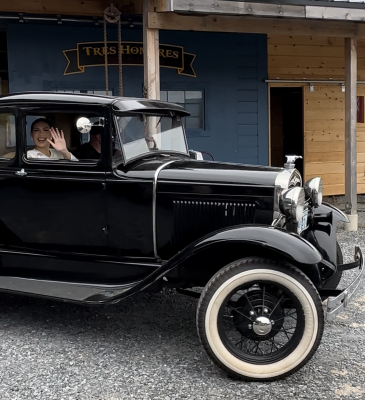 We then walked right over to "Tres Hombres," the car restoration shop on the property. This shop is committed to nurturing and appreciating classic and unique cars. I was lucky to have Eric take me for a spin in his 1931 Ford; we drove around the charming village of Essex for a few minutes before returning to the shop. The Champlain Peony Company is the perfect illustration of how individuals and businesses, within the Lake Champlain region, are not confined to one job or one passion; many people and many businesses are multifaceted.
We returned to the Essex Inn for dinner. As I walked inside The Tavern, I was greeted with warm smiles and we were quickly served at a cozy, corner booth. This restaurant has a diverse menu with food from various countries, ranging from traditional American to Asian. There are also a wide variety of drinks. I ordered the tasty Thai Curry; and it was delicious. During our lovely dinner, I had the pleasure of speaking with owners Rick and Karen Dalton. The Tavern is the perfect place if you are looking for an assortment of foods and a cozy environment! I thought about how fun it would be to return with a group of friends and to reserve the "Stables" for dinner. Seating up to 12 people at a long rustic dining table, the private room (yes, once a stable), has its own wine closet and an inviting 19th century Dutch fireplace. My meal at The Tavern was the perfect prelude to finishing my first day in the Adirondacks relaxing in my luxuriously comfortable room.
Waking up on my second day in the Lake Champlain region, I realized that I had not moved an inch from where I first fell asleep – a true testament to how well I slept. My perfect night's sleep could not only be accredited to the plush comfort of the bed, clean air, and complete darkness, but also the beautiful silence that characterizes this region; a rare treasure for someone like me who is accustomed to the city that never sleeps.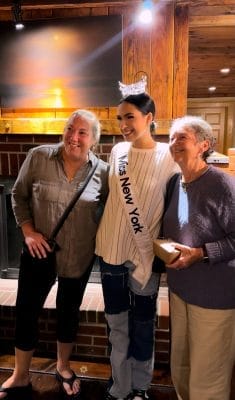 We headed to River & Rails for a breakfast sandwich and a cup of coffee before our morning hike. The sausage, egg, and cheese sandwich, along with the sticky roll was so delightful that we couldn't resist returning again the following day! It is important to note that this breakfast stop is not only a restaurant, but a market that sells convenience items. If you need it, you can likely find it at River & Rails.
After breakfast, we began our hike on the North Boquet trail, which is part of a larger system of trails called the Champlain Area Trail System, also known as CATS. This system has developed more than 60 miles of trails throughout the Lake Champlain region that allows hikers to journey from hamlet to hamlet. As we walked along the trail, we were guided by two incredible hiking and nature connoisseurs: Tony Thoman, a CATS volunteer, and John Davis, a passionate, tireless advocate with the Adirondack Council. This hike was much more than just walking through dense wilderness and taking in the beautiful scenery; it served as a real-time lesson regarding the diverse plant and animal species within the Adirondacks. My guides passionatley highlighted the urgency for their preservation and protection. Once we made it to the summit, I found myself awe-struck at the incredible view of quaint towns surrounded by vibrantly colored trees.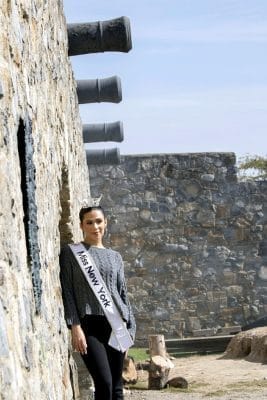 After the hike, we headed to one of the stops that I was most looking forward to. Fort Ticonderoga is a historic military fort that played a key-role in several conflicts in United States history, including the American Revolutionary War.  This particular weekend, the Heritage Harvest and Horse Festival was taking place. Upon our arrival, I noticed the various farm animals and I was beaming with excitement for the opportunity to experience a festival that highlights the rich cultural and agricultural history of the Lake Champlain region. As someone who has always loved history, I immersed myself in the tour of this site. At one point, I passed under an awning that George Washington and Benjamin Franklin had also walked under – at that instant I was in awe of this region's dedication to preserving historical architecture and honoring the past.
Next up,  we enjoyed a hearty meal at War Cannon Spirits in Crown Point. This restaurant's rustic ambiance and top-tier service made it the perfect place for a lunch stop. This intriguing spot, which opened in late 2022, is attracting a lot of attention. It not only serves lunch and dinner, but the company is making its own spirits. The straight malt whiskey is actually distilled in Ticonderoga, but the tasting room in found at War Cannon Spirits, in the  two-hundred-year-old, post-and-beam building.
Nestled between the Adirondack Mountains and Lake Champlain, on the Boquet River is Juniper Hill Farm; a 100-acre site that provides fresh vegetables to various businesses throughout the region including hotels, schools, restaurants, and farmers markets! Adam Hainer, the owner of Juniper Hill Farm, guided us through several greenhouses and storage rooms filled to the brim with vegetables ranging from potatoes, eggplant, lettuce, shallots, tomatoes, cucumbers, peppers, and much more. His generosity prompted him to present me with a box of sweet bite-size tomatoes to take home! It was fascinating to hear about his farm's dedication to supplying local businesses – another prime example of this region's sustainability. It's so important to celebrate these farm-to-table centered communities. Supporting farmers in this region not only aids in the protection of agriculture, but allows for restaurants and businesses in those respective communities to thrive, as well.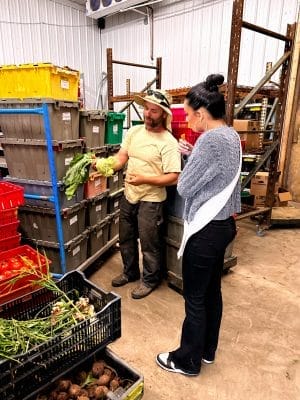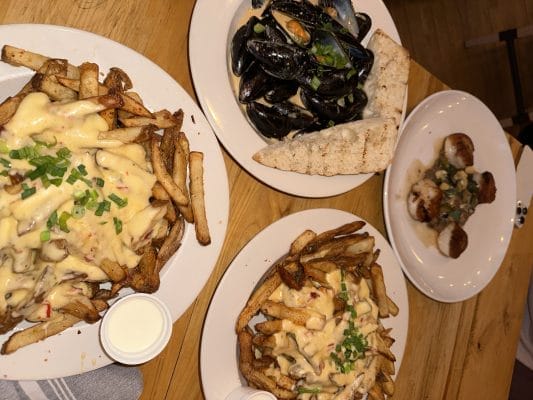 Later, we ate dinner at the Deer's Head Inn, a prominent destination in Elizabethtown. This restaurant cultivates a wonderful community environment with its unique layout, including tables, a bar, and a pool table tucked in the rear. The cuisine was truly impeccable. Our dinner comprised a number of dishes that we shared – we wanted to be able to sample as much as possible. The food, specifically my order of Shishoto Peppers, was sourced from Juniper Farms earlier that day and its freshness was unmistakable.
I began my last day in the Adirondacks with a hike to the Belfry Fire Tower. Throughout my weekend, multiple individuals informed me that the view from this site was breathtaking. I couldn't wait to witness it myself. This is considered one of the easiest fire towers in the Adirondacks to access, with a hike of about 0.3 miles. The view from this fire tower rendered me speechless. It provides a 360-degree overlook of the magnificent Adirondack mountains, each one draped in multi-colored trees. We spent a great deal of time atop this mountain, taking in the views, breathing the fresh air and simply drinking in the views of the High Peaks – the 46 highest mountains in New York State, each rising more than 4,000 feet. Nothing beats fall in the Adirondacks, am I right?
I then had the pleasure of visiting the Keene Farmers Market. Ranging from outstanding artisans, to kettle corn stands, baked goods, locally produced beer, and the passionate farmers with their colorful display of vegetables, this market showcased the creativity that Lake Champlain and its residents have to offer. In addition to the diverse selection of products throughout the farmers market, the mountains that serve as its backdrop were unforgettable. The people that I met and greeted, along with their four-legged friends, were delightful, charming and welcoming.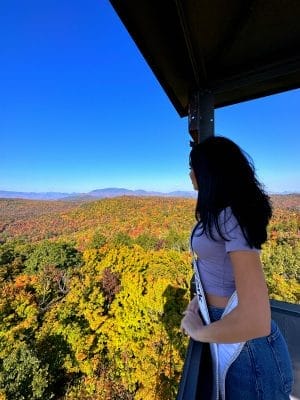 Throughout my visit in the Lake Champlain region, a recurring pattern caught my attention; many residents juggled multiple roles, pursuing multiple professions and passions. It was inspiring to see how successful they were. This region is not only characterized by its rich history and scenery, especially during the vibrant fall foliage season, but it also embodies a strong sense of community where residents strive to achieve their own success while simultaneously motivating and uplifting their neighbors.
Visit Lake Champlain via Amtrak to Albany-Rensselaer Station (ALB) + an Enterprise Rental Car. There are currently 12 trains per day to Albany from New York City. Once in Albany, you can pick up your reserved rental car right at the Albany-Rensselaer Station. It's approximately a two hour drive to Essex in the Lake Champlain region of the Adirondacks
Use #NYTRAIN for a discounted Enterprise Rent-a-Car. Click here to reserve your car, or call Enterprise's Albany office at 518-427-3893.
Alternatively, you can take the Amtrak's Adirondack service to the Lake Champlain region with stops in: Whitehall (WHL), Ticonderoga (FTC), Port Henry (POH), Westport (WSP), Port Kent (PRK) or Plattsburgh (PLB). It will take between 4.5 – 7 hours depending on your stop. Check Amtrak.com for more information.