08dec11:00 am5:00 pmTroy Victorian Stroll11:00 am - 5:00 pm Troy, NY, 4 3rd St., Troy, NY 12180 Event Organized By: Rensselaer County Regional Chamber of Commerce
Event Details
Troy Victorian Stroll
Enjoy downtown Troy by exploring free attractions and dozens of local shops and eateries – at the 37th Annual Troy Victorian Stroll!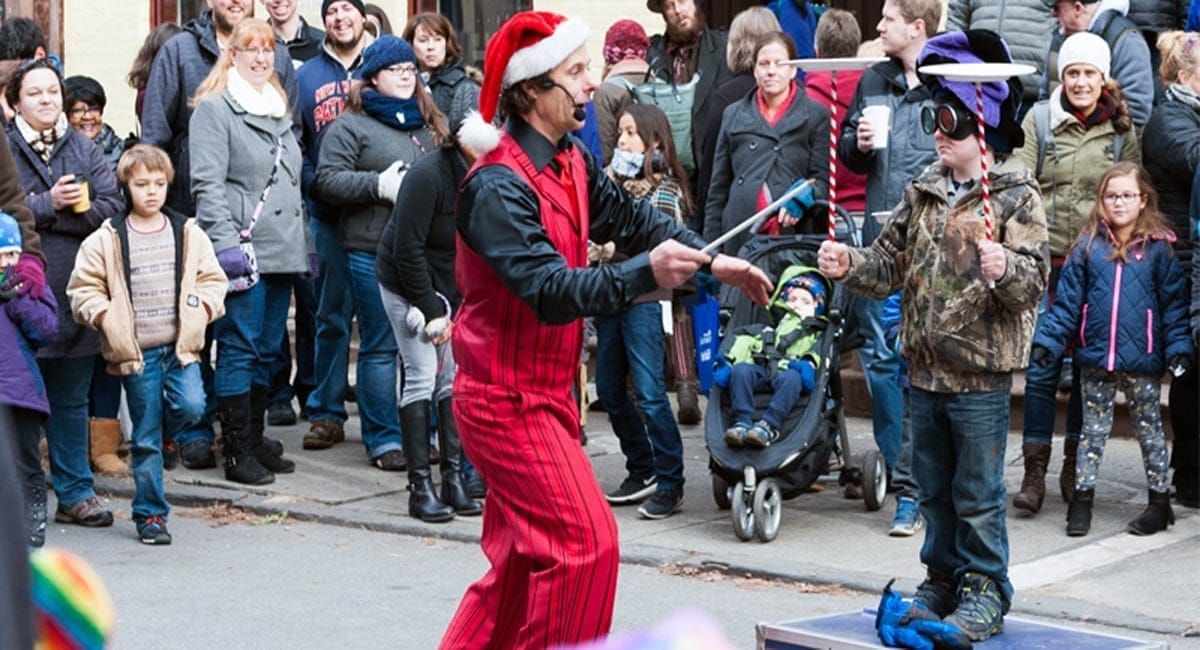 Entertainers at the annual Troy Victorian Stroll. | Courtesy of the Troy Victorian Stroll website
Troy Victorian Stroll
Celebrate the holidays with family and friends at the 37th Annual Troy Victorian Stroll, the Northeast's largest free holiday festival! The 37th annual Troy Victorian Stroll will be held on Sunday, December 8, 2019 from 11 a.m. to 5 p.m.
With dozens of live performances throughout the day, this annual holiday tradition is set to be the greatest one yet, and you'll find something to do for you and your whole family. Join in the merriment as the historic streets of downtown Troy transform into a magical stage offering attractions from the region's top performers, musicians, dancers, magicians and storytellers.
The Stroll is also family friendly, including rides, refreshments, an arts & crafts show and much more! Want an early start on your holiday shopping? Visit Troy's 50+ fine shops, boutiques and galleries that will be open throughout the day. Hungry? Stop by one of Troy's several eateries for a quick bite, or visit our food court at Monument Square.
Whether you are a local resident or an out-of-town visitor, the Troy Victorian Stroll continues to be a welcoming event filled with holiday spirit. Come out and experience the beautiful Troy and Rensselaer community that will give you memories that last a lifetime.
History of the Troy Victorian Stroll
For more than 30 years, the Troy Victorian Stroll has been a holiday tradition that transforms the streets of historic downtown Troy into a bygone Victorian era. Set amidst the unique shops, storefronts and restaurants that Troy has to offer, the Stroll features dozens of spectacular live musical performances, dancing, storytelling, theatre and more! There's something for everyone at this unique, one-day holiday event in downtown Troy!
Enjoy this full day of fun with your whole family and make the Victorian Stroll a part of your annual holiday traditions!
Food and Shopping at the Troy Victorian Stroll
Be sure to stop at the many shops, boutiques and galleries all throughout the festival for some holiday shopping! From clothing, jewelry and gift boutiques, there is something for everybody! Grab a bite at a local restaurant or one of the downtown food court vendors! View the full list of Troy Victorian Stroll vendors below.
Troy Victorian Stroll Vendors
518 Prints / 7 State St.
Amazing.NET Video Shop / 516 River St.
AMC Jewelry Art & Home Decor / 282 River St.
Anchor No. 5 Boutique / 288 River St.
Annick Designs / 269 River St.
Antiques Warehouse / 78 Fourth St.
ArtCentric Gallery / 266 River St.
Aurora's Boutique / 286 River St.
Aquilonia Comics and Cards / 412 Fulton St.
Bella V Boutique / 451 Broadway
The Book Outlet / The Atrium at Third St.
Boost Mobile / 20 Fourth St.
The Broken Mold Studio / 3 Third St.
Cahill Sporting Goods / 26 Fourth St.
Capital City Cash / 40 Third St.
Collar City Sweet Shoppe / 45 Third St.
Culinary Square / 251 River St.
The Counties of Ireland / 77 Third St.
CVS / The Atrium at Third Street
Copper Fox / 279 River St.
e ko logic / 1 Fulton St.
Elite Design Granite / 151 4th St.
Fauna and Frill Pet Salon / 469 Fulton St.
Fourth Street Market / 100 Fourth St.
Fox Hollow Rustics / 193 River St.
Fulton Mini Mart / 471 Fulton St.
FunCycled / 272 River St.
Henry Loves Betty Pet Boutique / 16 First St.
Hippies, Witches, & Gypsies / 33 2nd St.
Jean's Greens / 225 River St.
Kathleen's Fiber Arts / 212 River St.
A Love Story Bridal / 188 River St.
Marcus Blaque / 260 Broadway
Market Block Books / 290 River St.
Metro PCS / 363 Broadway
Midtown Market / 92 Third St.
Mindful Intentions / 193 River St.
Nine Steps Away to Africa / 199 River St.
Nite Owl News / 400 Fulton St.
Pastime Legends Video Games / 73 Fourth St.
ACE Hardware of Troy / 63 Third St.
River Garden Studio / 2 Third St.
River Rocks Jewelry & Beads / 209 River St.
River Street Beat Shop / 197 River St.
Romanation Jewelers / 48 Third St.
Sawtooth Jewelry Studio / 195 River St.
Segel Violins and Art Gallery / 44 Third St.
Superior Merchandise Co. / 147 Fourth St.
T & J Handcrafted Soap Shop / 271 River St.
Topsy Curvy Boutique / 33 Second St.
Trojan Horse Antiques / 2 Third St.
Troy Cloth & Paper / 38 3rd St.
Troy Light Company / 85 Congress St.
Troy Vision Center / 42 Third St.
Truly Rhe / 1 Broadway
Twilight Vintage Clothing / 44 Fourth St.
Twenty-two Second Street Wine Co. / 22 Second St.
Twin Pots / 13 Second St.
Uncle Sam's Good Natural Products / 77 Fourth St.
Urban Bazaar / 50 Third St.
Weathered Wood / 13 Second St.
Wooden Shoe Trading Company / 186 River St.
ZeBra Bras / 48 Fourth St., 1st Floor
ZoePea / 13 Second St.
Troy Victorian Stroll Food Court Vendors
Kiwanis Club of Troy: Chestnuts & Cider
Olde Chatham Kettle Corn: Kettle Corn
S & S Concessions: Funnel cakes, hot spiced cider, hot chocolate with caramel whipped cream, hot coffee
Tony's Concessions: Chicken tenders, french fries, cheeseburgers/hamburgers, corn dogs, fried dough, sausage sandwich, soda & water
The Bavarian Nut Company: Glazed, hot nuts, cashews, & other nuts
Reggae Boy Cafe: Jamaican Food- jerk chicken osctail pork, goat soup, fried plantain rice, mac & cheese, collard greens
Green Mountain Concessions: Cotton candy & hot chocolate
Dinosaur Bar-B-Que Restaurants: Pulled pork sliders, chicken wings, chili, & beans
The Chuck Wagon: Chili, pulled pork, pulled chicken, soup, french fries, coffee, hot chocolate, soda & water
Oh Corn! Arepas: Arepas, cachapas, beverages
LC Concession: Deep fried Oreo, mozzarella sticks, funnel cakes, pretzels, & beverages
The Lunch Box: London broil steak sandwich, fresh cut french fries, cheese fries, ribbon fries, tater-tots, beverages
Pop's Corn: Popcorn & Kettle Corn
The Mason Jar: Gourmet macaroni & cheeses
Spacey Tracy's Pickles: Deep fried pickles, roasted garlic cloves, baked artichoke hearts, tempura mushrooms, garlic dog, fried ravioli, the garlic burger, tempura corn on the cob, french fries, chicken nuggets, fried green tomatoes
Given to Fry: Fries, Poutine, Italian Poutine, Pulled Pork Fries, Meat Lovers Fries, Chili Cheese Fries, Loaded Bacon Fries, Sriracha Fries, Cheese Fries, Nachos, & Deep Fried Oreos
Gourmeli's Taste: Artisan grilled cheese sandwiches, chili, soups, sandwiches, & coffee
Time

(Sunday) 11:00 am - 5:00 pm
Location

Troy, NY

4 3rd St., Troy, NY 12180