28augAll Day02sepThe Columbia County Fair: A Blue Ribbon Event(All Day) Columbia County Fairgrounds, 182 Hudson Ave.
Event Details
The Columbia County Fair: A Blue Ribbon Event
Relax. Breathe fresh air. Spend the days out doors. And stay on budget. What better description of a vacation could you ask for?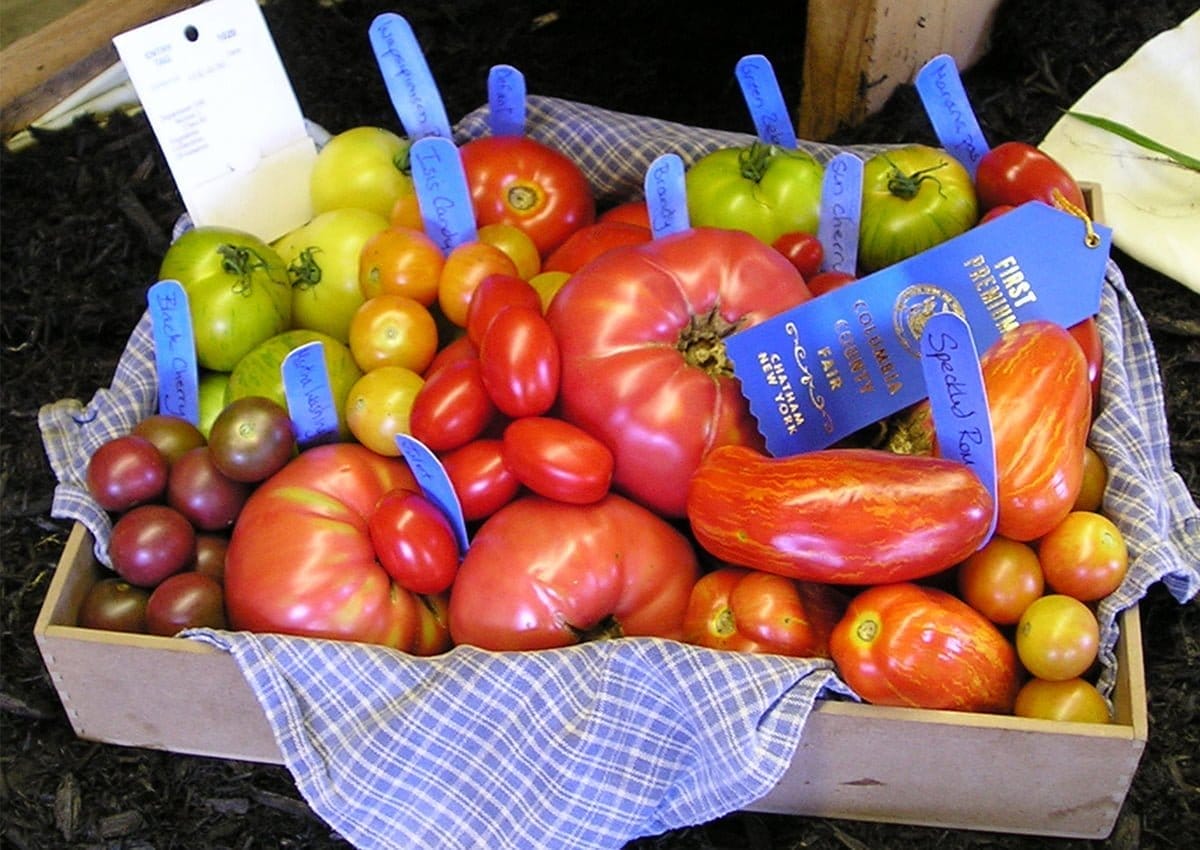 Photo Courtesy of Betsy Miller.
A county fair is more than just rides. See blue-ribbon veggies, cheer as cars are demolished, or try to eat more ice cream than anyone else. The Columbia County Fair in Chatham, NY has been named "Bestie" by Capital Region Living Magazine. In its 179th year, the Fair is located near the Massachusetts and Connecticut borders, 125 miles north of NYC and less than half an hour from the Capital district. It runs from Wednesday, Aug. 28th through Labor Day, Monday, Sept 2nd. For more information go to www.ColumbiaFair.com.
The Columbia County Fair, centrally located close to the tri-state intersection of New York, Connecticut and Massachusetts, is less than half an hour south of Albany and just a few hours north of metropolitan New York. But whether visitors choose a convenient drive or a trip via Amtrak to nearby Hudson, the Fair is light years ahead in relaxation.
Rides and Activities
In its 179th year, the Columbia County Fair takes place from noon on Wednesday, Aug. 28th through Monday, Labor Day, Sept. 2nd, at the Fairgrounds on Route 66 (GPS: 182 Hudson Avenue), in Chatham, NY.  One of the oldest county fairs in the U.S., it's a combination of rides, great food and agricultural displays along with newer attractions like a local Talent Show and Acrobats from Kenya. Throw in recognized musical headliners, tickets for $10 – $15 per day (less if purchased in advance) and you've got a great, reasonably priced trip for the whole family. Children 12 and under are always free.
Livestock competitions are the reason county fairs got started. The farmer with the best – cattle, sheep, horses, poultry, etc., were sure to get top dollar when they sold their livestock.  Today, Judges point out the positive attributes of an animal before pinning on the blue ribbon letting audience members learn what makes a prize winner. Those fine points stay constant nationally, so a sheep on the East Coast is judged the same as one further West.
Kids have a chance to see those farmed animals and more up-close-and-personal – whether endangered livestock breeds or less frequently seen animals at the resident Petting Zoo.
Musical Performances
Adults might choose listening or dancing to one of the several musical acts that play daily throughout the fairgrounds. Sunday features The Voice/American Idol finalist (and local celebrity) Moriah Formica at 3:00 P.M. Then, at 7:00 P.M., country music star and triple gold record recipient Frankie Ballard hits the Main Stage. All entertainment is included with the admission ticket price.
Competitions
Competition includes the smash'em up action of the Demolition Derby, the Monster Tractor Pull and the Professional Truck Pulling series. Anyone who likes roaring engines and sheer power will love these events. Quieter contests include the best scarecrow, biggest pumpkin and outstanding beer, wine or cider.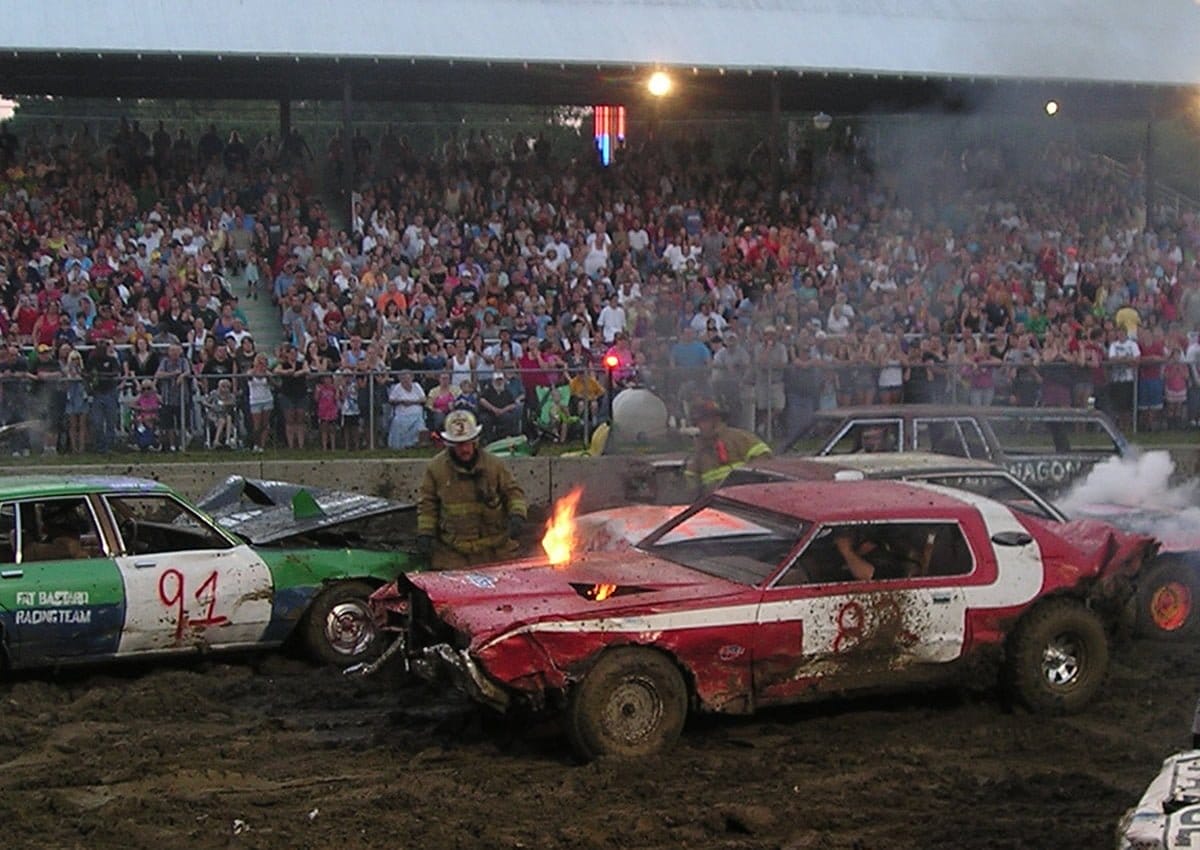 The Demolition Derby in action | Photo Courtesy of Betsy Miller
And speaking of food, no county fair would be complete without baked potatoes, bloomin' onions and the local favorite, a sausage and pepper hero. Benches abound as do picnic tables under shade trees and cooling, well-manicured lawns. Among other accolades, the Fair has also been recognized for "the prettiest fairgrounds".
With daytime competitions and under-the-stars excitement, the Columbia County Fair is a taste of agricultural America in the Hudson Valley.  Entertainment varies every day so visitors can come once, or attend each day and find lots to do. This year's tag line – Small Town. Big Fun, is the perfect description.
Time

August 28 (Wednesday) - September 2 (Monday)
Location

Columbia County Fairgrounds

182 Hudson Ave.