30octAll Day08novSaratoga Restaurant Week(All Day) Saratoga County
Event Details
Saratoga Restaurant Week
Enjoy prix fixe menus at some of the best eateries in the Saratoga County during Discover Saratoga's Annual Restaurant Week!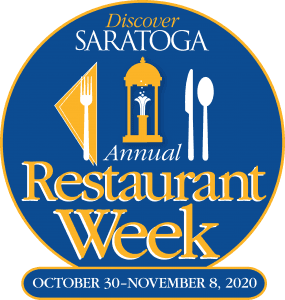 Enjoy Saratoga's original Restaurant Week from October 30 to November 8, 2020. Get a three-course dinner for just $20 or $30 plus tax & tip at participating Saratoga County restaurants! Start off with your choice of an appetizer, then choose from a menu of delicious entrees, and top it off with a decadent dessert! Some participating restaurants are offering lunch specials for just $10 plus tax & tip. Saratoga Restaurant Week is the perfect time to get out and try new restaurants in Saratoga County. Reservations are suggested.
Saratoga Restaurant Week Participating Restaurants
Stay tuned for additional participating restaurants, menus and more!
More to be announced soon!
Saratoga Restaurant Week Pricing
Three-Course Dinner: $20 or $30, plus tax and tip.
Lunch Specials: $10, plus tax and tip.
Toys for Toga
Giving a child a warm memory, helping families in need, taking some pressure off parents who just can't do it alone and making sure kids get something special! Toys for Toga program runs from October 30 through December 4, 2020.
Donate a new and unwrapped toy to children in need. Toys can be dropped off at any of the participating businesses listed below.
For those who would like to participate without having to leave the house, we have created a GoFundMe page. You can now donate safely online by clicking here. 
Saratoga Springs
Coming soon.
Malta
Coming soon.
Clifton Park
Coming soon.
Other Businesses
Coming soon.
Where to Stay during Saratoga Restaurant Week
Top off your Saratoga Restaurant Week experience with an overnight stay at one of our unique hotels and lodging facilities. Participating Saratoga hotels are offering special, discounted rates for event attendees. Make sure to take advantage if you plan on staying overnight!
Time

October 30 (Friday) - November 8 (Sunday)