23oct(oct 23)11:00 am25(oct 25)4:00 pmSaratoga Fall Festival11:00 am - 4:00 pm (25) Saratoga Fall Festival, 38 High Rock Avenue
Event Details
Saratoga Fall Festival
Rock climbing walls, music, magic shows, a petting zoo, pony rides, a costume parade, and trick-or-treating! Come out to this fun-filled day!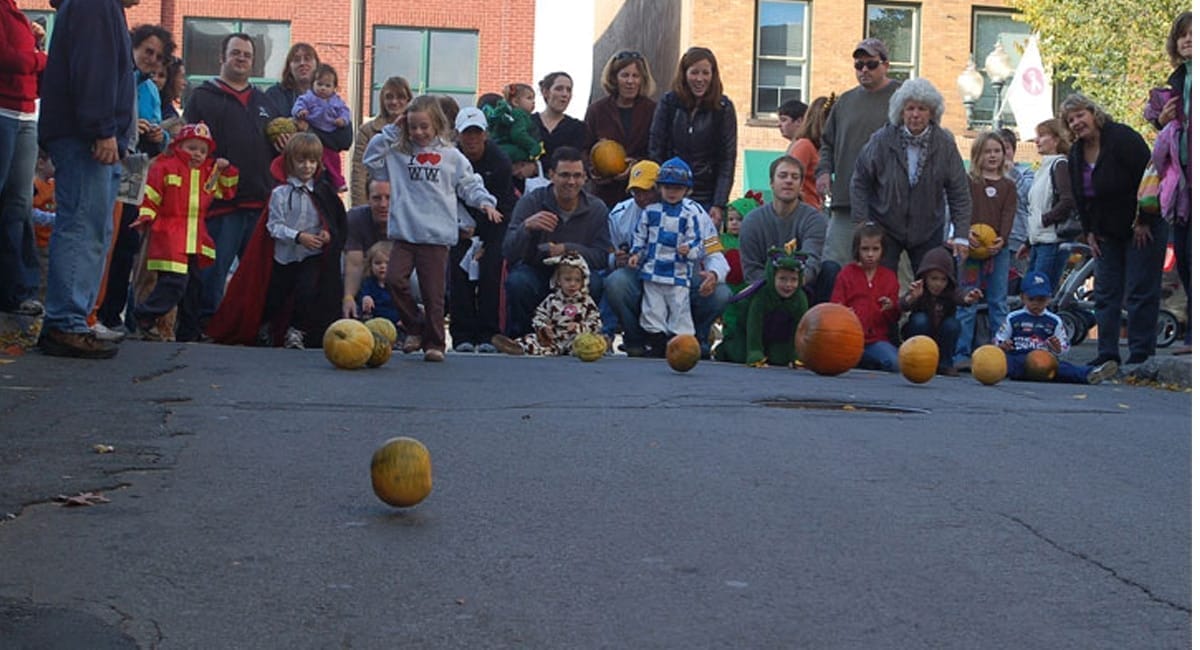 Children and parents alike partake in seasonal activities at the Saratoga Fall Festival. | Photo Courtesy of saratoga.com
What better way to finish off the month of October then going to the Saratoga Fall Festival! Visit Saratoga Springs on Saturday, October 23-25, from 11 a.m. to 4 p.m. to experience a fun-filled day for the whole family! This event has been running for 16 years and is still going strong! It is completely free to the public and welcomes people of all ages.
Contests at the Saratoga Fall Festival
Enter into these fun events for the whole family!
If you have a dog and a cute costume for them, be sure to check out the "Howl-O-Ween Dog Costume Contest." In addition, the "Pumpkin Roll" game always has fierce competition. All kids participating in the contest will be found chasing pumpkins down Caroline Street.
Finally, there is a challenge of guessing the weight of a huge pumpkin! Those who enter will be in the running for a for a huge prize. "It's the great pumpkin, Charlie Brown!"
Shops for All Ages
You can expect to find over 40 shops where kids can trick-or-treat at in their costumes. There will be plenty of activities for them, such as Stories Under the Big Top, the Costume Parade, and a Scavenger Run. Older visitors can learn how to make pumpkin pancakes, play mini-golf, enjoy spa chair massages, and learn more about body-art!
Entertainment at Festival
The Saratoga Fall Festival will feature several unique musical performances, including Elvis tribute artist Matthew Boyce, the Lifeline Band, and percussionists Two Guys Drumming. Other guests will deliver zany performances, like magicians Alan Edstrom, Magic Dan, and Sean the Prankster, jugglers Nick Traveggia and Sparkles the Tall, and members of the Skidmore Circus.
Kids will also be able to do rock climbing, and go to the petting zoo and pony rides!
Do not miss out on the Saratoga Fall Festival to celebrate and have fun with the entire family!
Time

23 (Friday) 11:00 am - 25 (Sunday) 4:00 pm
Location

Saratoga Fall Festival

38 High Rock Avenue