04dec(dec 4)8:00 pm17jan(jan 17)9:00 pmRockefeller Center Tree Lighting(december 4) 8:00 pm - (january 17) 9:00 pm Rockefeller Center, 45 Rockefeller Plaza, New York, NY 10111
Event Details
Rockefeller Tree Lighting
Be a part of lighting the largest and most iconic Christmas tree in the world!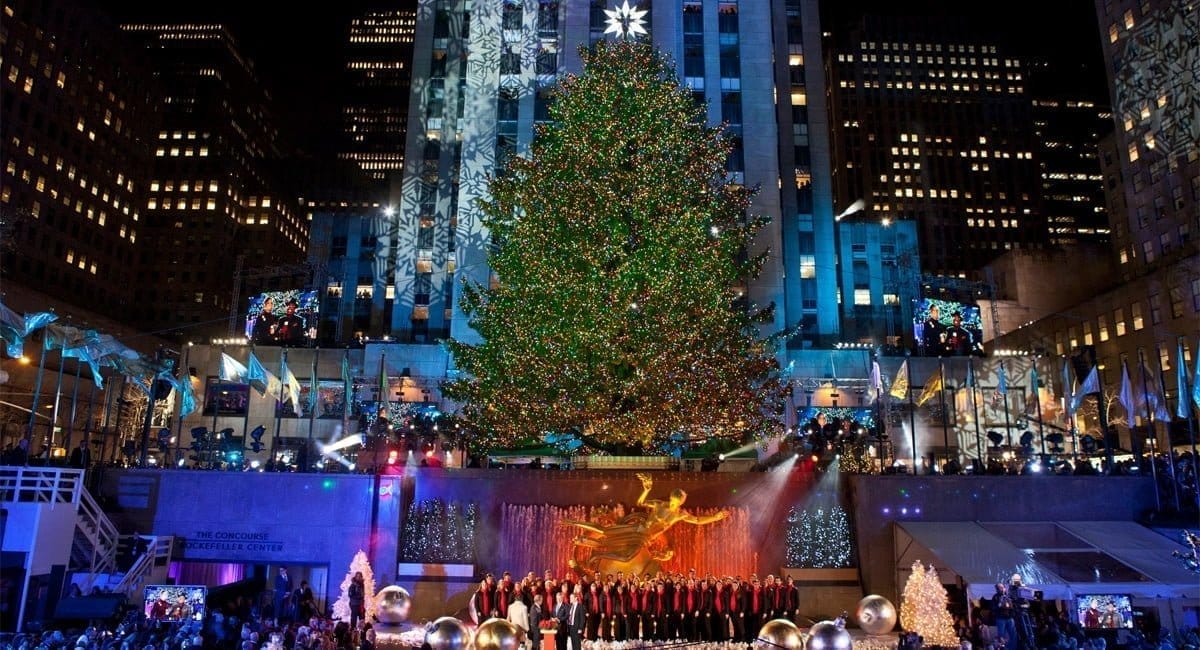 Thousands of people gather to see the historic event of the Rockefeller Tree Lighting. | Photo Courtesy of Anthony Quintano
Rockefeller Christmas Tree Lighting
Come see the annual Rockefeller Christmas Tree lighting that draws crowds of thousands of people! The Rockefeller Center Tree will be lit for the first time on December 04, and will remain lit until January 17. Or, tune in the televised broadcast on NBC from 8 to 10 p.m.! 
History of the Rockefeller Tree Lighting
Since 1933, this tradition has stood as the start of the holiday season and brings the city of New York together. During the Great Depression, workers would round up their paychecks and gather around Rockefeller Plaza to put up a small Christmas tree for the season. It became a "holiday beacon for New Yorkers and visitors alike." Over the years, the tree has been decorated in patriotic colors during World War II, and in 2001 to remember September 11th. Every year, it lights up the center of Midtown with its beauty and decorations.
By the end of the season, over 125 million people will have visited the tree, making it the center of the holiday season.
Live Performances at the Rockefeller Tree Lighting
Live performances from renowned musicians and appearances from top celebrities will preface the lighting, from 7 p.m. to 9 p.m. Participating in the tradition is free of charge and connects visitors with people from all over the world in the name peace during the winter holidays.
The list of performers at the Rockefeller Tree Lighting:
John Legend
Derek & Julianne Hough
Brett Eldredge
Idina Menzel
Gwen Stefani
Lea Michele
Chicago
NE-YO
Straight No Chaser
Skylar Astin & Alex Newell
And more!
The Rockefeller Tree will be lit every day from 6:00 am to Midnight through January 17, 2020.. On Christmas Day, the tree will be lit for 24 hours! Visit Rockefeller Plaza between West 48th and 51st Streets and Fifth and Sixth Avenues to experience a wonderful start to the holidays!
Take Amtrak to the Rockefeller Tree Lighting
Experience the Rockefeller Tree Lighting via Amtrak to Penn Station in New York City—Don't forget to use the See New York and Save 15% discount!
To get to from Penn Station to the Rockefeller Tree Lighting, take the 1 Subway line from Penn Station to 50th Street-Broadway then head east to Rockefeller Center along 50th Street (8-minute walk).
Or, take the E train from Penn Station to 5th Avenue-53rd Street, then head downtown along 5th Avenue to 50th Street (6-minute walk).
*The event is free and open to the public. First come, first serve.*
Time

December 4 (Wednesday) 8:00 pm - January 17 (Friday) 9:00 pm
Location

Rockefeller Center

45 Rockefeller Plaza, New York, NY 10111