01dec6:00 am10jan(jan 10)12:00 amRockefeller Center Tree Lighting(december 1) 6:00 am - (january 10) 12:00 am Rockefeller Center, 45 Rockefeller Plaza, New York, NY 10111
Event Details
Rockefeller Tree Lighting
Be a part of lighting the largest and most iconic Christmas tree in the world!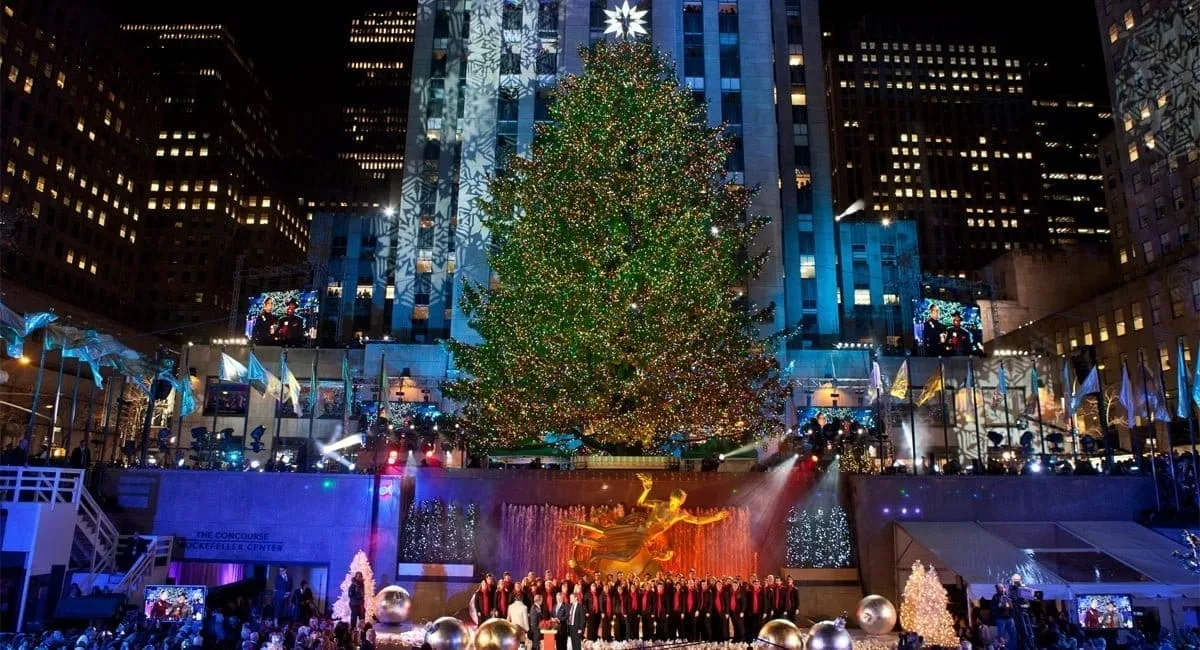 Thousands of people gather to see the historic event of the Rockefeller Tree Lighting. | Photo Courtesy of Anthony Quintano
Rockefeller Christmas Tree Lighting
Come see the annual Rockefeller Christmas Tree Lighting that draws crowds of thousands of people! The Rockefeller Center Tree will be lit for the first time on Dec. 1 and will remain lit until Jan. 10. Last year in 2020, the tree lighting was only available for viewing via NBC broadcast, but this year, in 2021, the tree lighting will be both open to the public and by broadcast. The tree lighting festivities will kick off at 8 p.m. on Dec. 1 and will host a plethora of performances.
This year's tree originates from Elkton, Maryland.
History of the Rockefeller Tree Lighting
Since 1933, this tradition has stood as the start of the holiday season and brings the city of New York together. During the Great Depression, workers would round up their paychecks and gather around Rockefeller Plaza to put up a small Christmas tree for the season. It became a "holiday beacon for New Yorkers and visitors alike." Over the years, the tree has been decorated in patriotic colors during World War II, and in 2001 to remember September 11th. Every year, it lights up the center of Midtown with its beauty and decorations.
By the end of the season, over 125 million people will have visited the tree, making it the center of the holiday season.
The Rockefeller Tree will be lit every day from 6:00 am to Midnight from Dec. 1 through Jan. 10; however, on New Year's day the tree will be open for viewing until 9 p.m. On Christmas Day, the tree will be lit for 24 hours! Visit Rockefeller Plaza between West 48th and 51st Streets and Fifth and Sixth Avenues to experience a wonderful start to the holidays!
Live Performances
This year's live performances will include:
Carrie Underwood
Mickey Guyton
Harry Connick Jr.
Brad Paisley
Alessia Cara
Norah Jones
Rob Thomas
The Radio City Rockettes
Take Amtrak to the Rockefeller Tree Lighting
Experience the Rockefeller Tree Lighting via Amtrak to Penn Station in New York City—Don't forget to use the See New York and Save 15% discount!
To get to from Penn Station to the Rockefeller Tree Lighting, take the 1 Subway line from Penn Station to 50th Street-Broadway then head east to Rockefeller Center along 50th Street (8-minute walk).
Or, take the E train from Penn Station to 5th Avenue-53rd Street, then head downtown along 5th Avenue to 50th Street (6-minute walk).
*The event is free and open to the public. First come, first serve.*
Time

December 1 (Wednesday) 6:00 am - January 10 (Monday) 12:00 am
Location

Rockefeller Center

45 Rockefeller Plaza, New York, NY 10111