26novAll DayMacy's Thanksgiving Day Parade(All Day: thursday) 6th Ave., 34th to 38th St., 6th Ave., 34th St. New York, NY 10001
Event Details
Macy's Thanksgiving Day Parade
Holiday kick-off parade with immense balloons, Broadway performers and Santa.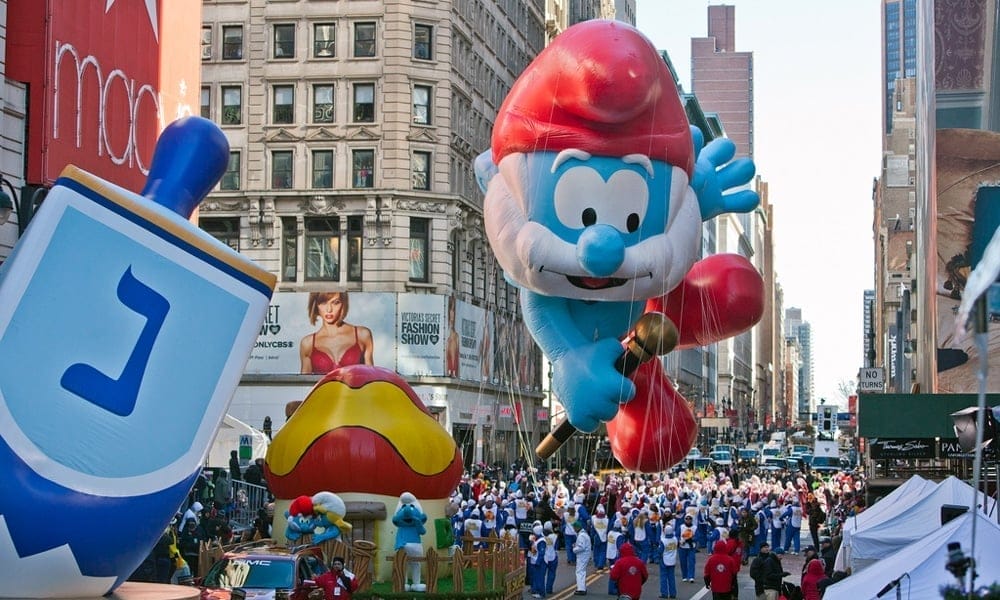 The Papa Smurf balloon at the Macy's Thanksgiving Day Parade. | Photo Courtesy of Macy's Thanksgiving Day Parade
What better way to celebrate Thanksgiving with family and friends than by going to the annual Macy's Thanksgiving Day Parade? Join Macy's in celebrating their 94th annual parade on November 26 at 9 a.m. The parade will begin from 77th Street and Central Park West and continue on to Columbus Circle, turn onto Central Park South and march down 6th Avenue/Avenue of the Americas. At 34th Street, the Parade will make its final turn west and end at 7th Avenue in front of Macy's Herald Square.
Some notable returning balloons: Disney's Olaf from Frozen, Charlie Brown, the Mighty Morphin Power Rangers, and SpongeBob SquarePants. With the addition of four new balloons debuting, one being Astronaut Snoopy. Some returning floats include: "1-2-3 Sesame Street" (Leslie Odom Jr. and The Muppets cast of Sesame Street), Big Apple by NY Daily News and "Building A Better World" by Girl Scouts of the USA. There are four new floats this year, including: Blue's Clues & You, Cracker Barrel's Home Sweet Home, COACH's Rexy In The City, and Lego's The Brick Changer. 
Where to Get the Best View
The best places to view depends on you! Early risers like to camp out starting at 6 a.m. along the west side of the street on Central Park West from 59th to 75th Streets, where the Parade runs from about 9 a.m. until 10:30 a.m. Columbus Circle provides a large clearing, and this gives the best views of the balloons. Some restaurants are within Colombus Circle as well if you would like to beat the cold. If you prefer to arrive later, further down the route on 6th Avenue may be best—the Parade reaches this area around 9:30 a.m. We don't suggest viewing from 6th Avenue between 34th and 38th Streets or in front of Macy's Herald Square, which provides very limited viewing due to the national television broadcast. However, Herald Square is the best spot to watch the live performances. If you are interested in watching the balloons get inflated on Thanksgiving Eve, check out the American Museum of Natural History around 5:00 p.m.
Location

6th Ave., 34th to 38th St.

6th Ave., 34th St. New York, NY 10001