23nov9:00 am12:00 pmMacy's Thanksgiving Day Parade9:00 am - 12:00 pm 6th Ave., 34th to 38th St., 6th Ave., 34th St. New York, NY 10001
Event Details
Macy's Thanksgiving Day Parade
The famous parade kicks off the holiday season in New York City with Broadway performers, giant balloons and more.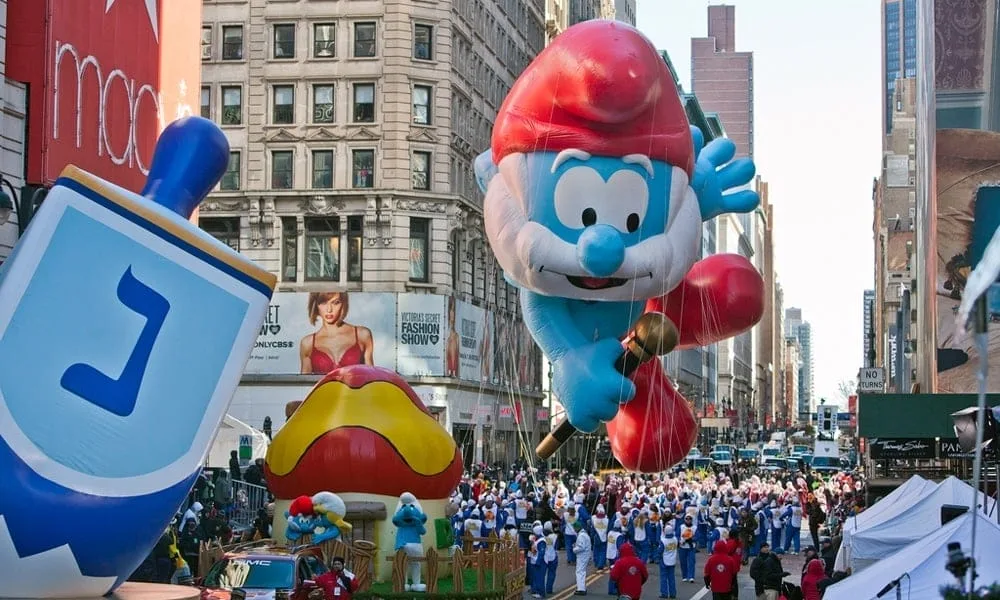 The Papa Smurf balloon at the Macy's Thanksgiving Day Parade. | Photo Courtesy of Macy's Thanksgiving Day Parade
What better way to celebrate Thanksgiving with family and friends than by heading to the annual Macy's Thanksgiving Day Parade? Join the famous department store in celebrating its 97th annual parade in New York City on November 23 at 9 a.m. The three-hour parade kicks off at 77th Street and Central Park West and continues down to Columbus Circle, where it turns onto Central Park South and heads down 6th Avenue/Avenue of the Americas. At 34th Street, the Parade will make its final turn west and end at 7th Avenue in front of Macy's Herald Square.
2023 Thanksgiving Day Parade
There will be 28 floats, 22 giant balloons and multiple performers and clowns in this year's parade.
Notable floats include:
NEW FOR 2023: Brach's Palace of Sweets
NEW FOR 2023: The Deliciously Delectable World of Wonka
NEW FOR 2023: Igniting Memories
1-2-3 Sesame Street
Big Turkey Spectacular
Fantasy Chocolate Factory
Notable balloons include:
NEW FOR 2023: Beagle Scout Snoopy
NEW FOR 2023: Blue Cat & Chugs
NEW FOR 2023: Monkey D. Luffey
Bluey
Smokey Bear
Stuart the Minion
Where to get the best view:
The best places to view depend on you! Early risers like to camp out starting at 6 a.m. along the west side of the street on Central Park West from 59th to 75th Streets, where the Parade runs from about 9 a.m. until 10:30 a.m. (NOTE: There is no public viewing on Central Park West between West 59th & West 60th Streets.) If you prefer to arrive later, further down the route on 6th Avenue may be best—the Parade reaches this area around 9:30 a.m. We don't suggest viewing from 6th Avenue between 34th and 38th Streets or in front of Macy's Herald Square, which provides very limited viewing due to the national television broadcast. However, Herald Square is the best spot to watch live performances.
If you are interested in watching the balloons get inflated on Thanksgiving Eve, check out the American Museum of Natural History around 5:00 p.m.
Time

(Thursday) 9:00 am - 12:00 pm
Location

6th Ave., 34th to 38th St.

6th Ave., 34th St. New York, NY 10001