18novAll Day28decCatskill Mountain Railroad Polar Express Ride(All Day) Westbrook Lane Station, 149 Aaron Ct, Kingston, NY 12401 Event Organized By: Catskill Mountain Railroad
Event Details
Catskill Mountain Railroad Polar Express Ride
The Polar Express is back in Kingston! With the officially licensed Warner Bros™. train, the Polar Express Ride on the Catskill Mountain Railroad is a winter spectacular and perfect replication of the movie.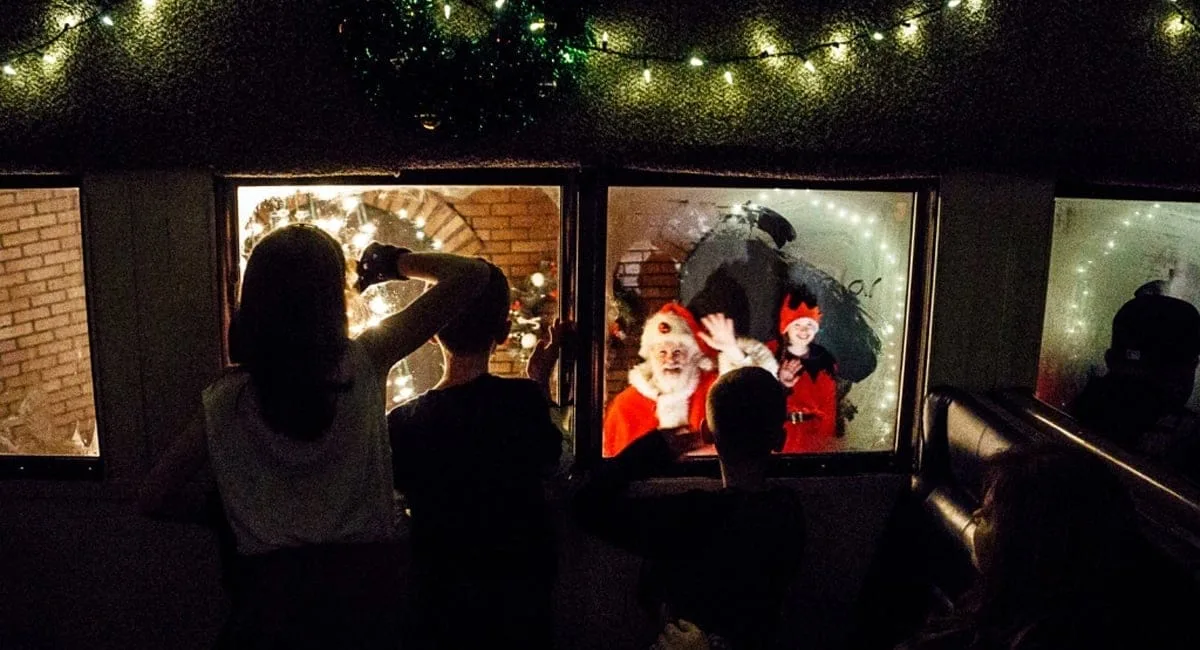 Meet Santa and his elves as you pull into the North Pole. | Photo Courtesy of Catskill Mountain Railroad Polar Express
Children and their families will discover the magic of Christmas aboard The Polar Express™ when it arrives in Kingston, NY! The officially licensed train rides inspired by the hit Warner Bros. film The Polar Express and book by Chris Van Allsburg will be run by the Catskill Mountain Railroad from November 18 through December 28, 2022.
What to Expect on the Polar Express
Set to the sounds of the motion picture soundtrack, pajama-clad passengers will relive the magic of the story and see their favorite characters come to life as they are whisked away aboard The Polar Express on a magical round trip to the North Pole.
During the journey, the conductor will punch tickets and dancing chefs will serve hot chocolate, just like in the film. Passengers will also enjoy a sing-along and a special reading of the Van Allsburg classic. At the North Pole, Santa will board the train to greet the children and will give a special sleigh bell to all those who believe. Create great family memories aboard The Polar Express! The round trip to the North Pole takes about an hour and a half, so plan accordingly.
Ticket Prices on the Polar Express Ride
Off-Peak
Adults: $42.00; Children (Ages 2-12): $32.00;  Toddler (Under 2, In Lap): Free
Peak
Adults: $51.00; Children (Ages 2-12): $41.00;  Toddler (Under 2, In Lap): Free
Once tickets have been released, passengers may book their reservations
online
. Additionally, reservations agents can be reached at 
845-332-4854
, Monday through Saturday from 11:00 a.m. to 5:00 p.m.
Time

November 18 (Friday) - December 28 (Wednesday)
Location

Westbrook Lane Station

149 Aaron Ct, Kingston, NY 12401