Ulster County is the perfect getaway from New York City. Just 90 miles north and a 1.5-hour Amtrak train ride from Manhattan, this 250,000-acre rural playground has it all. With opportunities to bike and hike across the Walkway Over the Hudson or along the county's 350 miles of trails, rock climb at Shawangunk Ridge, sample farm-to-table restaurants and shop at small-town boutiques, I wanted to experience it all. With a vast county to explore, I thought it would be best to scope out one town that embodies nearly all of these qualities.
Exploring New Paltz
A hidden gem of the Hudson Valley, the village of New Paltz sits at the base of the Mohonk Preserve and Shawangunk Mountains, where life moves at a slower pace. After an early morning ride on Amtrak from Manhattan, I was thankful for the change in scenery. Strolling down Main Street, I was immediately struck by the village's eccentric atmosphere, its unique shops and restaurants, and local Rail Trail network, all surrounded by picturesque views.
Strolling down Main Street, I perused the colorful array of unique mom-and-pop shops. One storefront, called Cocoon, sold an eclectic mix of artisanal soaps, jewelry, novelty gifts and high-end kitchenware. Another store, Heady Teddy's, was a treasure chest of homemade 1960s and 1970s-esque apparel. Street art and murals decorated the outer walls of many local businesses, including an iconic peace symbol towering above Church Street on the eastern side of Main Street Bistro, one of the dozens of restaurants whose delicious aromas were hard to resist.
Continuing down to the shores of the Wallkill River is
Water Street Market
. Intrigued by the quirky statues at the street's entrance, I found myself immersed in what felt like a separate community. With picnic tables and public chess tables sprinkled throughout the area, one could spend an entire day on Water Street with friends and family. I took a seat near the fountain at the center of the market to take it all in, then walked by the Cheese Plate, a sandwich shop that specializes in, you guessed it, cheese dishes, then to Rhino Records where I thumbed through their sizable collection of classic vinyl, and the Antique Center, a massive red barn filled with everything vintage you could imagine. I lost myself browsing the boundless collection of memorabilia much longer than I planned.
Shopping can cause quite an appetite, and P&G's Restaurant was the place to solve that. A cornerstone of New Paltz, this restaurant and bar has been around for over a century serving classic pub fare in a rustic setting. I sampled a pint and Chef Tommy I's Crab Cake Melt, a local favorite. How satisfying to sink my teeth into that homemade crab cake topped with melted Swiss cheese, coleslaw and Chesapeake sauce, all wedged between two pieces of grilled rye bread!
History Comes Alive in New Paltz
With history on the brain, I wanted to learn more about the area at Historic Huguenot Street. A walk through this 10-acre National Historic Landmark District was like being transported back in time. Through the hourly tour and watching reenactments, I experienced what the lives of the founders of New Paltz were like, and what it meant to be a Huguenot in America during the 1700's.
The old stone houses were an impressive sight. Decorated with period furniture, apparel and tools, each house has been transformed into museums unique to the families that inhabited them. My favorite of the seven, Deyo House, was a lavish Queen Anne home built atop one of the original stone houses and inhabited by the Broadhead family. The interior's decor was restored to reflect the owner's affluence, with Victorian-era furniture, gold accents, a functioning player piano (I got to hear it!) and a spacious sunroom on the second floor.
Outdoor Recreation at Lake Minnewaska
Back in New Paltz village, I took a coffee break at Cafeteria Coffee House. Their iced caramel latte was sweet, but bold, and hit the spot on this warm summer day. It was also a nice place to get out of the sun, with free Wifi, a laid-back atmosphere and comfortable seating.
Re-energized, I was ready for a hike. I drove across the Carmine Liberta Bridge, taking in the stunning view of the sweeping fields below the Shawangunks. Following signs for Lake Minnewaska State Park, I happened upon a scenic overlook with panoramas stretching beyond the village of New Paltz toward Kingston, Highland and Gardiner.
Lake Minnewaska State Park was equally picturesque and intriguing, with its mountaintop lake. It was a haven for swimming, paddling, hiking, biking and climbing. I opted for a short hike from the parking lot, which took me up one of the park's immense cliffs to a view of the lake.
Spending the entire day at Minnewaska would have been an ideal experience, but I was determined to go for a bike ride, too. After renting a bike at Bicycle Depot on Main Street, I headed downhill, first to the new River-to-Ridge Trail.
The River-to-Ridge trail is a six-mile loop that leads straight to the Shawangunk Ridge. Due for completion during summer 2018, it's for hikers and bikers in the summer and snowshoers and cross-country skiers in the winter. It passed through the same fields that I had seen earlier en route to the state park, which gave me the chance to enjoy them again!
The Wallkill Rail Trail was just as picturesque. Traversing along the Wallkill River, I headed south from New Paltz toward Gardiner enjoying endless farm fields, stretching to the base of the mountain. I was lucky to see a herd of grazing cattle just as the sun began its descent behind the Mohonk Skytop Tower. It was the perfect finale to an adventurous day.
Take Amtrak to New Paltz and Ulster County
Take Amtrak from Penn Station to Poughkeepsie. Note: From July 10, 2018 to September 1, 2018, Amtrak will depart from Grand Central Terminal (not Penn Station) to stations between New York City and Albany-Rensselaer, including Poughkeepsie. Don't forget to use the New York By Rail 15% discount!
Ulster County is largely rural. Rent a car from Enterprise (Poughkeepsie Enterprise Office: 845-485-2222.), which will pick you up and take you to your vehicle. Use code NYTRAIN for a discount when making your reservation.
Once you have your car, have fun touring the many towns and outdoor spots throughout Ulster County!
Don't Miss These Hotspots in Southern Ulster County
By Allyson Macci
Meet Me in Marlborough Farm Trail (Milton, Marlborough)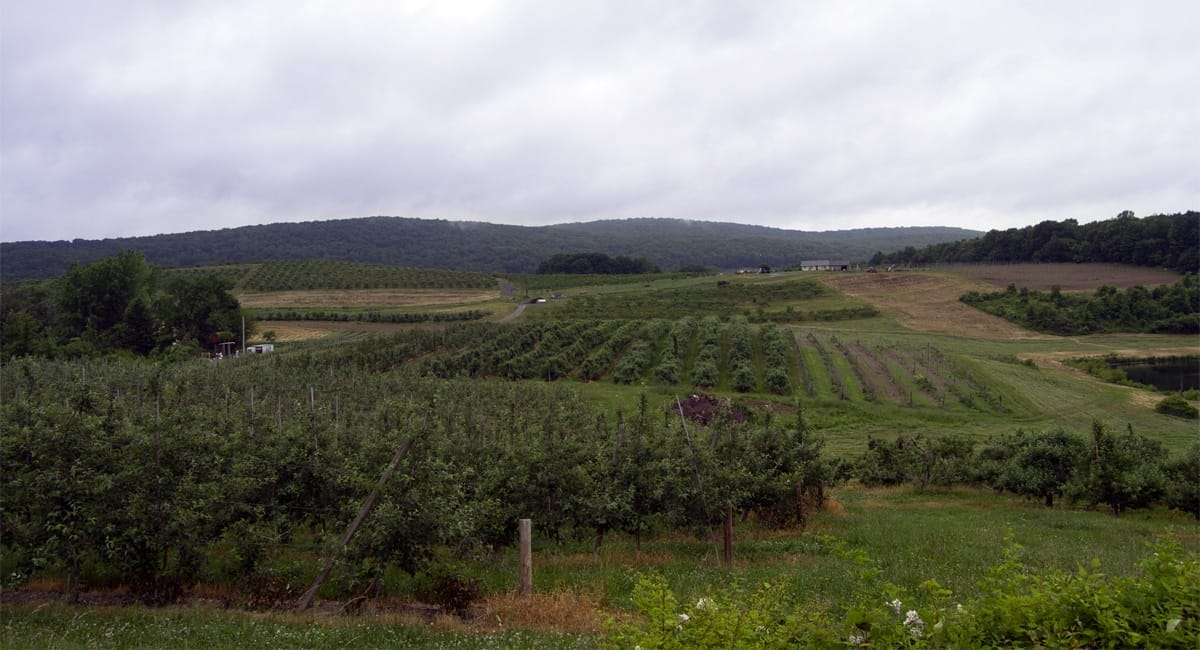 The Meet Me in Marlborough Farm Trail, one of the region's most recognized farm trails was organized by a group of local farmers and business people. This agriculturally-focused route takes you past different farms, orchards, vineyards and shops, including the picturesque Prospect Hill Orchards, that has been in the same family for nearly 200 years and that grows gorgeous apricots, cherries, peaches, and plums. As you walk through the farm trail, visiting the various farms, orchards and wineries, take a minute to admire the Catskill Mountains in the distance and the sparkling Hudson River below.
Frida's Bakery & Café (Milton)
Known for its delicious cookies, cakes, tarts, and brownies, Frida's also offers breakfast and lunch and breakfast. Everything is made on the premises, incorporating the region's finest ingredients. Check out the California Wrap, a whole wheat wrap with bacon, avocado and turkey inside. It's one tasty sandwich!
The Falcon (Marlboro)
The Falcon, a jazz club and restaurant, is a gathering spot for music, food and drinks. With a rotating menu based on fresh, local Hudson Valley and New York produce, it offers appetizing pizzas, burgers, salads and desserts. This place exudes cool. There's often a band playing upstairs and a jam session downstairs, where musicians just show up to improvise together. Outside, the beer garden overlooks Marlboro Falls.
Hamlet of Highland
In the mood for some beautiful views and a more relaxing atmosphere? Visit the hamlet of Highland with its quintessential small-town vibe. Highland is situated alongside the Hudson River and is Ulster County's agricultural hub. Highland is also home to the Walkway Over the Hudson and the Bad Seed Cider Company, which strives to advance the craft cider industry through the mixing of old and new techniques. Highland offers a diverse range of activities and places to eat, stay, and explore.
Buttermilk Falls Inn & Spa (Milton)
Buttermilk Falls Inn and Spa is a gorgeous place to stay. It has unique rooms, an organic kitchen garden, an orchard and a full-service spa. With the Hudson River flowing below and Buttermilk Falls cascading through the property, it has picture-perfect views throughout its 75-acres. Part of the grounds is home to an animal sanctuary, where chickens, peacocks, donkeys, llamas and alpacas delight guests. Ask for the Maynor Flat suite, a cozy suite with a claw-foot bathtub and a great view of the meadow and pond.
Henry's Restaurant (Milton)
 Henry's Restaurant at Buttermilk Falls Inn & Spa is a farm-to-table restaurant that offers breakfast, brunch, lunch, and dinner, with wine from local vineyards. Try the Peking duck dish – roasted duck served with soba noodles, Millstone Farm sour cherries and julienned vegetables char siu – while sipping a Smoked Black Dirt Manhattan, made from local Black Dirt Bourbon.
Jack's Meats and Deli (New Paltz)
For a quick bite on-the-go, Jack's Meats and Deli has organic deli sandwiches and burgers. Their Philly cheesesteak is tasty, too.