A former whaling city, Hudson is an art-and-antiques-collecting destination.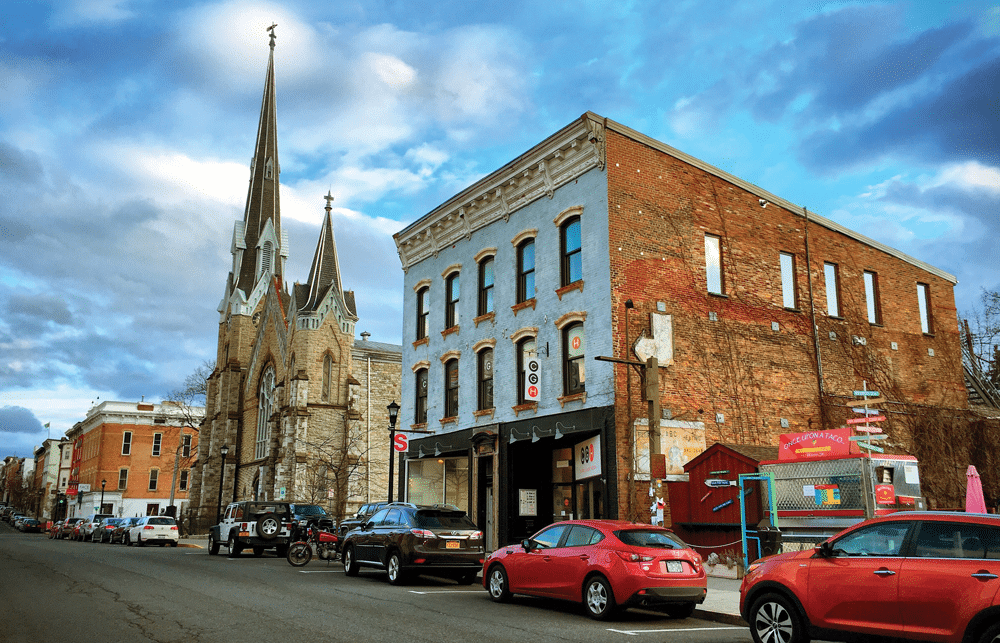 Wm. Farmer & Sons (20 S. Front Street), across from the train station on the waterfront, is a great place to start or end your visit. The boardinghouse/restaurant/ barroom offers craft cocktails, snacks and farm-to-table dishes as well as comfy, quirkily designed rooms and suites. Start your exploration at Basilica Hudson (110 S. Front Street), a nonprofit, multidisciplinary arts center, also on the waterfront, in a solar-powered reclaimed 1880s factory. Its Back Gallery shows local artists. The Basilica also hosts weddings and community events; weekend happenings include food and literary programs, performances, music and an annual Thanksgiving weekend flea market.
After checking out The Other Company (99 South Front Street) for an eclectic mix of furnishings from the 1500s to the 1950s, head to Warren Street, Hudson's mile-long main street. The Limner Gallery (123 Warren Street), on the western end, left New York City for this hipster mecca. Warren Street's quaint clapboards and Federalist houses give way to antique shops at Third Street. The Hudson Mercantile, Furlong and Warren Street Antiques can satisfy every lifestyle and budget, including fossilized Cretaceous fish, Chinese landscape paintings, 1970s Soviet propaganda and Japanese robot bunnies.


SPONSORED CONTENT
Further east are Skalar Modern (438 1/2 Warren Street), offering Midcentury Modern European furniture; Naga North (536 Warren Street), presenting Japanese and Art Deco items; and the Space-Age Magic Hill (558 Warren Street). The Stair Gallery (549 Warren Street) holds monthly auctions. White Whale Limited (410 Warren Street) sells coyote claws, wooden nickels and antique livestock tags. "We try to get at least a dollar from everyone who comes in here," says its proprietor, who's named Ishmael, like in Moby Dick.
Carrie Haddad Gallery (622 Warren), opened in 1991, established Hudson as an arts center. 510 Warren Street Gallery shows local and national artists. And Hudson Opera House (327 Warren Street) exhibits notable local work in its stately restored halls.
Yet no gallery symbolizes Hudson like J. Damiani Gallery (237 Warren Street). Founded in 2007 by retired art teacher Joan Diamani, the gallery displays her striking large-scale photographs of Columbia County and Italian cities, Hopper-like paintings of barns and empty restaurants and surrealist giclée-printed photographs of stallions thundering through eerie urban courtyards. It's classic, contemporary and edgy. In other words, it's Hudson.
– Brian PJ Cronin