Amtrak Moving to New Station in Niagara Falls
Following the departure of the 6:50 a.m., 284 Amtrak train next Tuesday, trains rolling through the city of Niagara Falls will be arriving at a new Niagara Falls Amtrak station.
Photo by James Neiss (Originally Published in the Niagara Gazette)
On Dec. 6, the old Amtrak station on Willard Avenue in Niagara Falls will close its doors, as service ceases and staff is relocated to the long-awaited International Train Station and Intermodal Transportation Center.
Craig Schultz, of Amtrak's corporate communications office, announced the switch from the Willard Avenue station to the Main Street and Depot Avenue hub in a release sent to media outlets on Wednesday.
The new, $43 million Niagara Falls Amtrak station building will consist of a complex built around the historic United States Customhouse, incorporating a waiting room, restrooms, the Amtrak ticket office and a U.S. Customs and a Border Protection inspection facility for processing passengers on Train 64, the New York-bound Maple Leaf service from Toronto. The new station will also house an Underground Railroad Museum and retail space.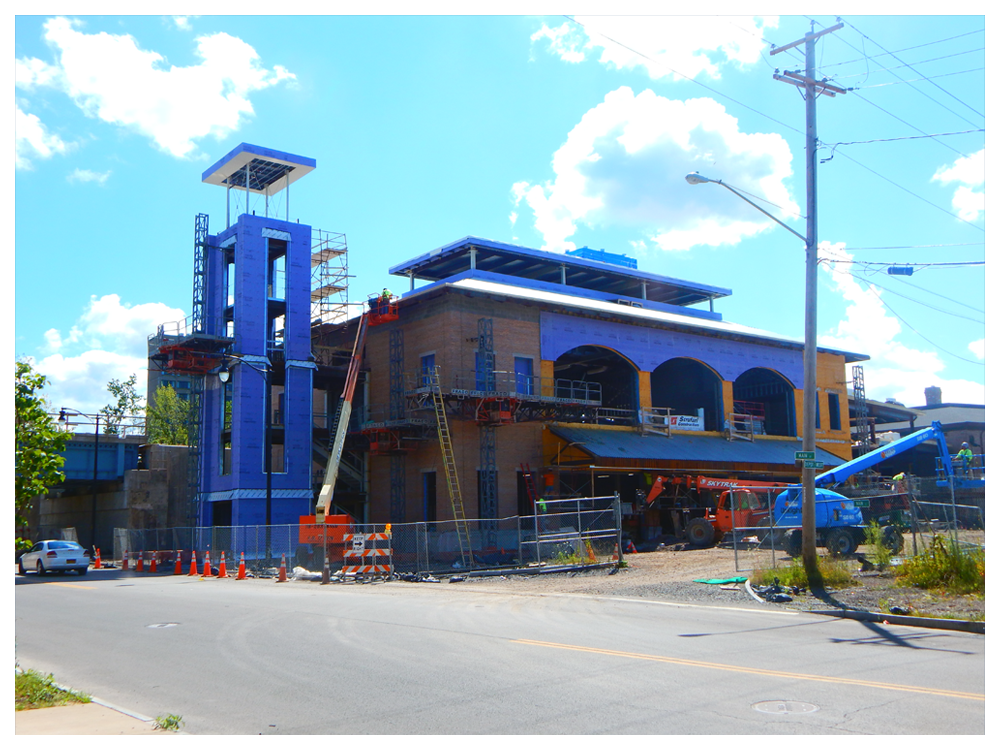 The station under construction in 2015.
—Photo by Adam Moss
After years of planning, construction and lease negotiations that began nearly two decades ago—with efforts that have passed through state Senate, state Assembly and local mayoral administrations, the two-story, 46,430 square-foot station will open its doors to Amtrak and the public.
A lease agreement, finalized on Nov. 9 by the Mayor of the City of Niagara Falls, Paul A. Dyster, states that Amtrak will operate 29,360 square feet, 63 percent of the new intermodal transit station, for a whopping 20-year occupancy.
Schultz' release states that Amtrak customers holding reservations for travel on or after Dec. 6 are being proactively notified about the change in boarding location.

Here is a schedule for the move:
Through December 5, 2016
All trains stop at the old station (on Willard Avenue).
December 6, 2016
Trains 280 and 284 stop at the old station on Willard Avenue. After train 284 departs at 6:50 a.m, the old station closes and the station staff relocates to the new station.
Trains64, 63, 281 and 283 stop at the new station on Depot Avenue West.
December 7, 2016, and thereafter
All trains stop at the new station on Depot Avenue West.