On a recent Friday morning, I embarked on the Maple Leaf train from the bustling hub of the Moynihan Train Hall at Penn Station to travel to the historic city of Albany for a "spooky" weekend. My itinerary in the New York State capital promised an immersive experience featuring delicious food, exhilarating haunted tours, and perhaps even a few heart-pounding encounters with the ghosts of downtown Albany! After all, Albany is reviving a century-old Halloween Festival for the first time this year, so throughout the month of October the entire city will be full of special spooky events, tours, exhibitions, a parade, and Albany's first-ever Halloween House Ball!
Once on the train, I had several Zoom meetings and enjoyed my morning coffee. One of my favorite aspects of Amtrak is its commitment to both environmental sustainability and the cultivation of a flexible, productive travel experience. Looking out the window, I couldn't help but notice how the clouds created a mysterious and enchanting atmosphere, foreshadowing the adventures that awaited me in Albany. As someone whose favorite holiday is Halloween, it is an immense understatement to say I was eager to begin my journey!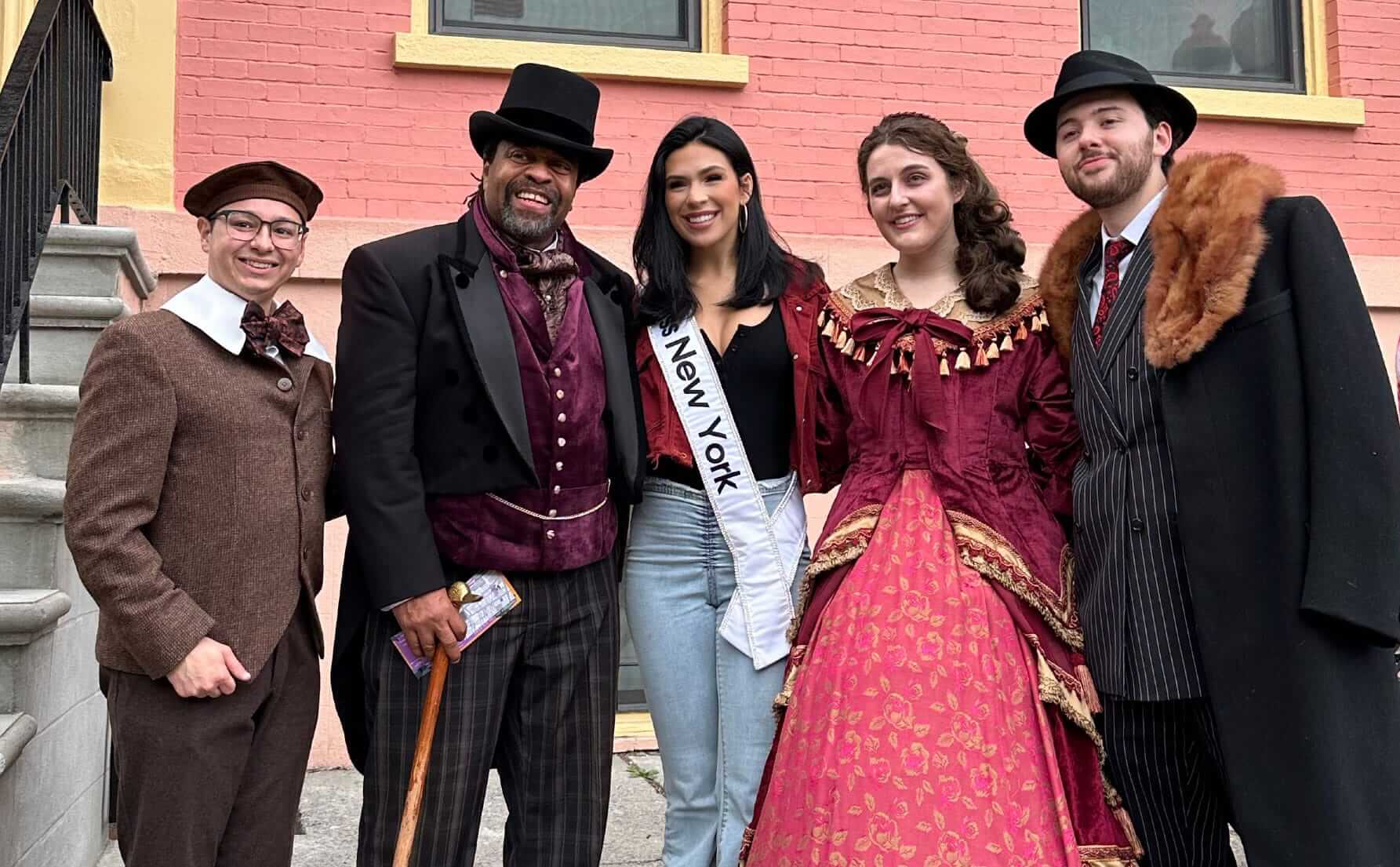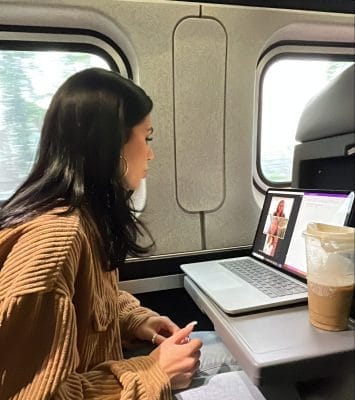 My first stop in Downtown Albany was the Hampton Inn & Suites, my gracious accommodations during my stay. As I walked into the lobby, I was met with fall decorations that made me feel right at home. My room was clean, cozy, and spacious (and not haunted). After visiting with the kind receptionists at the front desk, I ventured to Alias Coffee for an afternoon latte! As an avid coffee drinker, I am always looking forward to my next cup. Walking into this cute and quaint coffee haven, I immediately noticed the aroma of freshly-brewed coffee and rushed to read their menu.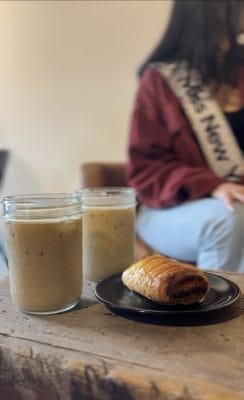 During my visit, I had a wonderful conversation with the barista, who so swiftly prepared their signature vanilla latte for me. As I stood at the register, I couldn't help but admire their selection of drinks, including their in-house cold brew and matcha. In addition to my delicious latte, I indulged in a delectable almond croissant. The combination of the tasty pastry and my crisp latte made for the perfect afternoon snack. Alias Coffee is the ideal destination for those who are looking for exceptional coffee and flavorful small bites, but it is also the perfect place to lighten your workload or lose yourself in a book.
As I made my way toward the New York State Capitol, I felt so excited for two reasons. First, I had never set foot inside our distinguished Capitol Building, and second, the prospect of learning about the tales of hauntings completely intrigued me. The moment I laid eyes on the Capitol Building, even from a distance of a mere block, I was in awe of its beauty; it reminded me of a castle. Its distinctive architectural features stood as a testament to its uniqueness. A rare gem among Capitol Buildings, it defies the convention of a domed roof and draws inspiration from the artistic traditions of both the French and Italian Renaissance. It was built by hand over a period of 32 years.
Our tour guide, Michael Collins, greeted us as we walked in; he could not have been more welcoming. Michael not only exhibited genuine kindness but also displayed an enthusiastic passion for recounting the Capitol's haunting tales. To my pleasant surprise, we also discovered that we shared the same last name, adding an extra layer of connection to the experience! As I explored the first floor of the building, it became evident that the same captivating beauty that had initially drawn me in also played a significant role in creating the eerie atmosphere that shrouded the Capitol's history.
What struck me as particularly fascinating during the tour was that every story was grounded in reality. This made the tour all the more chilling, making it an ideal choice for those who not only appreciate history, but love a good scare.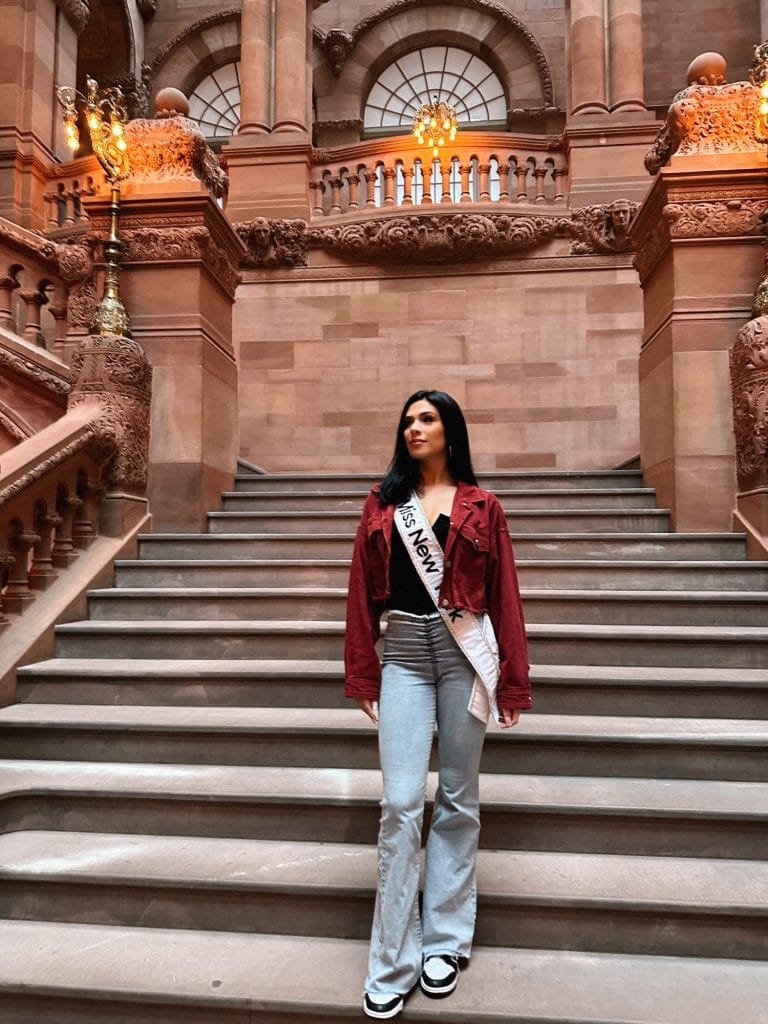 One of the scariest tales was the story of Samuel Abbott. Mr. Abbot, a Civil War veteran, was a Capitol night watchman who meticulously checked to make sure all of the doors were locked throughout the night. On a dreary night in 1911, the New York
State Capitol building went ablaze. Over 725,000 books and documents were lost from the library, along with one victim. Samuel Abbott was that victim. Numerous accounts from both visitors and staff have described unexplained cold spots, soft whispers, and chilling encounters with a man who looks exactly like Samuel Abbott.
Michael, our tour guide, didn't need to persuade me with words; I, too, sensed a presence and believe that Mr. Abbott still makes his rounds.
Throughout the Capitol Hauntings Tour, I often found myself gazing at the incredible stonework that played a key role in the ominous ambience of the building. Faces sculpted into the stone adorned the staircases, walls, and columns. It almost felt as if I was being watched and there was nowhere to hide; however, I found it special that these craftsmen harnessed their creativity to ensure that they left an everlasting mark, contributing to the distinctiveness that sets the New York State Capitol Building apart.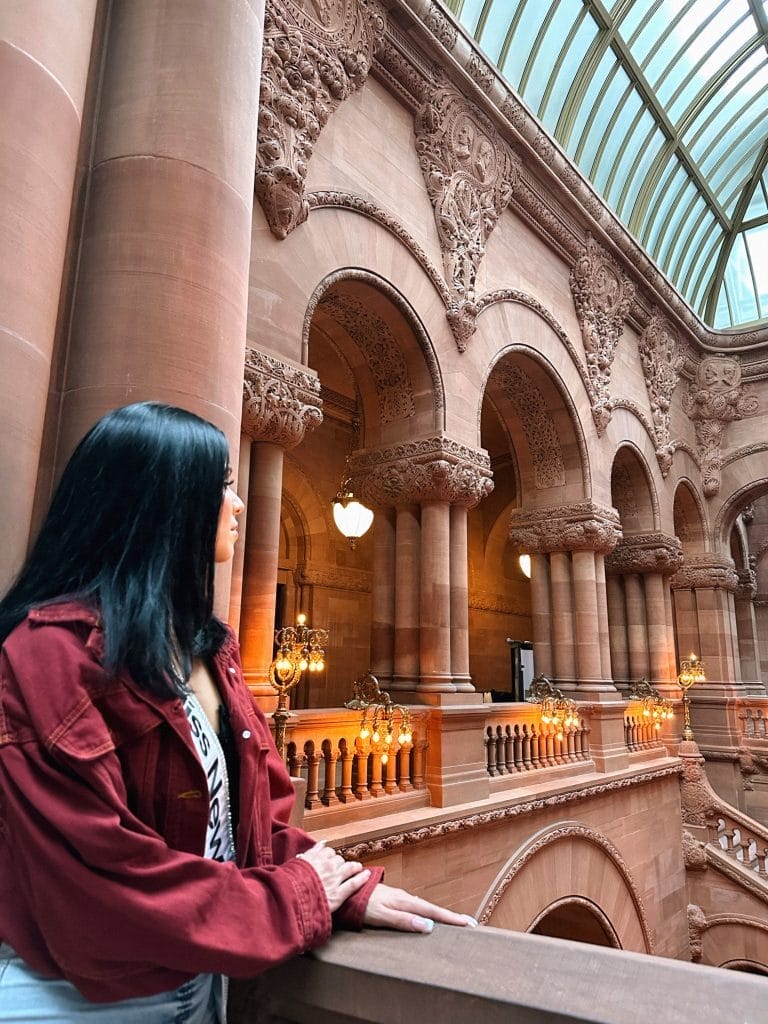 Before I began "The Dark Side of Downtown" Tour, I walked down Pearl Street, where I encountered several talented musicians playing live music outside. One of Albany's unique qualities is its ability to exude the allure of both a big city and a close-knit community. As I strolled along, I couldn't help but admire the committed residents who embodied the spirits of Albany's past, preserving the city's eerie Halloween charm while narrating its rich history.
The next stop on my Halloween-filled weekend in Albany was the Dark Side of Downtown Tour.  This guided walking tour through downtown Albany promised a riveting blend of crime and conspiracy narratives. Before our adventure commenced, our tour guide gathered us for a group photo, and I cherished the sense of community that enveloped us, all united in our anticipation to delve into the chilling tales of hauntings in downtown Albany.
During this tour we heard the story of Elsie Marie Smith, a young woman who won a pageant and was crowned the 'Queen Titania' of the very first Halloween Festival in 1904. The following year she was sent a poisoned box of chocolates—and narrowly escaped death. Who sent the poisoned goodies? It remains a mystery, but perhaps a rival contestant? [Happily, we were all best buddies in the Miss New York competition!] We also discussed legendary mobster "Legs Diamond." This guided walking tour was one of my favorite tours! It was fascinating to listen to the eerie tales of numerous New Yorkers, particularly because we were standing in the very locations where these stories actually unfolded.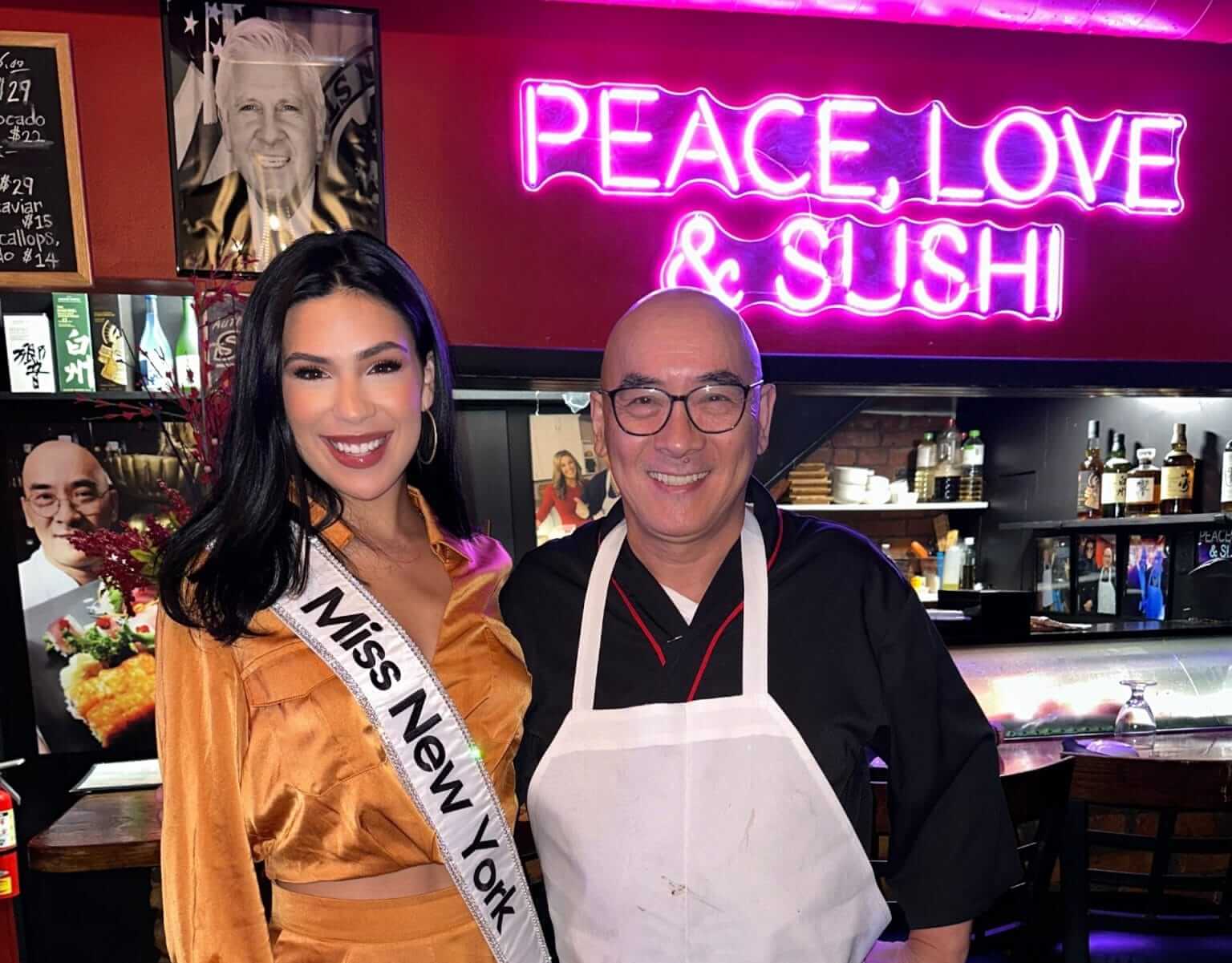 The last stop on my first day in Albany, and arguably my favorite one, was the Albany War Room Tavern. As someone whose favorite meal is sushi, I was so excited to experience cuisine from the world-renowned Chef Saso. For an appetizer, I ordered the Edamame Dumplings and for my entree, I ordered the Alaska Roll, and let me tell you… it was one of the best meals I have had in a long time! Everything about the meal was memorable from the fresh fish, to the perfect-sized portions, to the presentation of the food, to our generous and attentive waitress. Additionally, I loved the ambience of the restaurant. The walls were red and adorned with fun pictures and quotes, my favorite being a glowed up sign that said "Peace, Love, & Sushi." Before we headed back to the hotel for the day, I grabbed a picture with Chef Saso and told him how his restaurant far-exceeded my expectations. If you are a sushi lover and find yourself in Albany, you have to pay this fabulous restaurant a visit!  
I began my second day in Albany at Stack's Espresso Bar, where I indulged in a delicious London fog tea! As I savored my morning caffeine, I connected with the barista over our love for animals. Simultaneously, I had the opportunity to engage with members of the Albany Rowing Center as they enjoyed their breakfast. Stack's is more than just a coffee shop; it's a community hub where connections are fostered and solitude is equally cherished. Thanks to my cozy hot tea, I was ready to start my day.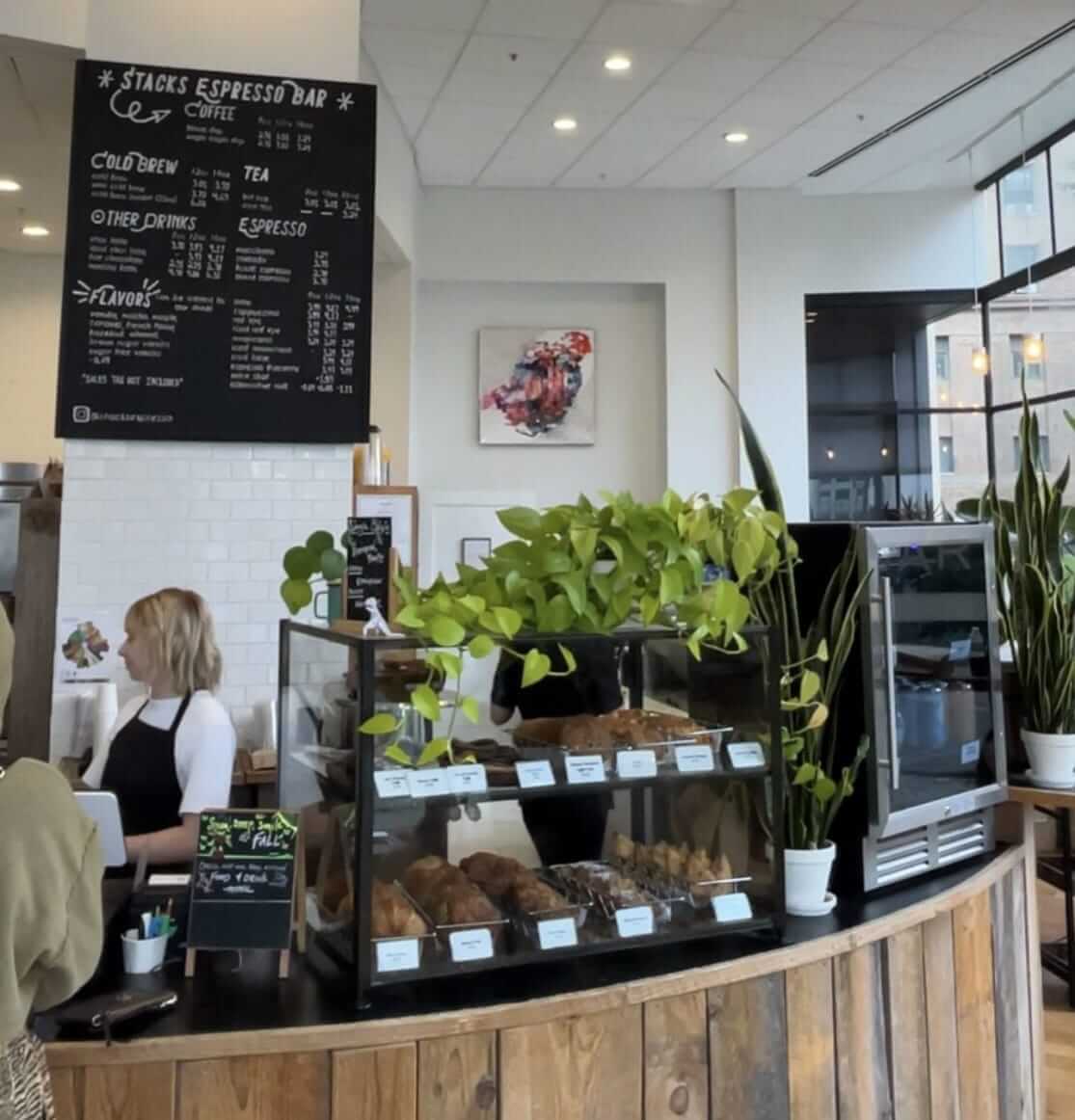 After finishing my tea, I walked through the Albany Center Gallery's All-Hallow E'en Art Path. I felt so inspired. It was refreshing to start my day off by appreciating the work of local artists and small business owners. As a dancer, I hold a deep appreciation for the chance to support other artists in their endeavors and the art on display was nothing short of extraordinary. It was truly special to see Albany's dedication to ensuring that their local artists have the resources to showcase their talent and express themselves through art.
For brunch, we walked to City Beer Hall; I was more than ready to eat a tasty meal. As I walked in, I was greeted by the welcoming staff! Their positive energy brightened up the gloomy day. I loved that their menu had a meal for everyone. They had everything ranging from tempting Chicken & Waffles, to mouthwatering Omelets, and delectable "Mixed Berry French Toast." When it comes to brunch, my go-to is always "Chicken & Waffles" and this meal was no exception. My food burst with flavor, leaving me ready to embark on my upcoming adventure – a 90-minute sightseeing journey on the Hudson River aboard the Dutch Apple Cruises. This cruise offers an immersive experience that allowed me and the other passengers to appreciate the natural beauty and historical richness that both the river and Albany offers.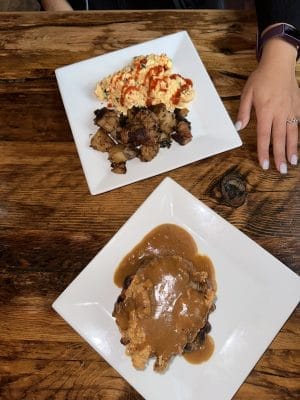 As the boat glided gracefully along the river, I reveled in the breathtaking view of the dense trees and beautiful riverside homes. Additionally, this adventure not only highlighted the picturesque landscape, but it offered intriguing narratives of the region's past. In addition to delving deeper into Albany's rich history, I had the opportunity to be the captain and drive the boat for a short moment, which was so much fun! This sightseeing cruise was created by a wonderful family dedicated to telling the story of the Hudson River. Their passion and commitment shine through in every aspect of the cruise, making it an enriching and heartfelt experience.
My last stop in Albany unfolded at the Olde English Pub, where I had one of the tastiest burgers of my life. This charming building dates back to the 1730s. As I ate my delicious meal, I found myself enveloped in a cozy ambiance, reminiscent of a quaint English cottage, which made the overall dining experience that much better as I felt relaxed and content.
My captivating journey through Albany, steeped in history and wrapped in the allure of Halloween, was a remarkable experience. From the moment I boarded the Maple Leaf train at The Moynihan Train Hall at Penn Station, I was filled with eager anticipation for the adventures that lay ahead. The city of Albany unraveled its treasures one by one and heightened my excitement for the spooky season that characterizes the month of October. It is a true understatement to say that I am already looking forward to my next adventure in Albany.