minor leagues, major impact
there's absolutely nothing minor about these baseball-loving fans. Their favorite teams not only groom tomorrow's superstars, they really help their communities out tremendously. New York State is home to multiple minor league and independent baseball teams. But these days they are not just feeder teams for the big leagues—these teams are often beloved community institutions in their own rite.
"Historically, there's always been an allure with the national pastime among its fans, even more so at the local level, where communities form bonds with their minor-league teams," says Sean McMann, a Dutchess County resident and former sports reporter who covered Minor League Baseball for 17 seasons. 
"Particularly these days, attending a major-league game can be prohibitive—both economically and geographically—for many families. Minor-league teams, however, offer the same excitement as their big-league counterparts closer to home and at a fraction of MLB prices."
And how about those players who get to know fans; and the stadiums that are much smaller than Major League parks.
"Fans can get up close and personal with their hometown teams, as minor-league games offer better access to the stars of tomorrow," says McMann. "Those personal connections that fans make to their local team can last long after players reach the big leagues."
The family atmosphere at these minor league stadiums often includes promotional events in-between innings and after the last out. But fans might tell you the best thing about Minor League Baseball games is the fireworks shows afterward.  Syracuse Mets General Manager Jason Smorol says that the Mets can host 26 displays over the course of a season; there are also games when the ballpark welcomes dogs, as well as Kids Eat Free Sundays. He adds that the Syracuse Mets often draw more fans than the Syracuse University basketball team.
The Mets, a Triple-A affiliate for the New York Mets, play at NBT Stadium. Opened in 1997, it recently underwent a $25 million renovation, which included larger seats, a terraced area behind home plate, LED lighting and a new bar.
As a result of the upgrade, "The stadium is bursting with new life for our fans," says Smorol. As an added bonus, multiple stadiums are located within easy reach of an Amtrak train line. NBT Stadium is just a quick walk to the Amtrak Station. Sahlen Field in Buffalo, home of the Buffalo Bisons, is also just across the street from the Buffalo-Exchange St. Station (BFX). "You can hear the train coming and going in the background," says Bisons Assistant General Manager Brad Bing.
"Fans can get up close and personal with their hometown teams."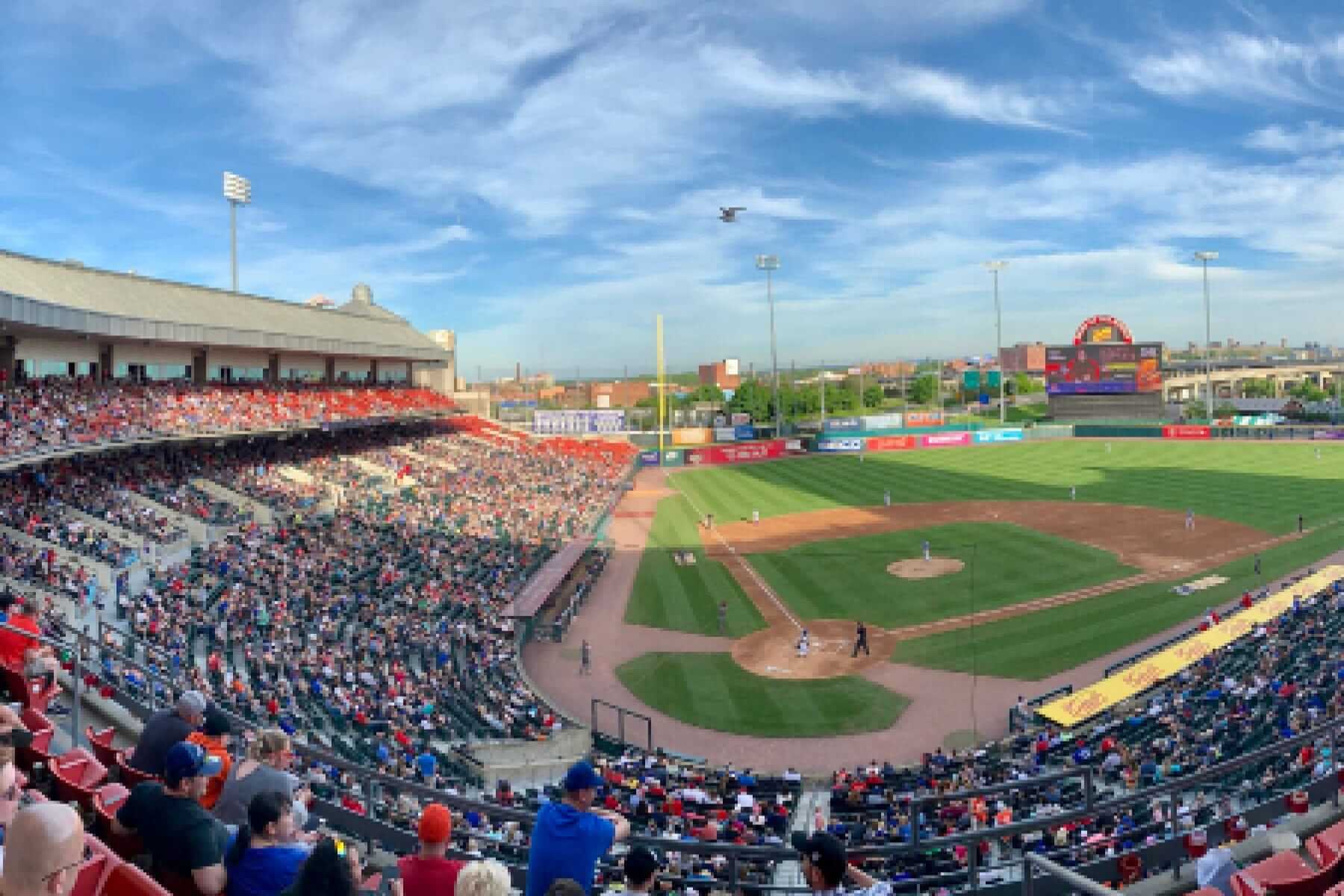 Sahlen Field: Buffalo, NY
This Triple-A affiliate of the Toronto Blue Jays hosts special events throughout the season. Don't miss: Family Fun Day: May 19; Princess Day: May 21; Top Dog Day (free admission for your pooch): July 27; Polish Festival Night: Aug. 15.
Take Amtrak To The Game:
0.1 mile from the Buffalo Exchange Street station (BFX).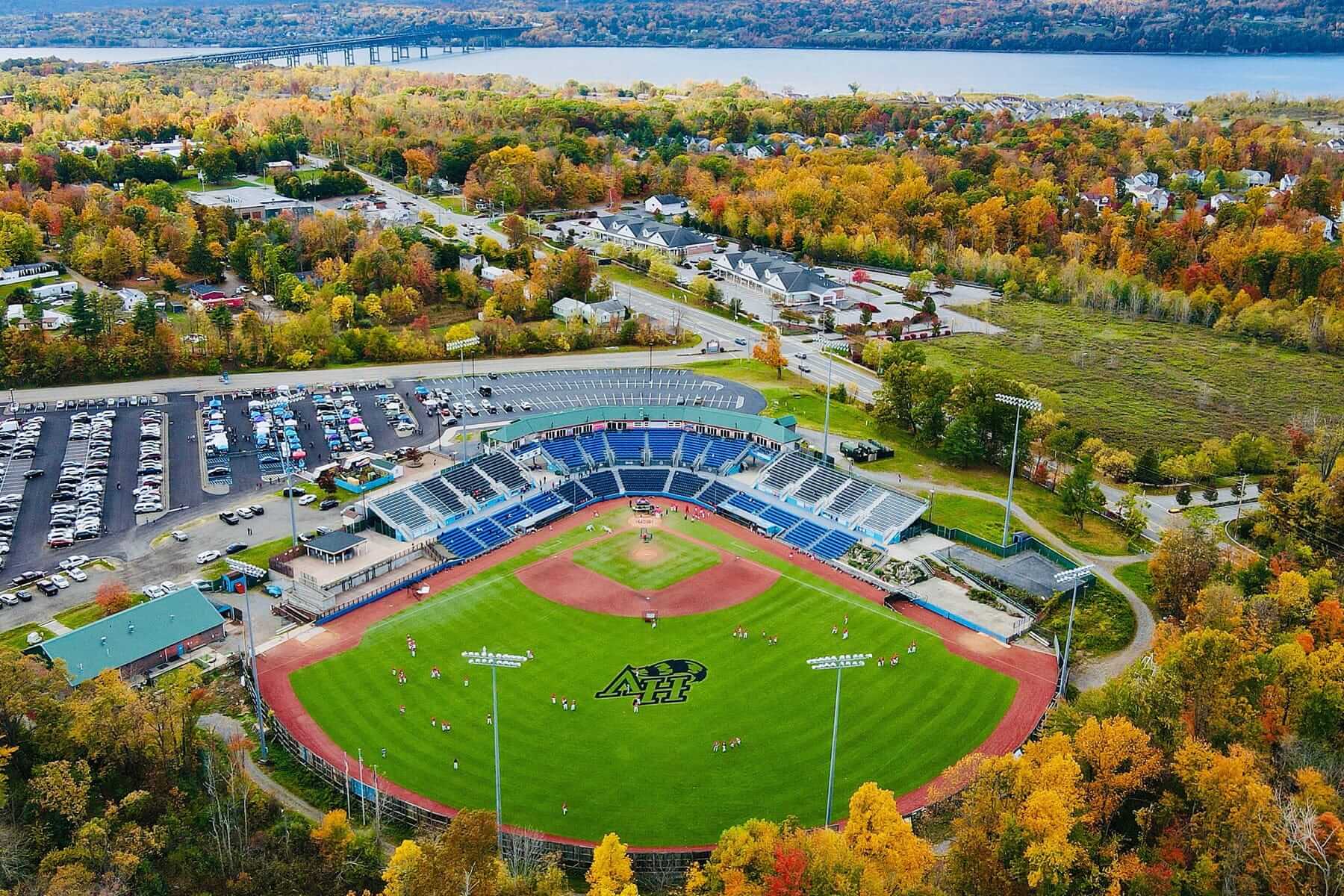 Heritage Financial Park: Fishkill, NY
This High-A Affiliate of the New York Yankees attracts a loyal fan base all season, with regular appearances by three raccoon mascots. Don't miss: Dollar Dog Thursday on June 15, regular Friday night firework displays; T-shirt Tuesdays (the first 1,000 fans through the gate receive a free Renegades T-shirt.); $1 hot dogs on Thursdays and many other specials. 

Originally built in just 71 days in 1994, the Heritage Financial Park Stadium is currently undergoing a $25 million renovation that, when completed in 2024, will include all new seats, new LED lighting, and a new state-of-the-art clubhouse. 
Take Amtrak To The Game:
14.2 miles from the Poughkeepsie station (POU).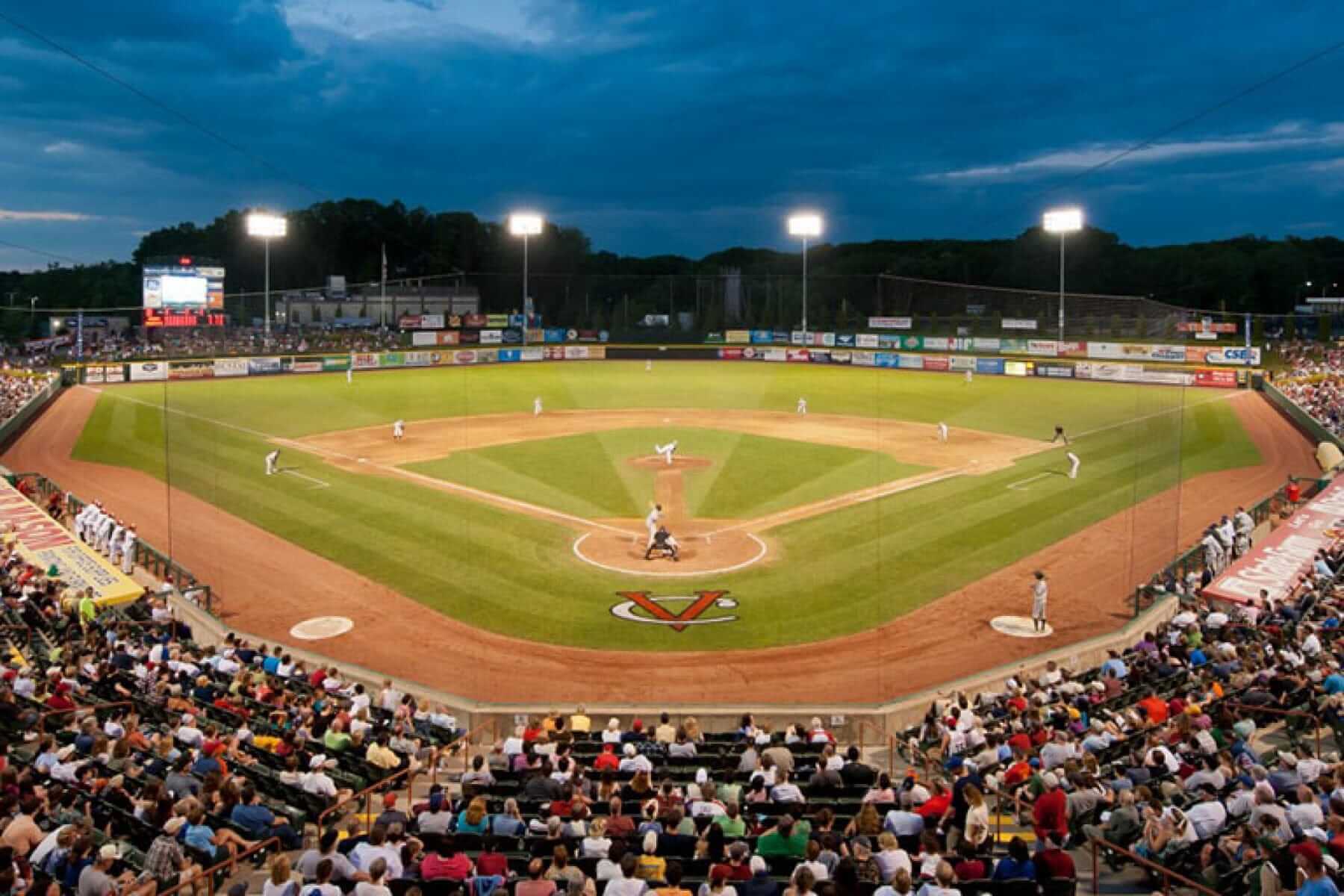 Joseph L. Bruno Stadium: Troy, NY
This independent baseball team is named for the three nearby cities of Albany, Schenectady and Troy. Referred to as "The Joe," the 4,500 seat stadium is located on the campus of Hudson Valley Community College in Troy.

Don't miss: Veteran and Military Appreciation Night: June 27; Hawaiian Night: July 5; Star Wars Night: July 22; Christmas in July : July 25; Irish Night: Aug. 1; Italian Night: Aug. 11.
Take Amtrak To The Game:
6.5 miles from the Albany-Rensselaer station (ALB).Pirate Night: July 15;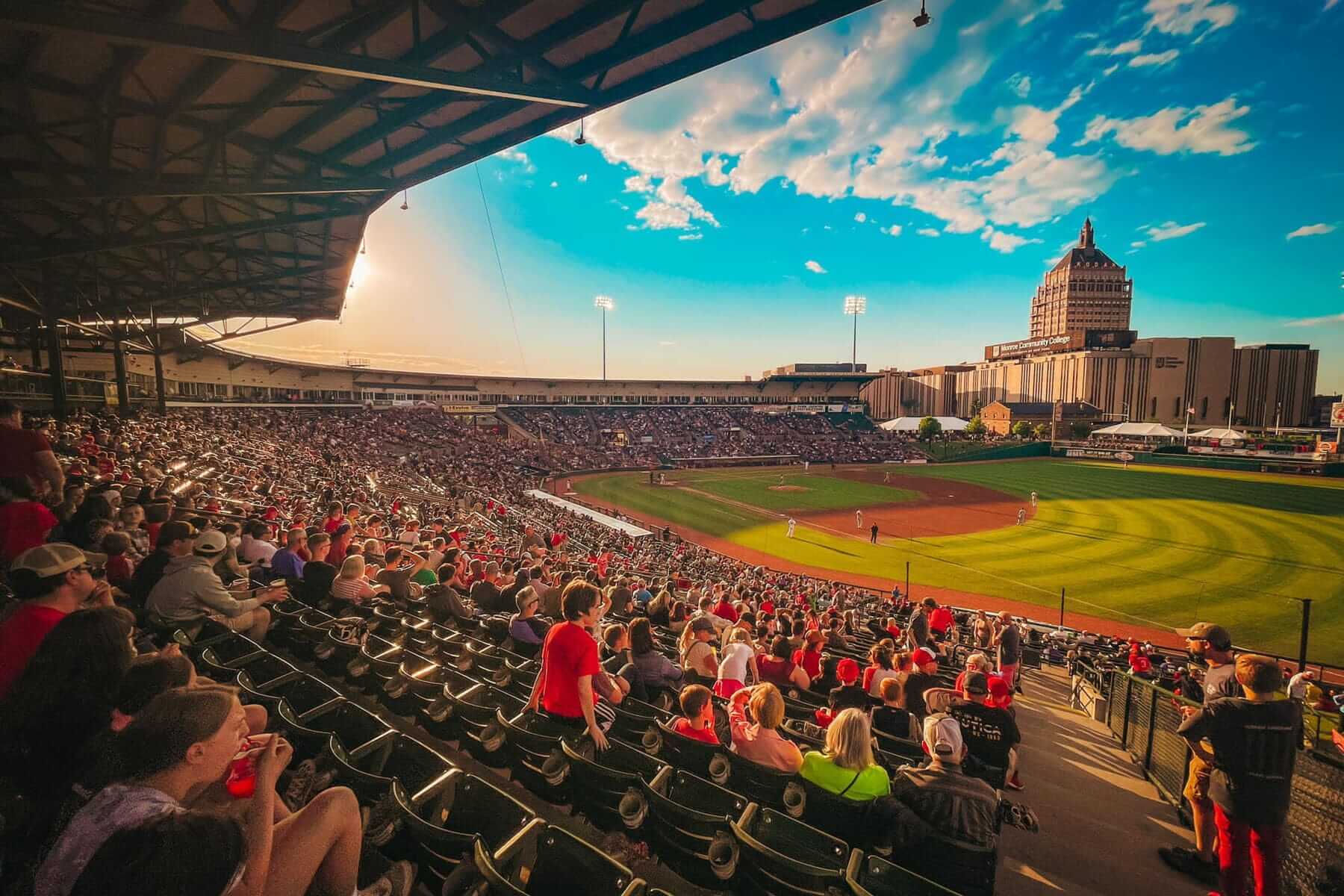 Innovative Field: Rochester, NY
This Triple-A affiliate of the Washington Nationals was founded in 1899; the team is the oldest continuously operating sports franchise in North America below the major league level.


Don't miss: Milo the Bat Dog at multiple games, including the Father's Day Celebration on June 18 and Christmas in July: July 22. On most Tuesdays, you can buy one ticket and get one free. On June 22, former major league player Mookie Wilson will make a special autograph appearance at the game.
Take Amtrak To The Game:
1.2 miles from the Rochester station (ROC).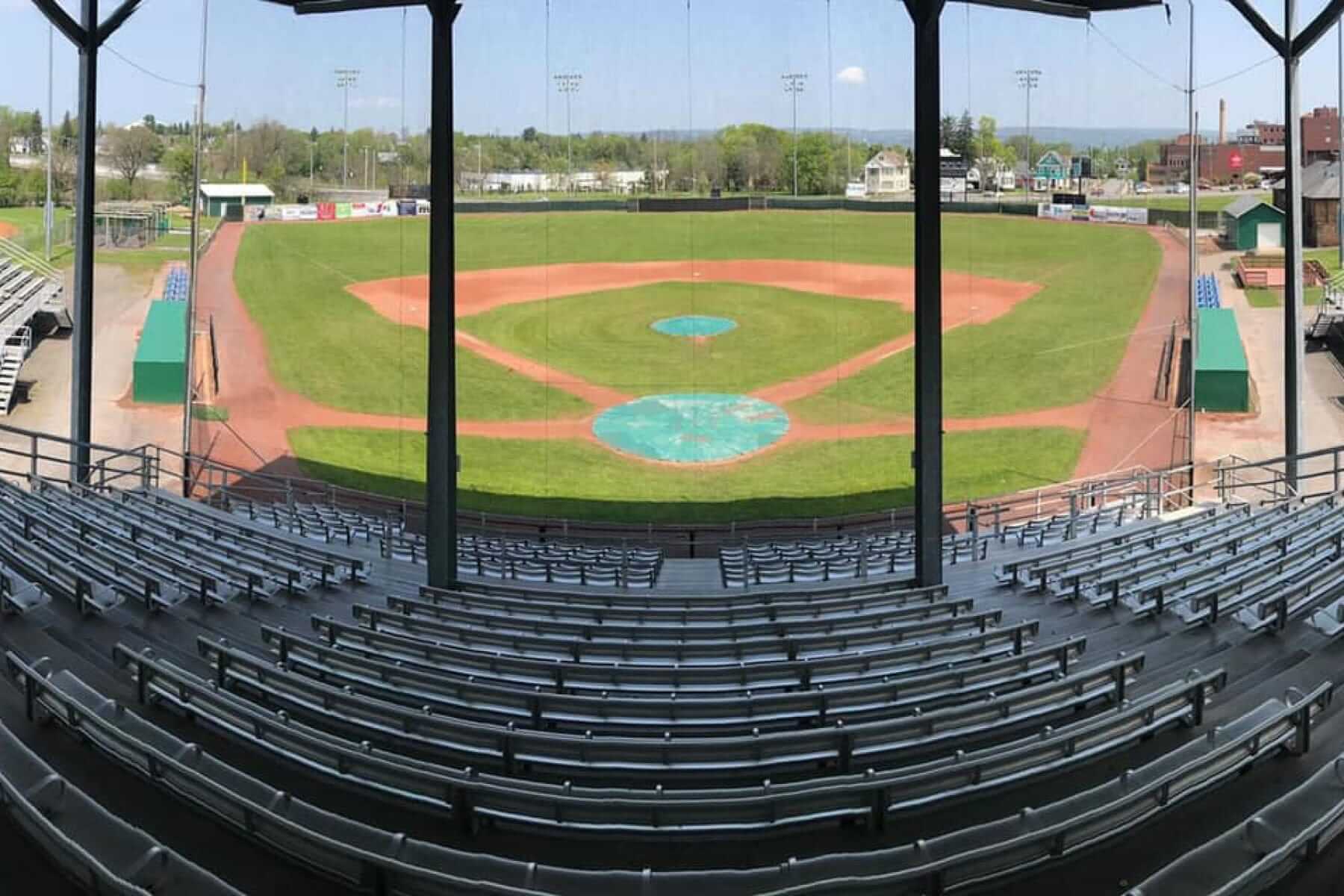 Donovan Stadium at Murnane Field: Utica, NY
The Blue Sox are one of 14 ball clubs in the upstate New York region that play in a wooden bat summer league. The team consists mainly of D1 college players from around the country.
Take Amtrak To The Game:
2.8 miles from the Utica station (UCA).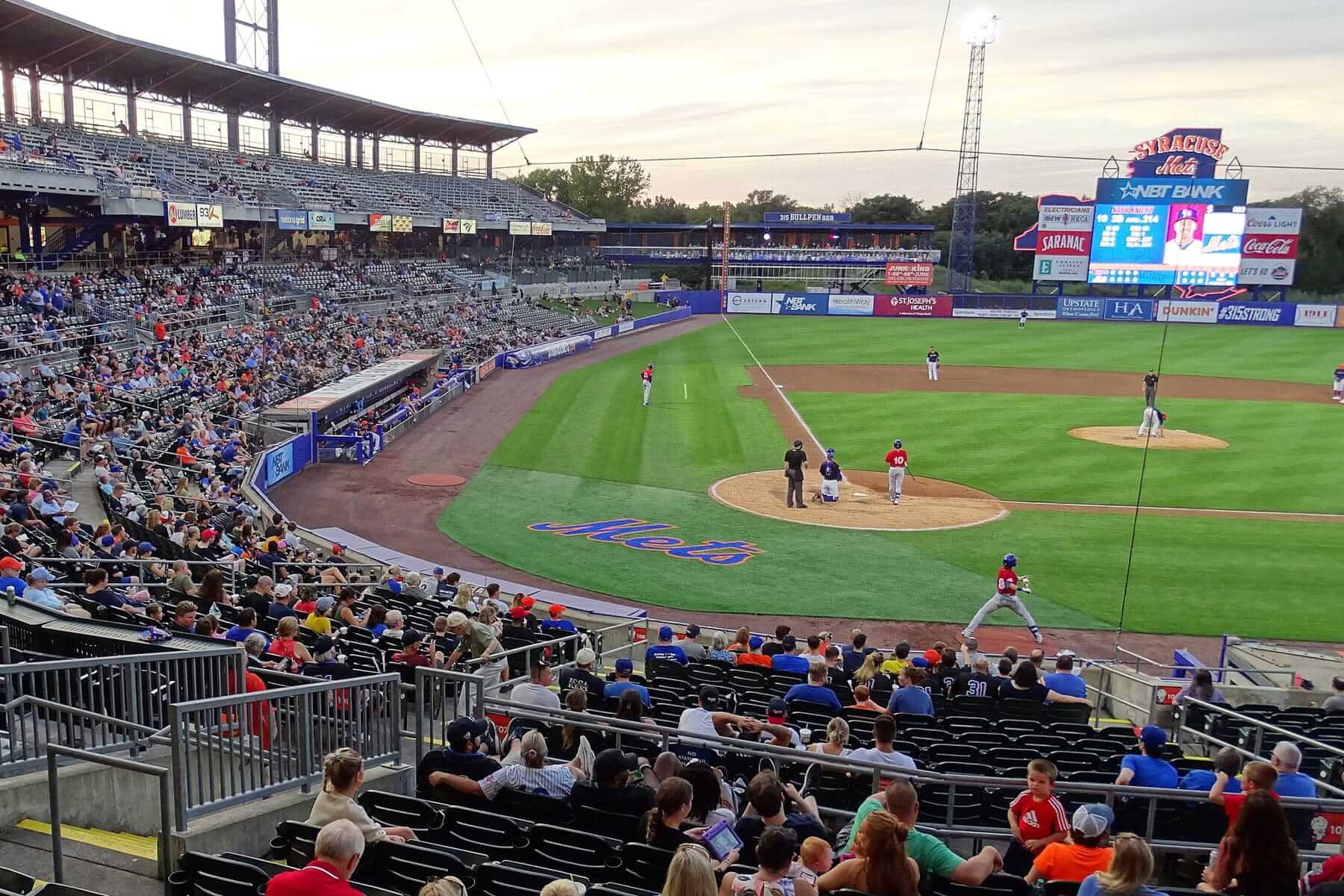 NBT Bank Stadium: Syracuse, NY
This newly renovated stadium hosts games where up and coming Mets players make their final stop before moving on to the majors.
Don't miss: post game fireworks on Saturdays; Wall of Fame Day: Aug. 5; and three "Copa de la Diversion" Hispanic and Latino events: May 5 (Cinco de Mayo), July 20 and Sept. 7. Enjoy regular Taco Tuesdays with three tacos for $13. Dollar Thursdays mean $1 fountain sodas; Friday and special packages for Craft Beer Fridays.
Take Amtrak To The Game:
0.5 miles from theSyracuse station (SYR).