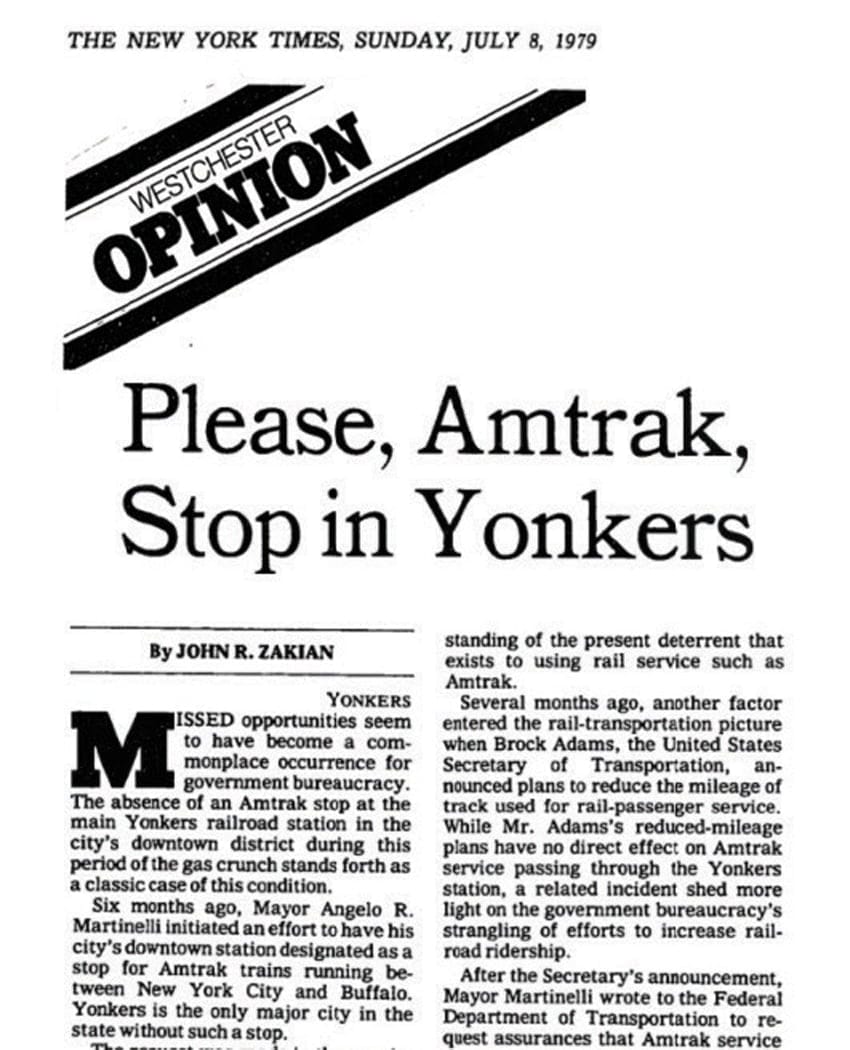 An Amtrak stop for Yonkers, New York? It made sense. After all, Yonkers is the largest municipality in Westchester County and the fourth largest city in the state, with 200,000 residents. It's perched above the Bronx, with 1.4 million residents, and the Yonkers Main Station on the Hudson River Line is an historic and elegant edifice. Still, it would take the unwavering dedication of a committed mayor, Angelo R. Martinelli, the helpfulness of U.S. Senator, Alfonse M. D'Amato, and a chance remark by then Amtrak president, the legendary railroad man, W. Graham Claytor, to make it happen.
Earlier attempts to have the station designated as an Amtrak stop were declined by New York State over concerns about the running time between New York City and upstate New York, especially to Albany. If trains took too long, the thinking went, people would drive rather than take Amtrak.
In the 1970's, I was a new resident in Yonkers, working for New York State Cooperative Extension. On several occasions, needing to travel to Albany, I elected to go on Amtrak, but my choices were either to travel south to New York City, board Amtrak, then ride north on those same tracks, or take a commuter train to Croton-Harmon and board Amtrak there. There had to be a better way.
In 1981, I ran for a seat on the Yonkers City Council. As a candidate I touted my idea to bring Amtrak to Yonkers. At the time, the Yonkers Main Station was used by one thousand commuters daily. Amtrak seemed a natural addition.
I lost the election but Angelo R. Martinelli, who was running to regain his seat as mayor, won. He liked my ideas and offered me a position as Assistant to the Mayor. He said, "We'll work well together."
Back in office, Mayor Martinelli prioritized commuting conditions. The Yonkers Main Station had fallen into disrepair. The mayor appealed to Metro North President Peter Stangl and MTA Chairman Richard Kiley, arranged a personal tour of the station for both men, and got a promise from them to restore the Main Station to its historic best.
In less than two years, a comprehensive renovation to the train station was complete. Handicap-accessible, newly renovated and back to its architectural best, it was again a source of pride in Yonkers and ready to vie for an Amtrak stop. Yet, one challenge remained – how to appeal to Amtrak?
Thanks to their long-time relationship, Senator D'Amato arranged for the mayor and I to meet with Graham Claytor and his senior staff in Washington, D.C. Although we had a strong case, history was against us.
On the morning of the meeting, I arrived at the mayor's home at 5:15 a.m. The house was dark. I waited a few minutes, then rang the doorbell. Eventually, the mayor opened the door, dressed in pajamas.
"What the hell are you doing here Phil?" he asked. "It's five o'clock in morning. You're supposed to pick me up at 7:00 am."
"No Mayor, the flight is at 7:00 a.m.!" I replied, urgently. "We have to leave now!"
In short order, the mayor re-appeared in a suit, and we were off to LaGuardia Airport. We arrived early in Washington. While waiting for a cab, the mayor spotted a shoeshine stand.
"I'll treat you to a shoe shine," he offered.
I declined. A few minute later, the mayor's shoes shined to a perfect gloss.
As he paid the shoeshine man, he turned to me and said, "Well, we may not win an Amtrak stop, but the president of Amtrak won't be able to say the mayor of Yonkers doesn't have shined shoes."
His statement would prove far more interesting than either of us imagined.
At Amtrak's offices, Claytor welcomed us, wearing a three-piece dark blue suit, crisp white shirt with monogrammed French cuffs and eye-popping cuff links. He was dressed to sartorial perfection, or so it seemed, until we glanced down at his shoes. His expensive black leather shoes were entirely covered in dirt. He had been inspecting rail yards prior to our arrival. We could hardly contain the urge to laugh.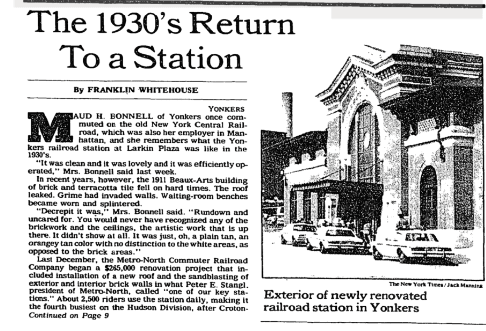 Claytor greeted us in his soft southern accent, "Welcome Mr. Mayor… but I do not believe you will be successful in getting an Amtrak stop for your fair city."
He went on to say that as a young, married man, he and his wife had lived in southwest Yonkers, on Riverdale Ave.
"How do you remember that street, Mr. Claytor?" asked the mayor.
"It was a prominent street – two lanes, a primary route, connecting the Bronx to Yonkers," answered the president of Amtrak.
"Well, Mr. Claytor, Riverdale Avenue is now a modern four-lane artery linking the entire upper west side of the Bronx and Manhattan directly to the Yonkers station," said the mayor.
Claytor clearly took note, then ushered us into a meeting room where Amtrak's senior staff had assembled.
"Best wishes, Mr. Mayor," he said, then left.
We began our pitch with the mayor relating his conversation with Claytor about access to Yonkers Main, then made these points:
The public transportation system nexus and major arterials provided easy access for all of lower Westchester, the upper Bronx and Manhattan, nearly two million residents.
Handicap-accessibility.
Recent renovations had brought the station back to its historic and architectural best.
Yonkers was the only major New York State city bypassed by Amtrak at the time. Even Rome and Utica had their own stops.
Yonkers had more than ample parking.
And of key importance, Yonkers is positioned on a S-curve. All approaching trains already slowed to a crawl there, so a Yonkers stop would not drastically impact running time.
Amtrak's staff was impressed. Earnest discussions began, but soon came to a halt when one senior staffer broke the news.
"Mayor, we have pretty much committed to Tarrytown for our new stop."
Tarrytown! We were flabbergasted. Tarrytown was served by only one public bus line, and the station was on a high-speed section of track, meaning all trains would need to brake dramatically in order to stop at the station – a significant loss of running time.
On the bright side, the rest of the meeting focused on what Yonkers had to offer. We left with a commitment by Amtrak to visit Yonkers Main Station and tour Yonkers. 
A few weeks later, two Amtrak officials joined us at the station and then for their tour during which we highlighted the advantages in public transportation routes and the new arterials leading to or near the station. We had made our pitch in Washington and again at home.
We waited. Time passed. We figured hearing nothing meant a lack of interest. Then I received a phone call from Amtrak's Government Affairs officer, Jim Barber.
"Is there a restaurant the Mayor likes near Yonkers City Hall?" he asked.
"Louie's Italian Restaurant on South Broadway," I replied. "Everyone eats there."
"You and Mayor Martinelli, please meet us for lunch on Thursday at noon."
We were on pins and needles. Good news? Lunch and a polite letdown?
On Thursday, we entered Louie's. The two Amtrak officials were already seated in a booth by the window. As we approached they both rose. Jim Barber extended his hand.
"Congratulations, Mr. Mayor!" he said, "You have won an Amtrak stop for your city. Now let's have lunch!"
The mayor was close to tears. He celebrated with his favorite dish, pasta with sauteed broccoli rabe.
At lunch the Amtrak officials reviewed their research and ridership predictions, which were high. In an understated way, they thanked us for bringing the advantages of Yonkers to the fore, and not Tarrytown.
Finally, after years of failed attempts. We were indebted to Senator D'Amato, and in a different way to Graham Claytor for his off-hand remark about living on Riverdale Avenue years prior.
I'm pretty sure the mayor would say that the pasta and broccoli rabe at Louie's that day, was the best he ever had! It had a secret ingredient, the sweetness of a hard won victory!
---
Phil Pepe, Jr. now retired, served as Assistant to the Mayor of Yonkers, New York from 1982 to 1986. For the next 26 years, he was the principal of a public policy and government affairs consulting practice, with clients in manufacturing, rail freight transportation, communications and power generation in New York State, in five other states, and in Canada. 
---