On December 3, 1967, New York Central Railroad officially inaugurated the Empire Service when a train to Buffalo departed on Track 36 from Grand Central Station in New York City. On Monday, December 4, 2017, at the Albany-Rensselaer Station, a two-hour ceremony marked a half-century of the Empire Service, now operated by Amtrak. It was a memorable moment in New York's railroad history, celebrated by representatives from Amtrak, state and local governments, rail advocates and individuals directly involved with the creation of this intercity passenger rail service or closely related to those were.
Post-World War II Troubles
After World War II, despite a large investment in new passenger railroad equipment including New York Central's stylish "Great Steel Fleet" of 33 trains, rail travel decreased dramatically as the public turned to new, government-subsidized highways and then airlines for their transportation needs. By the 1950's, most railroads downsized or exited the passenger business.
A few railroads bucked the trend. In 1956, the New York Central's passenger department proposed a new concept of intercity rail service known today as "corridor service". Their idea was to replace the several dozen New York-Midwest long-distance, over-night trains with a new system-wide pattern of fast, frequent and shorter coach trains, scheduled at regular intervals throughout the day on routes of only 100 to 500 miles.
New York Central's passenger department concluded that these short-haul "dayliners" would better meet the needs of the modern traveler, and thus boosting ridership and revenue. However, the proposal, for what they called "travel-tailored schedules", faced fierce opposition from the railroad's freight department, which feared the faster, more frequent passenger trains would be too disruptive to the slower, longer freight trains. As a result, nothing came of the corridor service proposal. Instead, the railroad focused on modernizing the far larger and still profitable freight side of its business.
By the 1960s, New York Central had greatly consolidated its intercity passenger service, decreasing the number of passenger trains across Upstate New York from 66 in 1951 to only 11 in 1967. This helped the railroad decrease its passenger deficit from a high of $52 million in 1957 to $28 million in 1967, though it still operated deeply in the red. Its remaining passenger trains, including its flagship New York-Chicago 20th Century Limited and New York-Buffalo-Cleveland-Detroit Empire State Express, became rather shabby due to cutbacks in maintenance and cleaning.
The Birth of Corridor Service
In 1967, New York Central applied to the New York State Public Service Commission to further reduce intercity passenger service in Upstate New York. The railroad proposed axing five of the 11 remaining passenger trains traveling between New York City and Buffalo, but the commission declined approval.
The railroad made a counterproposal, to replace existing intercity passenger service, including the famous 20th Century Limited, with a restructured daily schedule of faster and regular-interval trains between New York City and Buffalo. Corridor service!
"We mean business," stated Alfred E. Perlman, President of New York Central, "We are going after the New York intercity passenger market."
The Public Service Commission approved the plan, and the Empire Service was born. In December 1967, the railroad consolidated 11 daily local and long-distance trains out of New York City into eight New York-Albany roundtrips, five New York-Buffalo roundtrips and one additional Albany-Buffalo roundtrip. One of the New York-Buffalo trains continued beyond Buffalo to Chicago, a nameless successor to the 20th Century Limited and the predecessor to today's Lake Shore Limited. At Albany and Buffalo stations, one could still connect to the one or two remaining passenger trains to Boston, Montreal, Toronto, Detroit, Cleveland and Chicago.
Empire Service Innovations
The Empire Service trains where shorter, faster and cleaner. The service utilized a dedicated fleet of 40 renovated coaches and snack cars. There were no mail, express or sleeping cars, except on two-night runs which still carried passengers bound for Montreal, Buffalo, Detroit, Toronto and Chicago. The daytime trains had only one to three coaches plus a café car.
By eliminating the loading and unloading of mail at each station, trains spent much less time at each stop. It was an adjustment for friends and families of passengers, who were often caught on board as the train pulled out of a station, requiring them to purchase an unexpected return ticket.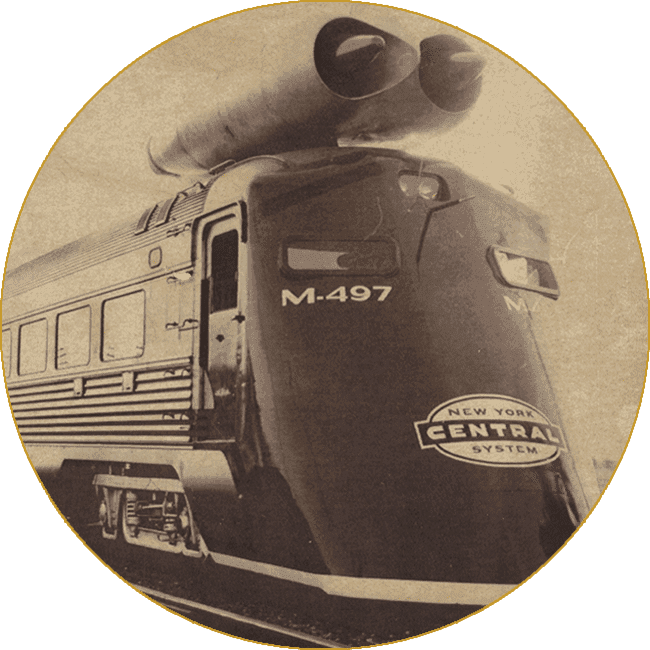 1966
The jet-powered M-497,
New York Central's fastest ever locomotive.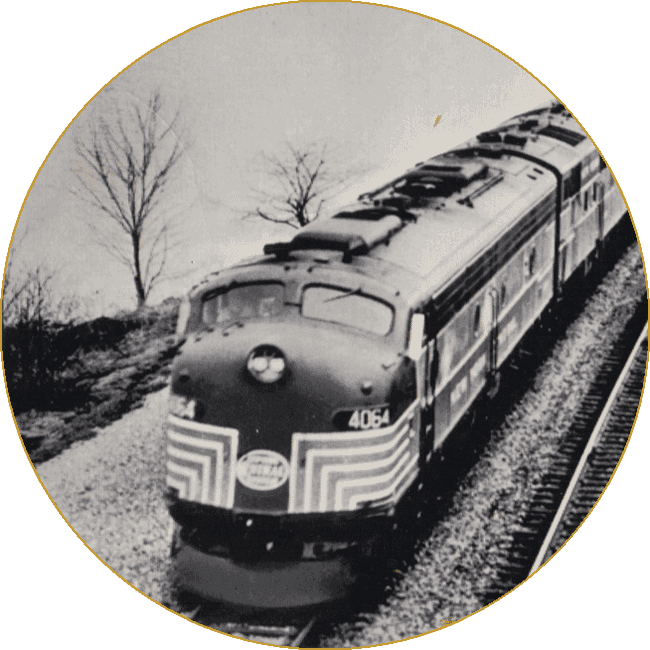 1967
A New York Central press photo.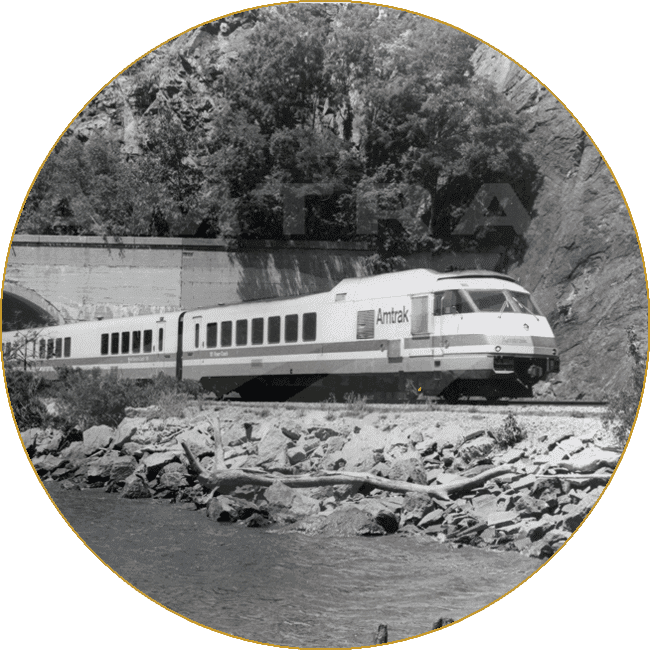 1979
The Empire State Express emerges from
Cold Spring Tunnel by the Hudson River.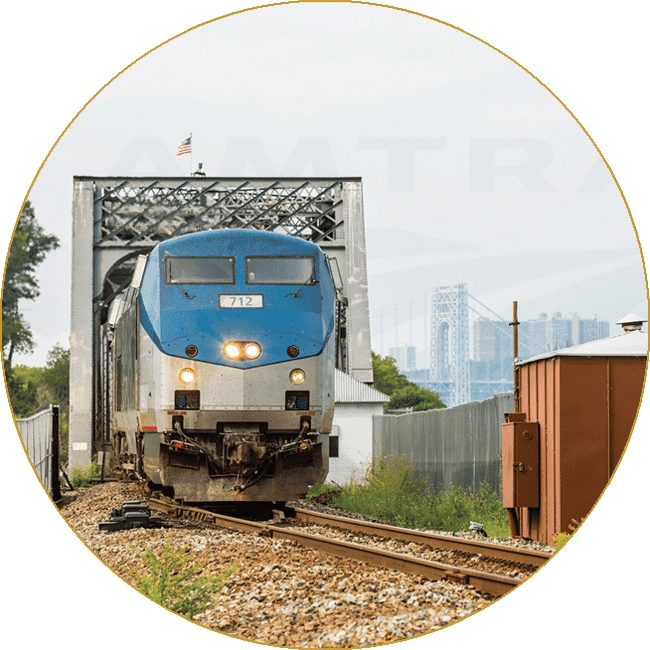 2013
An Amtrak train on the
Spuyten Duyvil Bridge, New York, NY.
Robert D. Timpane, New York Central's assistant vice president of operating administration, oversaw the project and utilized the railroad's management trainees to monitor onboard service, timekeeping and the distribution of timetables. Dispatchers were told that Empire Service trains had priority. The trains ran 88.7 percent on time. The railroad implemented a training program for the 700 employees involved in the new service. And railroad officials, union representatives and the Public Service Commission met monthly to evaluate and make adjustments.
The trains looked better, too. The railroad rehired furloughed onboard cleaners based in Albany to wash the trains and assist passengers between Albany and Syracuse. At Grand Central Terminal and Buffalo Central Terminal, train personnel wiped the windows after each trip and frequently put the train cars through an automatic wash. The railroad also streamlined its food and beverage service, replacing dining cars, staffed with chefs and waiters, with café cars which one person could run.
The railroad launched a $110,000 advertising campaign, including radio ads and full-page newspaper ads, to promote the new Empire Service. The ads promised "Tailored to meet the needs of New York State travelers… frequent departures, shorter travel times, all-weather service, reclining seats, food and beverage service, relaxing facilities". It worked! Ridership increased, and the railroad received many letters praising the trains. The Empire Service even made an operating profit, but the railroad still had serious problems.
The Amtrak Era
In 1968, a long-planned merger of New York Central with Penn Central turned tumultuous, leading to stagnant service and the eventual collapse of Penn Central two years later. What would become of the Empire Service, the only Upstate New York passenger train service? Enter Amtrak in 1971.
The energy crisis of the 1970s spurred the first increase in ridership under Amtrak. High gas prices made train travel more attractive. The Empire Service increased from 466,200 passengers in 1973 to 652,600 in 1975 following the OPEC oil embargo.
Nationwide, the energy crisis renewed interest in energy-efficient rail transportation. In 1975, funded by several bond issues, New York State embarked on a $100-million investment in the infrastructure of Amtrak's "Empire Corridor". Amtrak also introduced its Rohr Turboliner trains, giving the service a high-speed image. As a result, by the 1980s, trains could reach 110 miles per hour within the Capital District and south of Albany, which doubled train frequency and slashed travel times from three hours to less than 2.5 hours from New York to Albany. This jump in efficiency helped ridership increase from about 700,000 passengers in the mid-1970's to over 1.2 million in 1985.
Today the Empire Corridor sees 13 New York-Albany roundtrips and 4 New York-Buffalo roundtrips per day, including the Lake Shore Limited to Chicago. Extensions of the Empire Service go to Niagara Falls, Toronto, Montreal and Vermont. Last year, 1.7 million passengers traveled within the Empire Corridor of which 1.2 million passengers rode the New York-Albany section. The Albany-Rensselaer Station is now Amtrak's ninth-busiest station!
The Empire Service has not only survived the ups and downs of the last half-century but also become a mainstay among New York rail-travelers. What the future holds for intercity service in Upstate New York is hard to predict, but hopefully, the Empire Service, which pioneered the concept of intercity passenger rail corridors in the United States, will continue to serve the public as a high-speed rail service second to none.
PHOTOS: 1966 & 1967: COURTESY OF BEN TURON, 1979: AMTRAK CORPORATE COLLECTION, 2013: CHUCK GOMEZ FOR AMTRAK CORPORATE COLLECTION