20octAll Day21Spooktacular at the Utica Zoo(All Day) Utica Zoo, 1 Utica Zoo Way
Event Details
Spooktacular at Utica Zoo
At the Utica Zoo Spooktacular Harvest Festival, kids dress up and trick-or-treat among the animals at the Utica Zoo!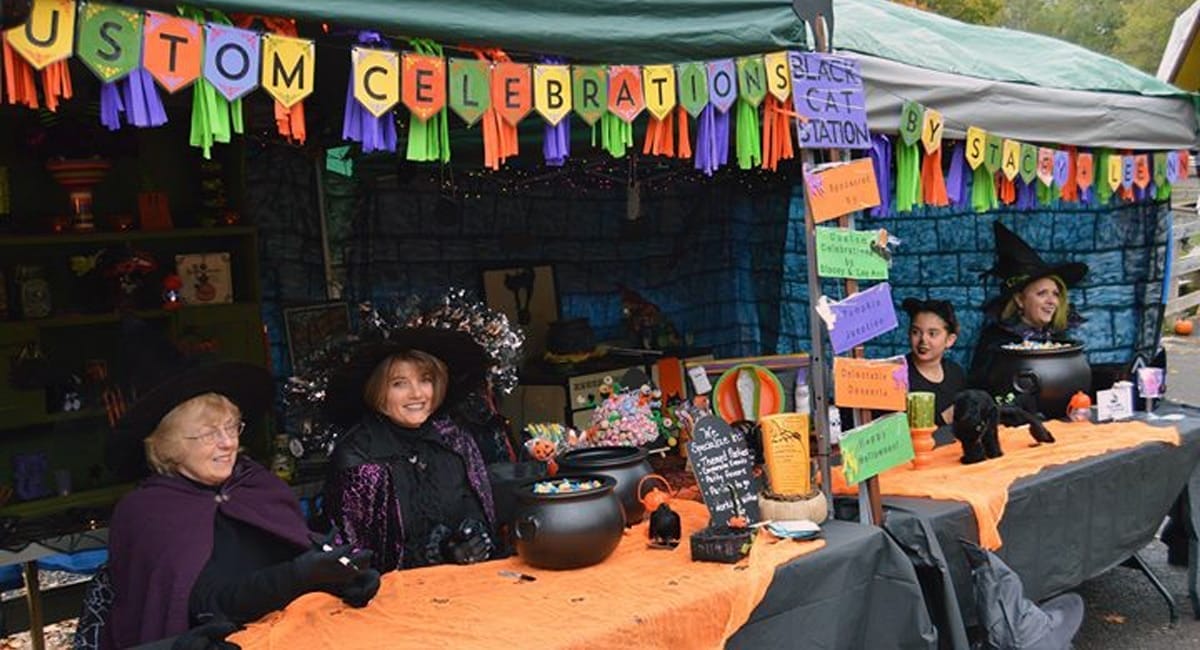 Festive booths filled with Halloween decorations at the Utica Zoo for Spooktacular. | Photo Courtesy of The Fuze Magazine
Utica Zoo's 32nd annual Spooktacular Harvest Festival is back on October 20 to 21 from 11 a.m. to 5 p.m. Take part in early trick-or-treating with the entire family by heading to the zoo! This event is a two-day fundraiser that allows children and their families to trick-or-treat while looking at animals. All the funds raised for Spooktacular go towards the Zoo!
With the price of admission, it includes free parking and shuttle bus service, trick-or-treating at thirteen different stations, rides on the "Harvest Hayride," and interactions with over 200 animals.
Meet-and-Greets and Animal Feedings at Spooktacular
Be sure to check out all the stations where you can pet and feed the animals, such as goats! There are also animal meet and greets and zookeeper talks, where zookeepers will explain about a specific animal!
Music from The Brian Mulkerne Band
In addition to seeing live animals, there will also be live music at Spooktacular! The Brian Mulkerne Band is the amalgamation of many genres; acoustic and electric blues, rock, and country! Join Brian Mulkerne on vocals, guitar, harmonica, George Deveny on lead guitar, Ken McConell Jr. on bass, and C. Oscar Crandall on drums while everyone is getting their candy!
Don't miss out on this spooky and fun event for the whole family! For more information on Spooktacular visit the Utica Zoo website.
Tips for Spooktacular
Where do I buy tickets? Tickets are sold at the door each day. Cash, credit and debit cards are accepted for admission.
Members Only Line: Utica Zoo members will have their own line to get in. Look for the signs!
Free Parking: Parking available at the Utica Zoo. Additional free parking at MVCC and the Parkway Rec Center with shuttle buses to and from the Zoo every 15 minutes.
Trick or Treating: 13 stations will be located throughout the Zoo. (Included with admission.)
Haunted Hayride: Looking for a little more thrill? Try the haunted hayride through the Zombie Apocalypse. The hayride is not included with admission and it is $3 per person.
Can we dress up? Of course! Kids and parents are encouraged to wear costumes too!
How scary is it? If you think it might be too scary for your little ones, bring them on Sunday during the day and/or skip the Haunted Hayride. It's the scariest part.
Will the animals be out? Yes, but the best day to see them is on Sunday during the daytime.
Food and Drink: Voss' at the Zoo will be open. Food trucks will also be available. Voss' is cash only and so are most of the Food Trucks.
Relive the Memories: Get your photo taken and printed out by Whitesboro Fun Pix! (additional charge).
Spooktacular is rain or shine. Please dress appropriately and wear comfortable shoes for walking.
But most of all: Bring the whole family and enjoy your time at the Utica Zoo!
Time

october 20 (Saturday) - 21 (Sunday)
Location

Utica Zoo

1 Utica Zoo Way