22apr(apr 22)3:00 pm24(apr 24)7:00 pmThe Saratoga Tattoo Expo 20223:00 pm - 7:00 pm (24) The Saratoga Springs City Center
Event Details
Saratoga Tattoo Expo
The Saratoga Tattoo Expo is coming back to the City Center this Spring! Witness the skills of several local and international tattoo artists live and in person. 
It's that time of year to show off your ink. The Saratoga Tattoo Expo will run again this year from Friday, April 22nd to Sunday the 24th. Visit the Saratoga Springs City Center at the Hilton Hotel to see an exciting lineup of local and international tattoo artists who will show their skills for attendees. Anyone over the age of 18 can book an appointment in advance to be tattooed or pierced by their favorite artist at the convention, and visitors of all ages are welcome to spectate!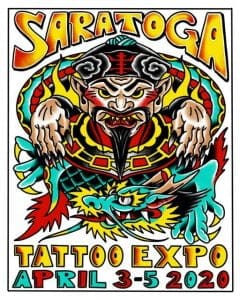 As the weekend goes on, the expo will hold tattoo contests for awards and giveaways. The contests are based on a variety of different categories. These can include large or small tattoos black or color tattoos, best collection, tattoo of the day, and more.
Along with displaying one of a kind body art, the tattoo expo will have live music and entertainment. In years past, the tattoo expo provided singers, professional wrestlers, and even tribal belly dancers to perform for guests to enjoy!
Guests visiting from afar can receive a block rate at the Saratoga Hilton, where the convention is to be held, by mentioning the Saratoga Tattoo Expo. Additionally, travelers can stay at the nearby Hampton Inn and Suites or Courtyard Mariott. Admission into the Expo itself is priced at $10 for a day pass and $25 to have a pass for the entire weekend. More info can be found by calling 518-250-5416.
Saratoga Tattoo Expo Hours
(Fri.) 3:00 p.m. – 11:00 p.m.
(Sat.) 11:00 a.m. – 11:00 p.m.
(Sun.) 11:00 a.m. – 7:00 p.m.
Check out the Saratoga Tattoo Expo Facebook page for more details about the ink-filled event!
Interested in Being a Vendor?
Artists can rent a booth for $400 for the weekend of the Expo. This rental includes a 10×10 booth with two vendor passes, two tables and three chairs. However, space is limited and booth are on a first come, first serve basis.
Time

22 (Friday) 3:00 pm - 24 (Sunday) 7:00 pm
Location

The Saratoga Springs City Center