27junAll Day06julMontréal Jazz Festival(All Day) Montréal International Jazz Festival, 400 Boulevard de Maisonneuve O, Montréal, QC H3A 1L4, Canada
Event Details
Montréal Jazz Festival
Ranked the world's largest jazz festival by Guinness World Records! Enjoy 10 days of all types of jazz-related music and rub shoulders with aficionados of jazz in its purest form.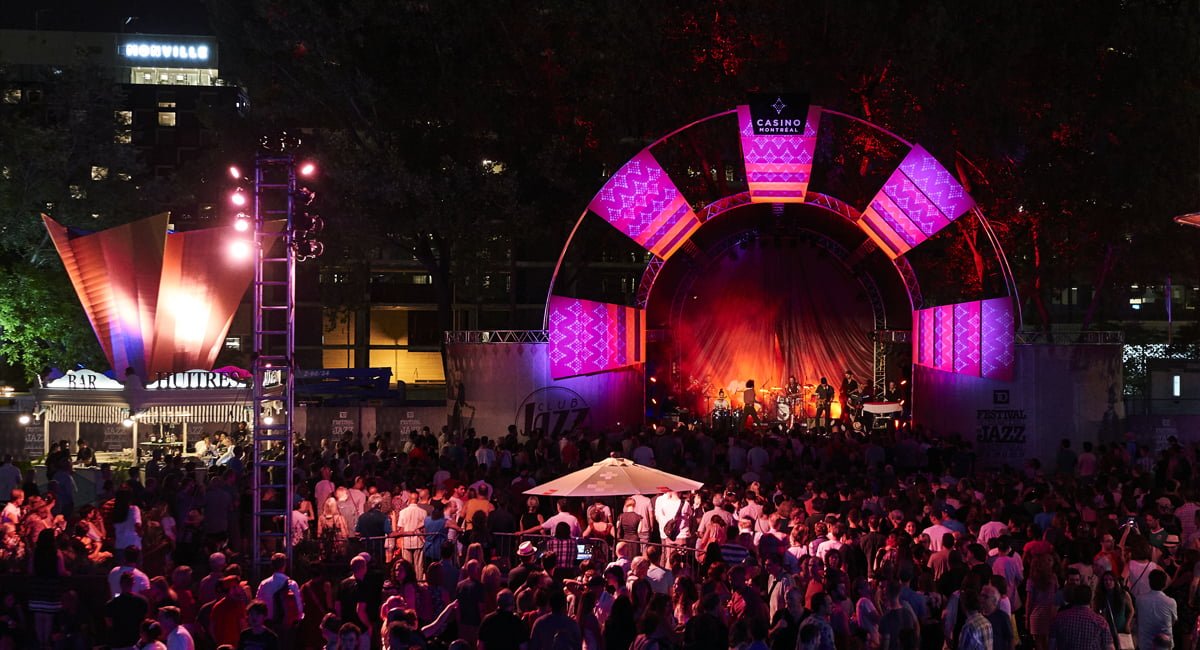 This year the Montréal International Jazz Festival will be presented by TD Bank Group in collaboration with Rio Tinto. The festival will be celebrating its 40th anniversary this year! The festival takes place in early summer and is hosted at a wide variety of venues all over the city, although it is centered at the Place des Artes, a large performing arts complex in downtown Montreal.
Attending the Montréal Jazz Festival
This years festival offers 500 concerts, and two-thirds of them are free. The festival will also be featuring musicians from more than 30 countries. Once again this year, there will be outstanding performances by many artists in indoor venues — with sold-out 21 concerts — and on outdoor stages.
Tickets
Presale tickets are now available! Click here to purchase your tickets for the festival.
Schedule
June 27
7:00 p.m.
Brad Mehldau Quintet – Montréal Symphony House
7:30 p.m.
Norah Jones – Salle Wilfrid-Pelletier
8:00 p.m.
Steve Gadd Band – Monument-National
8:00 p.m.
Omara Portuondo – Théâtre Maisonneuve
8:30 p.m.
Strumbellas – MTELUS
10:00 p.m.
Rodrigo Amarante – L'Astral
June 28
7:00 p.m.
Chucho Valdés – Montréal Symphony House
7:30 p.m.
Blue Rodeo – Salle Wilfrid-Pelletier
8:00 p.m.
Madeleine Peyroux – Théâtre Maisonneuve
8:00 p.m.
Youn Sun Nah – Monument-National
9:00 p.m.
Jesse Mac Cormack & Land of Talk – Club Soda
June 29
6:00 p.m.
Marianne Trudel & Karen Young – L'Astral
7:00 p.m.
Yannick Rieu: John Coltrane, The Lost Album – 5e salle
7:30 p.m.
Melody Gardot – Salle Wilfrid-Pelletier
8:30 p.m.
Bobby Bazini – MTELUS
June 30
7:00 p.m.
Stacey Kent Symphonie – Montréal Symphony House
8:00 p.m.
Ravi Coltrane & Antonia Sanchez – Théâtre Maisonneuve
9:00 p.m.
Voivod – Club Soda
July 1
7:30 p.m.
George Benson – Salle Wilfred-Pelletier
8:00 p.m.
Dianne Reeves – Théâtre Maisonneuve
8:00 p.m.
Christian Scott a Tunde Adjuah – Monumnet-National
July 2
8:00 p.m.
Joshua Redman Quartet – Théâtre Maisonneuve
8:00 p.m.
Bryan Adams  – Centre Bell
9:00 p.m.
Jacob Collier – Club Soda
10:00 p.m.
Tamino – L'Astral
July 3
7:00 p.m.
Rodrigo y Gabriella – Maison symphonique de Montréal
8:00 p.m.
Lou Doillon – MTELUS
10:00 p.m.
PJ Morton – L'Astral
July 4
8:00 p.m.
Alexandra Stréliski – Théâtre Maisonneuve, Place des Arts
9:00 p.m.
Connan Mockasin – Club Soda
July 5
7:30 p.m.
Peter Frampton Finale – Salle Wilfrid-Pelletier
9:00 p.m.
Alex Henry Foster – Club Soda
July 6
7:00 p.m.
Pink Martini – Maison Symphonique
7:30 p.m.
Buddy Guy | Colin James – Salle Wilfrid-Pelletier
8:00 p.m.
Leslie Odom Jr. | Dominique Fils-Aimé – Théâtre Maisonneuve
8:30 p.m.
First Aid Kid – MTELUS
9:00 p.m.
Yungblud – Club Soda
Time

June 27 (Thursday) - July 6 (Saturday)
Location

Montréal International Jazz Festival

400 Boulevard de Maisonneuve O, Montréal, QC H3A 1L4, Canada