02dec(dec 2)12:00 pm05mar(mar 5)8:00 pmOutdoor Ice Skating at Empire State Plaza(december 2) 12:00 pm - (march 5) 8:00 pm Empire State Plaza Ice Rink, Empire State Plaza, Albany, NY
Event Details
Outdoor Ice Skating at Empire State Plaza
Under brilliant sunshine or glowing starlight, enjoy the state's best outdoor ice skating at Empire State Plaza in Albany, NY.
Ice Skating in Albany
Whether you are going on a first date or taking the family out for something fun, the winter months are the perfect time to get outside and enjoy some ice skating. But what if you don't live near a lake? The solution: Outdoor Ice Skating at Empire State Plaza in Albany, New York. Skaters can enjoy the warmth of the sun or the light of the stars at this fully outdoor skating rink.
The Best Outdoor Ice Skating Rink in Albany
Construction begins on the rink sometime in mid-August, a long time before most people feel the urge to go skating. The maintenance crew behind the Outdoor Ice Skating at Empire State Plaza meticulously plans for the season ahead to ensure the experience at their rink will be an unforgettable one. To keep the ice between a cool 18 and 24 degrees, a team of engineers and carpenters run tubing underneath the boards that hold up the rink. Laser-technology is used to make sure the rink is completely level; one small bump could send a skater flying. A state-of-the-art lighting and sound system illuminates the rink at night while skaters listen to a variety of music chosen by the staff.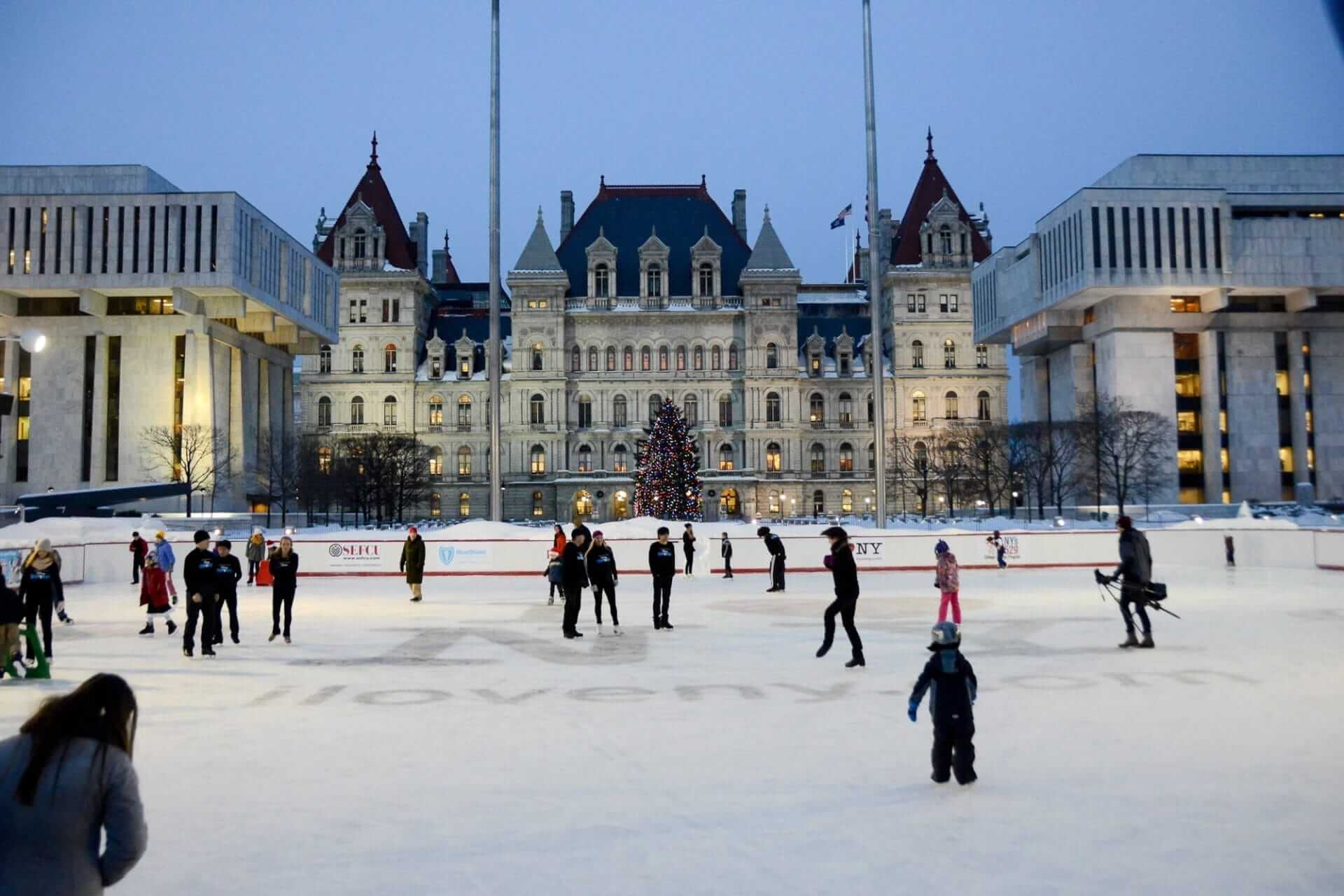 Empire State Plaza Ice Rink Information
The rink is open Tuesday-Friday from 12 – 3:30 p.m. and 4:30 – 8 p.m., as well as Saturday-Sunday from 12 – 2 p.m., 3 – 5 p.m. and 6 – 8 p.m. —weather dependent. The Outdoor Ice Skating at Empire State Plaza's webpage posts updates if outdoor conditions do not permit skating. If you have your own pair of skates, the cost to enjoy the 123-foot-by-112-foot rink is absolutely free. Skate rentals are moderately priced for those unprepared; $3 for children under the age of 12, and $4 for adults. Ice skates are free to rent every Saturday, courtesy of Hannaford Supermarkets. To warm up with some delicious food after a night of skating, a full-service snack bar is open Friday nights and weekends. The staff regularly holds clinics to teach people how to skate and how to play hockey, free of charge.
Enjoy Outdoor Ice Skating at Empire State Plaza before it closes for the season in March 5, 2023.
Winter at the Plaza Events
Every Saturday – Hannaford Free Rentals
Learn To Skate Clinics – February 4 and March 4, 2023
Available for beginners, intermediate and advanced skaters, learn to skate at the Empire State Plaza! Registration opens Jan. 23, 2023 for 10 a.m. and 11 a.m. classes on Feb. 4, 2023, and  March 4, 2023. All classes are 30 minutes long.
Sponsored by BlueShield of Northeastern New York and hosted by the Hudson Mohawk Figure Skating Club.
Please note: the ice rink will be closed to the public during each skating clinic and no walk-in registrations will be allowed. 
Take Amtrak to Outdoor Ice Skating at Empire State Plaza
Skate outside via Amtrak to Albany-Rensselaer Station in Rensselaer, NY—Don't forget to use the Amtrak See New York and Save 15% discount!
Empire State Plaza is 2.3 miles from Albany-Rensselaer Station. Ride sharing and taxi service is available outside the station.
Enterprise has car rentals available at the Albany-Rensselaer Station. Use the New York By Rail NYTRAIN Enterprise Rent-a-Car discount. Click here to reserve your car or call the Albany office today at 518-427-3893.
Time

December 2 (Friday) 12:00 pm - March 5 (Sunday) 8:00 pm