27sepAll Day02novThe Great Dome Car (discontinued)(All Day) Albany-Rensselaer to Montreal, 525 East St, Rensselaer, NY 12144
Event Details
The Great Dome Car
Experience the leaves changing and breathtaking views of the Adirondacks with Amtrak's only remaining passenger car—the Great Dome Car!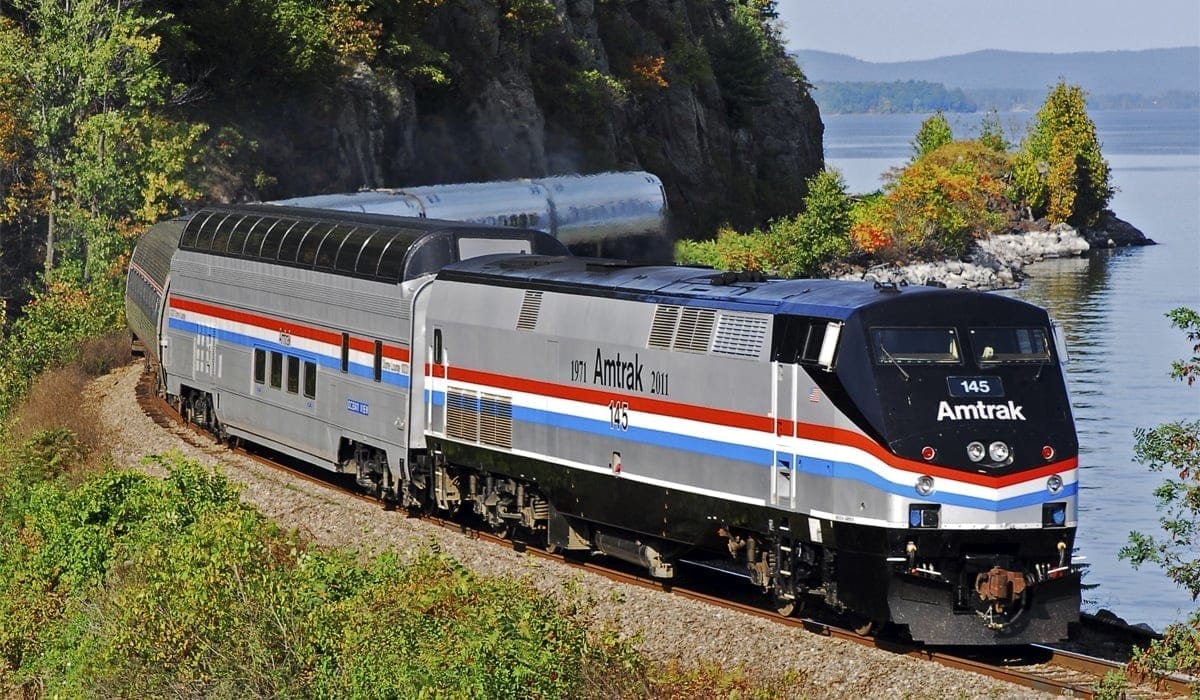 "The Great Dome Car" offers a scenic trip from Albany-Rensselaer to Montreal during the fall season. | Photo Courtesy of Amtrak
A ride aboard the Great Dome Car is a great way to travel and see the many beautiful parts of New York State! This train car is the only remaining passenger car in Amtrak service,  running annually during the fall season. You can experience this incredible ride from September 27 to November 2!
Along the ride, enjoy narration from the National Park Services' Rails and Trails guides. These volunteers will talk about and point out the major sites along the way such as the Erie Canal, Fort Ticonderoga and more. You will get to learn more about the train and its route's historic past. Experience a historic journey on wheels!
Read more about the Great Dome Car experience by clicking here!
History on Wheels
"Car number 9361" was built in 1955 by the Budd Company for the Great Northern Railway until it was purchased in 1971 by Amtrak. After Amtrak bought purchased the car, it was used daily from Washington, D.C., to Orlando, FL through 1994. Now this car is used all over the country for scenic rides!
How to Ride the Great Dome Car
The Great Dome Car is available on the Adirondack line from Albany-Rensselaer Station to Montréal Central Station. The train will head north on Train 69 on Mondays, Thursdays, and Saturdays. Heading south will be on Train 68 on Fridays, Sundays, and Tuesdays.
The earliest northbound Adirondack train leaves at 11:10 a.m., arriving in Montréal at 7:11 p.m. Going south, the earliest train departs Montréal at 10:20 a.m., arriving at Albany-Rensselaer at 5:57 p.m.
Experience a breathtaking view of New York State and a worthwhile trip up to Montréal with the historic Great Dome Car!
More Information on the Great Dome Car
For more information on the Great Dome Car and schedules, visit Amtrak.com.
Don't forget to use the New York By Rail 15% discount when purchasing your tickets on The Great Dome Car!
Staying overnight? Get picked up at most Amtrak stations by Enterprise Rent-a-Car and taken to your reserved rental car! Use code NYTRAIN for a discount when making your reservation. Click here to see if your destination offers an Enterprise pick up.
Time

September 27 (Thursday) - November 2 (Friday)
Location

Albany-Rensselaer to Montreal

525 East St, Rensselaer, NY 12144