01feb11:00 am4:00 pmSaratoga Chowderfest11:00 am - 4:00 pm Downtown Saratoga Springs and Various Restaurants throughout Saratoga County, Broadway, Saratoga Springs, NY 12866
Event Details
Saratoga Chowderfest
Enjoy music, activities and endless chowder at Saratoga's 22nd Annual Chowderfest.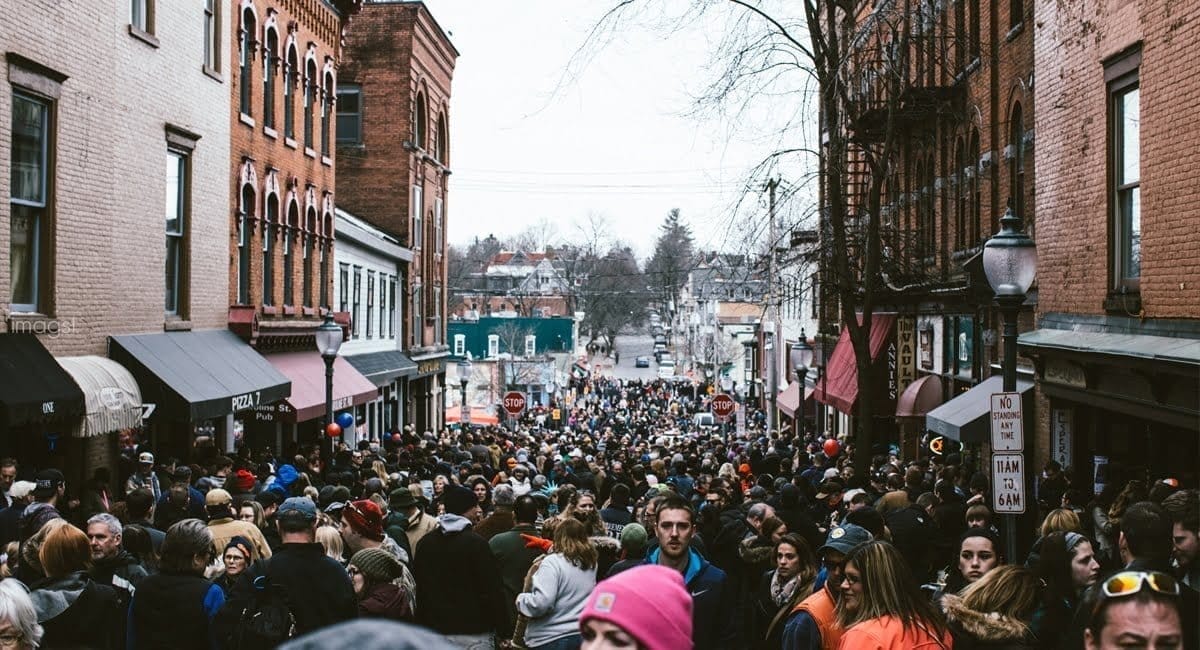 Crowds of people at Chowderfest in Downtown Saratoga. | Photo Courtesy of Discover Saratoga
Mark your calendar! One of Saratoga's most highly-anticipated events is coming up on Sat., Feb. 1st, 2020. Presented by Discover Saratoga and DeCrescente Distributing Company, Chowderfest features delicious choices from over 80 vendors—including some of the best restaurants and caterers in Saratoga County. Aside from the many choices of chowder, there will be live music and family-friendly activities.
To participate, simply pick up a ballot from any participating restaurant or download and print one off of the Chowderfest website. Then, from 11 a.m. until 4 p.m., try as many chowders as you would like at $1 a cup. Place your vote for your favorite chowder at DiscoverSaratoga.org/Vote by 5 p.m. See if your favorite chowder was a winner by attending the Awards Ceremony at the Saratoga Springs Heritage Area Visitor Center at 6:30 p.m.
Take Amtrak to Chowderfest
Enjoy downtown Saratoga and delicious chowder via Amtrak to the Saratoga Station in Saratoga Springs—Don't forget to use the Amtrak See New York and Save 15% discount!
Pick up your reserved NYTRAIN Enterprise Rent-a-Car from Saratoga Station. Click here to reserve your car or call the Saratoga office today at 518-587-0687.
Where to Stay in Saratoga Springs
Looking for a getaway opportunity? Spend the night and experience all the Saratoga area has to offer. Enjoy special hotel room rates for Chowderfest attendees, here.
Book a room at the Pavilion Grand in Downtown Saratoga Springs, and spend the weekend experiencing rich history, cultural hotspots and amazing spas with the New York By Rail two-day itinerary, Horses, History and Health.
Time

(Saturday) 11:00 am - 4:00 pm
Location

Downtown Saratoga Springs and Various Restaurants throughout Saratoga County

Broadway, Saratoga Springs, NY 12866