I wasn't quite sure what to expect when I headed to Catskill, NY for a recent visit. I knew that the former industrial village, perched on the hilly shores of the Catskill Creek, right where it empties into the mighty Hudson River, has undergone a renaissance in recent years. Of course, former manufacturing hubs morphing into cute, urban-chic tourist destinations is nothing new in the Hudson Valley. But some do it really well—take my adopted hometown of Beacon, NY—and some sputter and fail to find their way.
Happily, Catskill has found its groove. Today, the historic Main Street is an eclectic mix of Victorian storefronts and grand government buildings. (Catskill is the seat of the Great Northern Catskills of Greene County, which stretches from the river west to the high peaks of the Catskill Mountains). The village is fun to explore precisely because you never know quite what you are going to get. A gorgeous, meticulously restored bank building sits near a grand—but now vacant— brick church that is for sale. Pretty alleyways, bursting with flowers and newly planted trees, feed from both sides of Main Street. Right off the beaten path are several renovated factories, which are filling in with art studios and innovative eateries and breweries. And then there is the ever-present Catskill Creek, which winds through the entire village.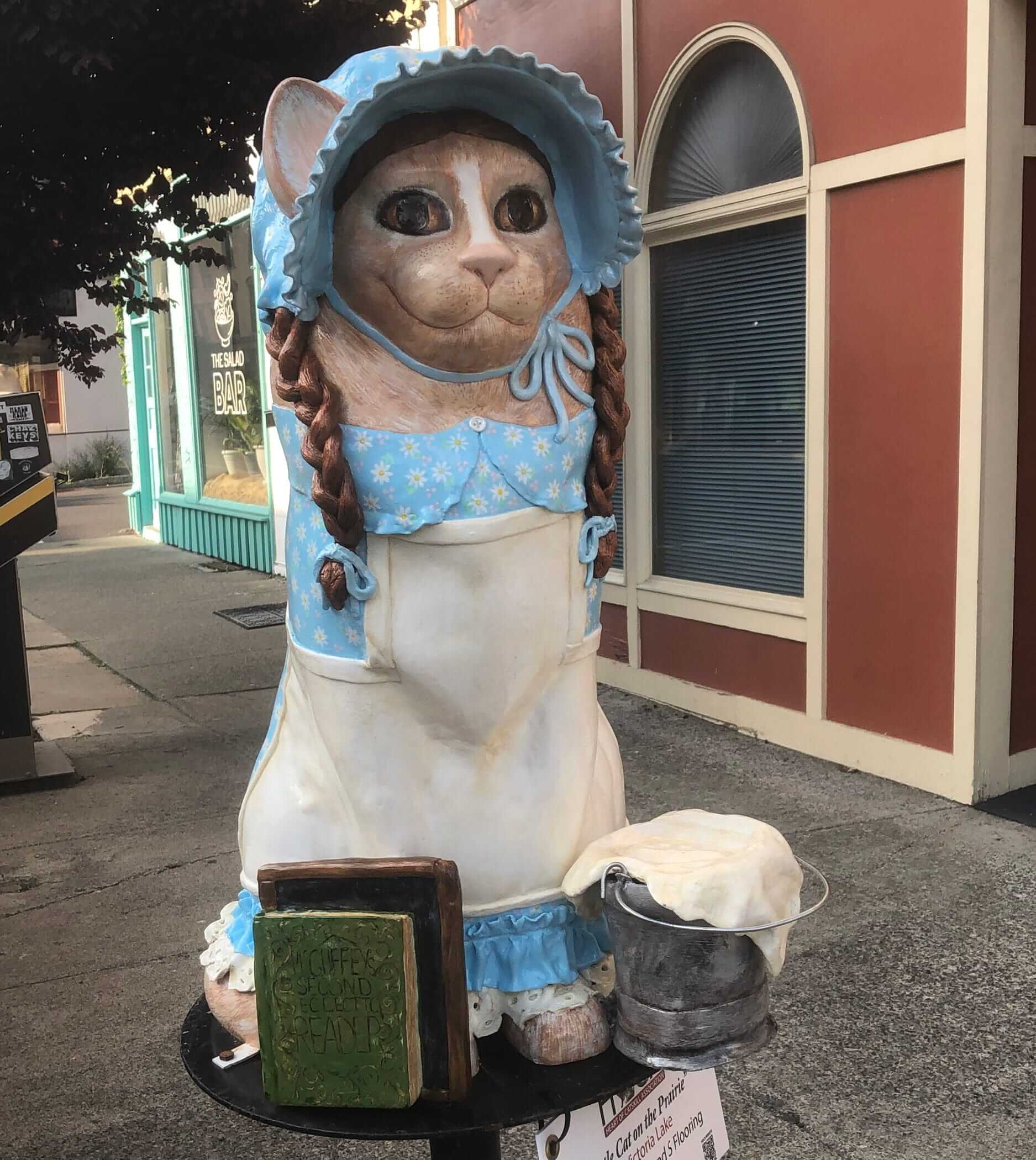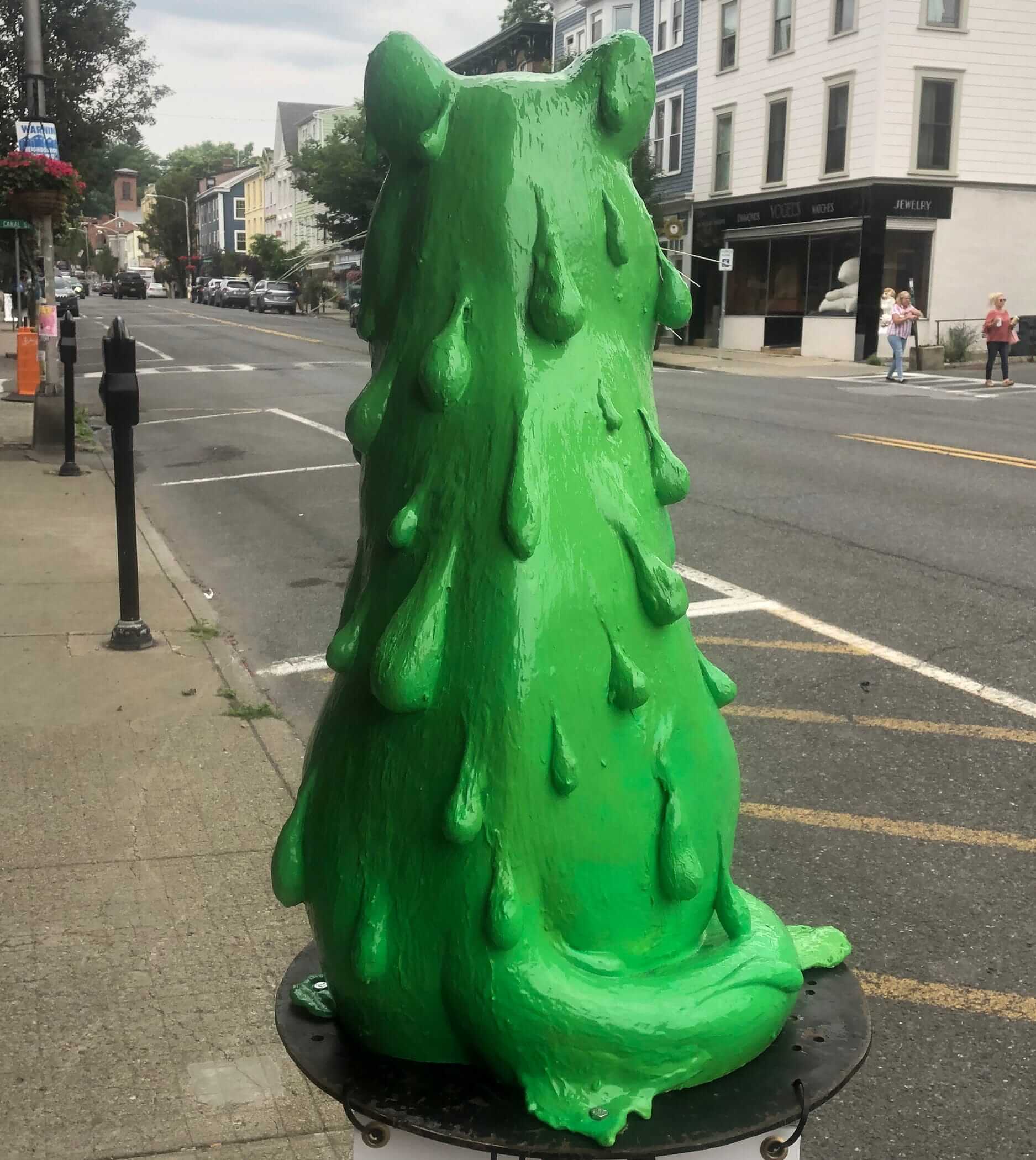 And everywhere are the cats. Scattered throughout town are 65 lavishly decorated fiberglass cats. It's the 17th year of Cat'n Around Catskill; each cat is sponsored by a local establishment and painted by a local artisan. 
My favorite? I'm not sure—although 'Little Cat on the Prairie'—complete with Laura Ingalls braids—and the neon green 'Slime Cat'—are certainly frontrunners.
Upon arrival, my friend and I stopped for a coffee at Citiot, a funky coffee/gift shop on Main Street. (This town may be all about the cats, but we appreciated the giant dog waterbowl right outside the door.) We then had lunch at the Creekside Restaurant, which is housed in an unpretentious building in the middle of a working marina. We both opted for the crab cake sandwiches, which fueled us up for the next adventure: a 2.5-hour boat ride on the Hudson.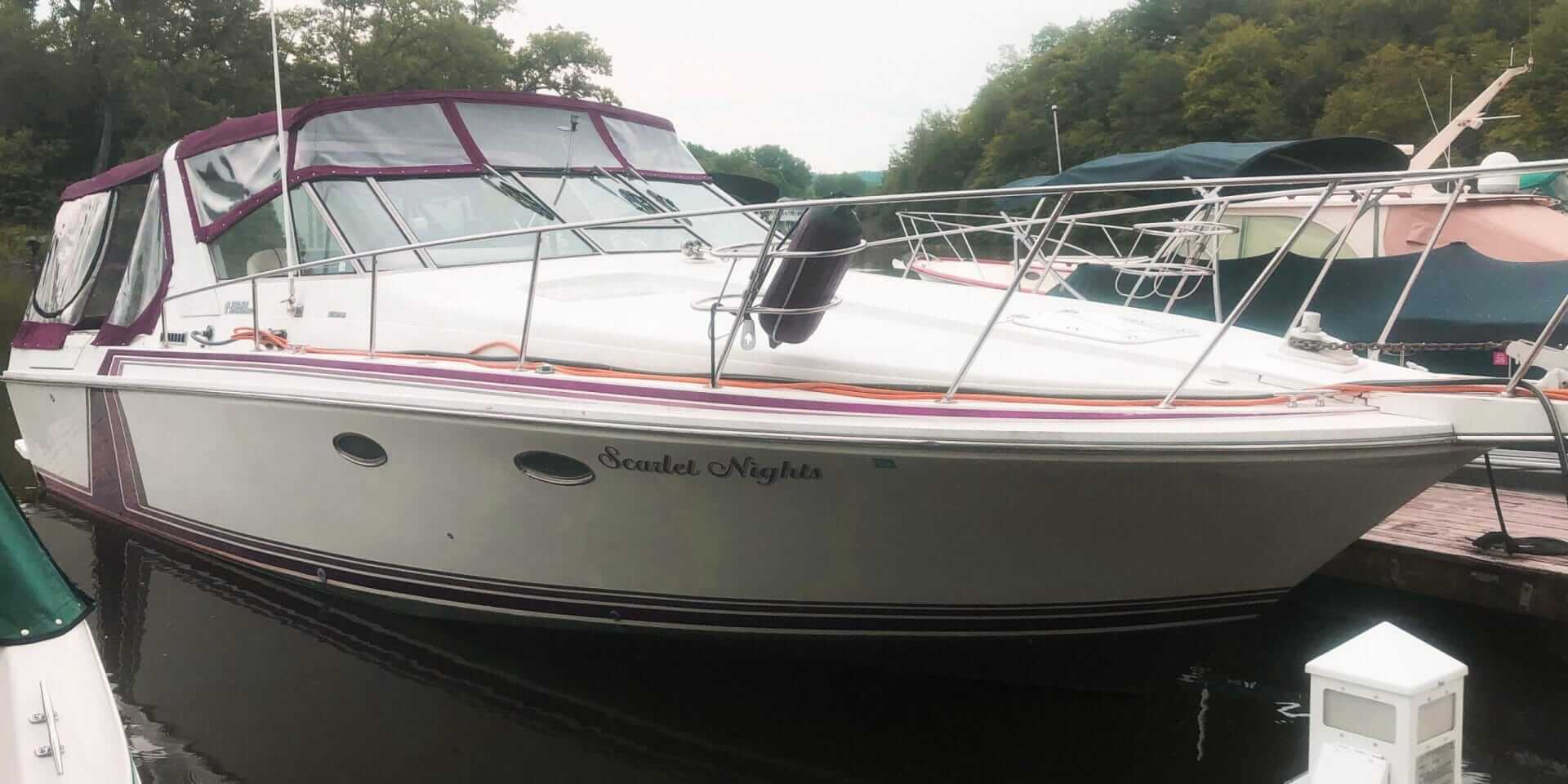 Catskill Charters is located in the same marina as the restaurant. I rambled over to meet owners Melissa and AJ, who quickly got me settled on one of their boats, this one a 34-footer named Scarlet Nights. Turning north out of the creek onto the river, we soon passed under the gothic 1935 Rip Van Winkle Bridge and headed for the Hudson-Athens Lighthouse, a two-story, second Empire style brick structure sitting on a concrete base (with no room to spare) in the middle of the river. We pulled up next to the lighthouse but didn't get out, although AJ informed me that regularly scheduled tours are available. As I stretched out luxuriously on the bow of the boat, a wave of relaxation overtook me as the friendly pair filled me in on my surroundings. There is the Middle Ground Flats, a man-made island where locals have constructed tiny ramshackle shacks; there is the pretty Athens downtown; oh look, that mansion, the one perched high on that hill, Mike Tyson used to own that. Much of their business involves private yacht charters for up to six guests—birthday parties, romantic proposals, sunset cruises and even island celebrations. Guests can also opt to sleep on the boat. AJ and Melissa have the perfect personality for this—I felt well taken care of and appropriately entertained. "Whatever you want, we will make happen," says AJ. I believe him.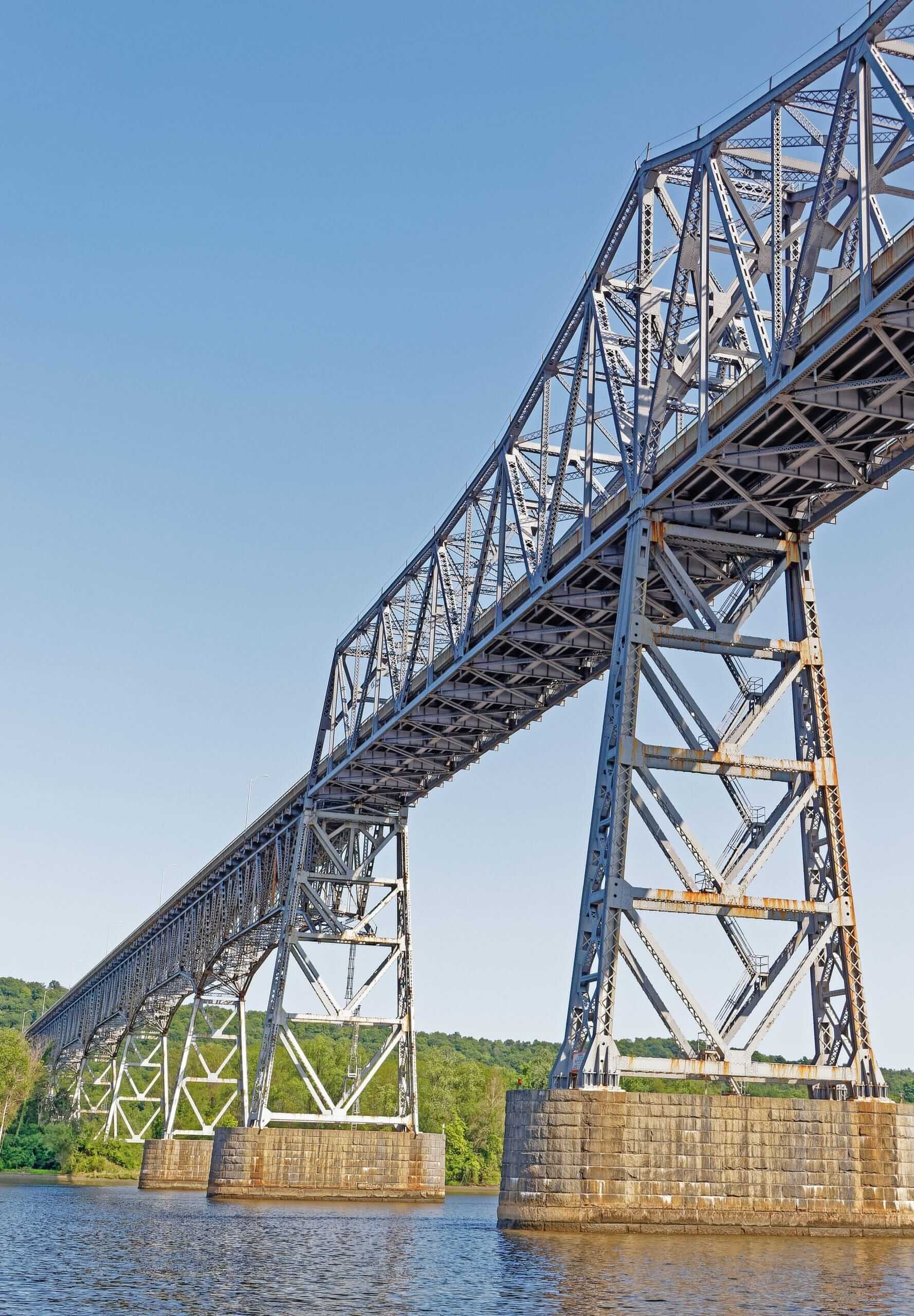 Then it was back to explore Main Street again. There are a lot of fun finds packed into this half mile strip. The cutsie Magpie Bookshop has two full floors, overflowing with an interesting selection of used books; Spike's Record Rack specializes in old-fashioned vinyl. I ambled through Sister Salvage for antiques (I almost bought a giant 'stop' sign because I have a teenage daughter, but decided to pass on it.) The Makersville Consignment Shop, which specializes in handmade and up-cycled goods from local artists, bucks the feline trend. Owner Chrissy Rossettie Sakes has two corgis who rule over the store and seem to attract as much attention as the goods. That said, it is not far from 'Cat on the Corner,' which sells cat-themed gifts and more.
When it was time for dinner, I wavered between two excellent choices.  Being out on the boat had me thinking about seafood. To me, summer doesn't really begin until I chow down on my first lobster roll. The waterfront Frank Guido's Port of Call serves up what some call 'legendary' lobster rolls—reviews cite giant chunks of lobster and the perfect mix of spices. Three nights a week you can also partake in the affordable lobster bake…lobster, clams, mussels, shrimp with corn and a baked potato all for $39.95.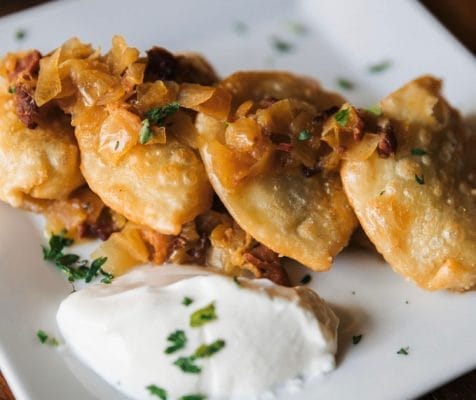 In the end, I ended up at New York Restaurant on Main Street. Owner Natasha Witka aims to give diners "an old-fashioned experience." I'm not sure if the experience was old-fashioned—it's certainly a pleasant setting with Brooklyn-style tables on the sidewalk and a Polish flair. But what I do know is that it was downright delicious. The house pierogis come in four different flavors; I opted for the black truffle & parmesan. Simply put: I have thought about the pierogis every single day since I consumed them. (The other options are: potato & kale, spinach & cheese, and sweet potato & kale.). I regret not buying the T-shirt that all the waitresses were wearing: "Make Pierogies, Not War."
Catskill offers a variety of lodging options.  Four miles north of the village (still in the town of Catskill) is the newly opened Camptown—featuring 26 glamorous cabins and an additional 24 hotel rooms on the site of a former campground. Greene County, with many other charming towns including Athens, Windham, and Hunter, is home to nearly 50 hotels and motels and a number of cabins and efficiencies. (Everybody is buzzing about the upscale James Newbury Hotel, which is scheduled to open in September in nearby Coxsackie.) But I stayed at A Tiny House Resort in nearby South Cairo, less than 10 minutes from Catskill's Main Street. (I once whiled away hours watching a Netflix show about tiny house living and have been intrigued by the lifestyle ever since.)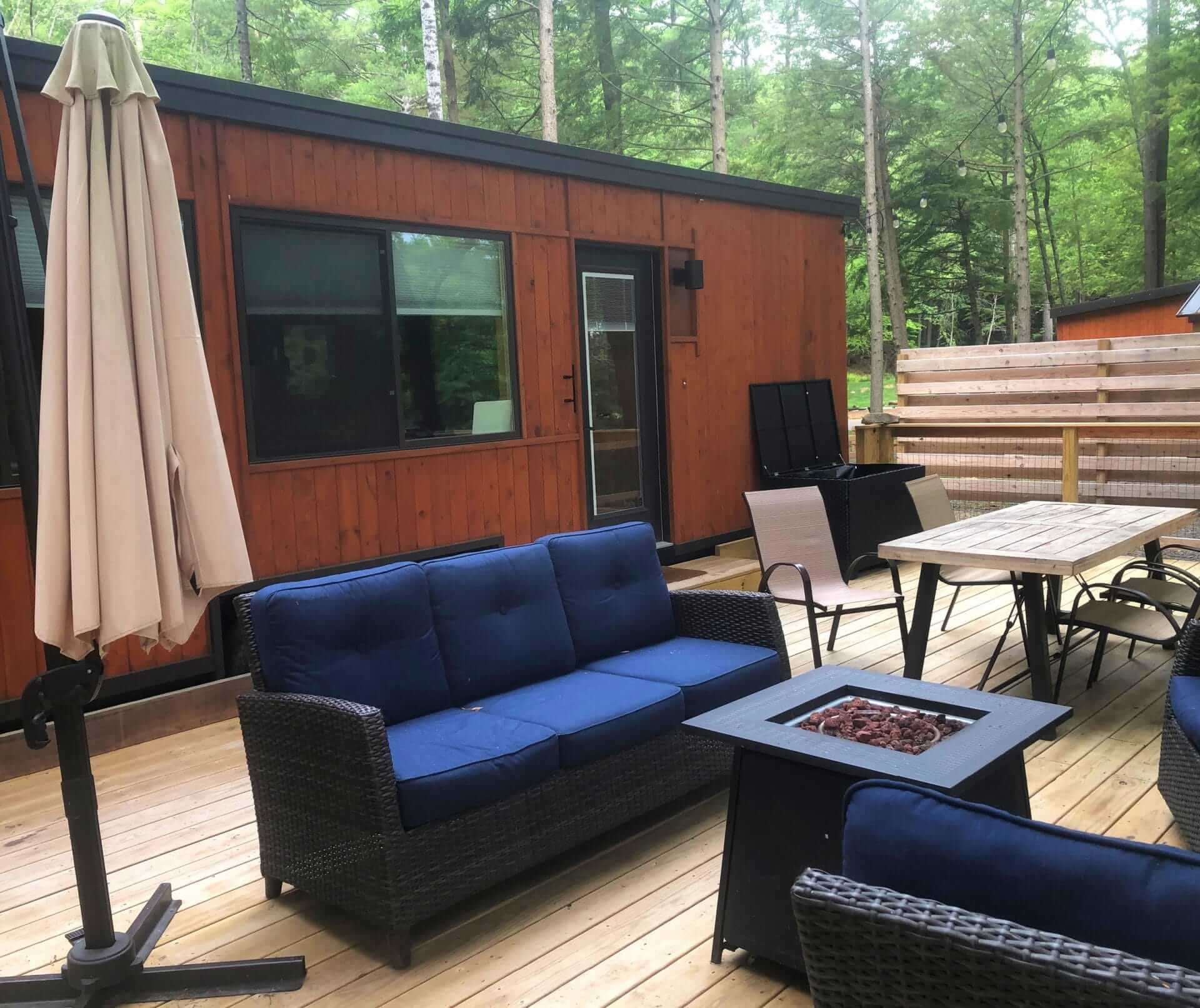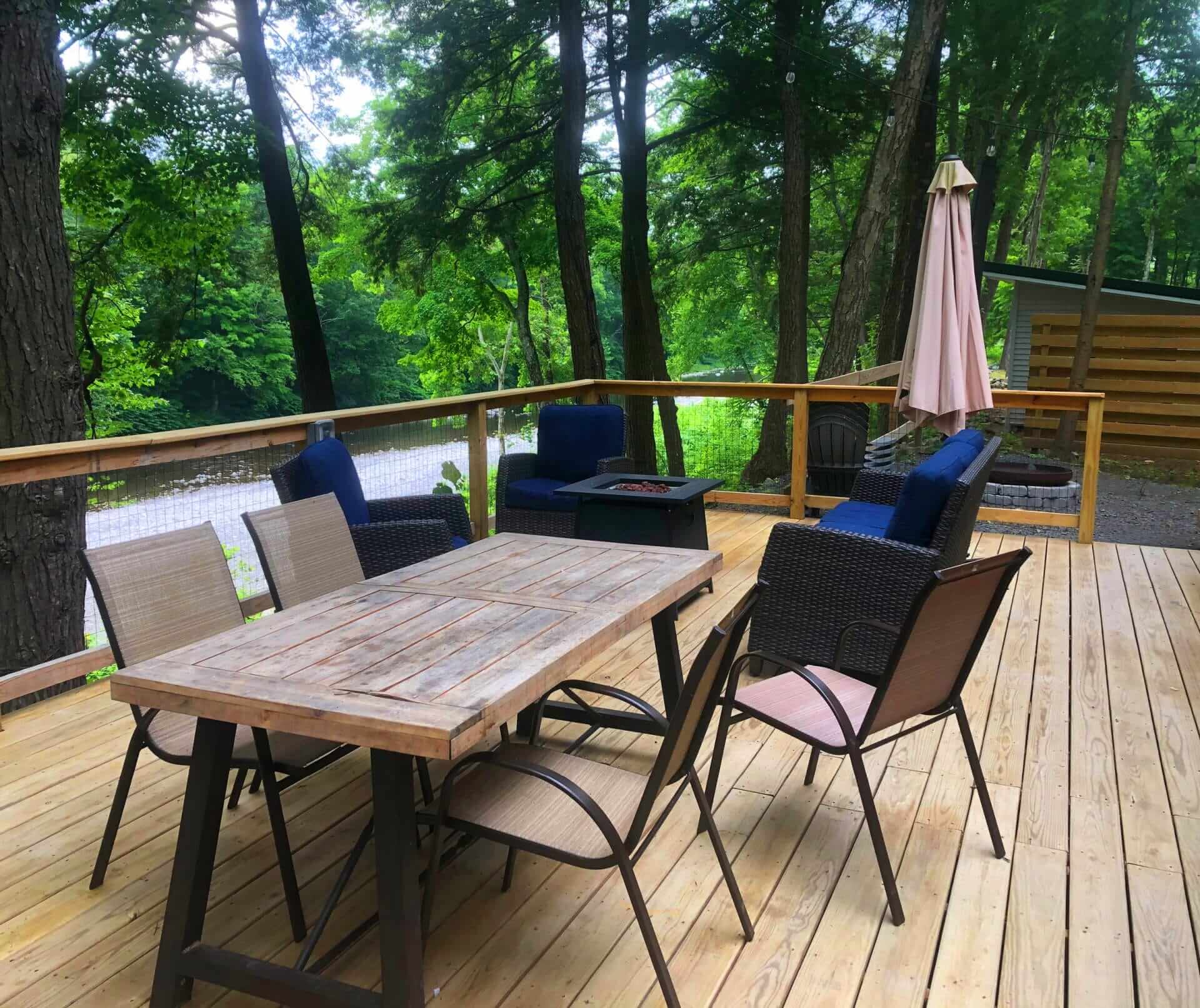 The hilly grounds reminded me of sleep away camp—there are fun touches like giant chess and checkers games—but I can assure you that the accommodations are much more upscale. I stayed in 'The Hideout', one of three "waterfront" houses located on a cliff overlooking the Catskill Creek. Inside, a super comfy queen size bed in its own room, a living room with a convertible sofa, a full kitchen, a bathtub and shower. My favorite touch? The Beekman 1802 products—shampoo, lotion and more. Outside, an attractive deck area contained a dining table, a cozy seating area—I lay on the couch from 8-9 pm as the sun set—a fire table and a grill.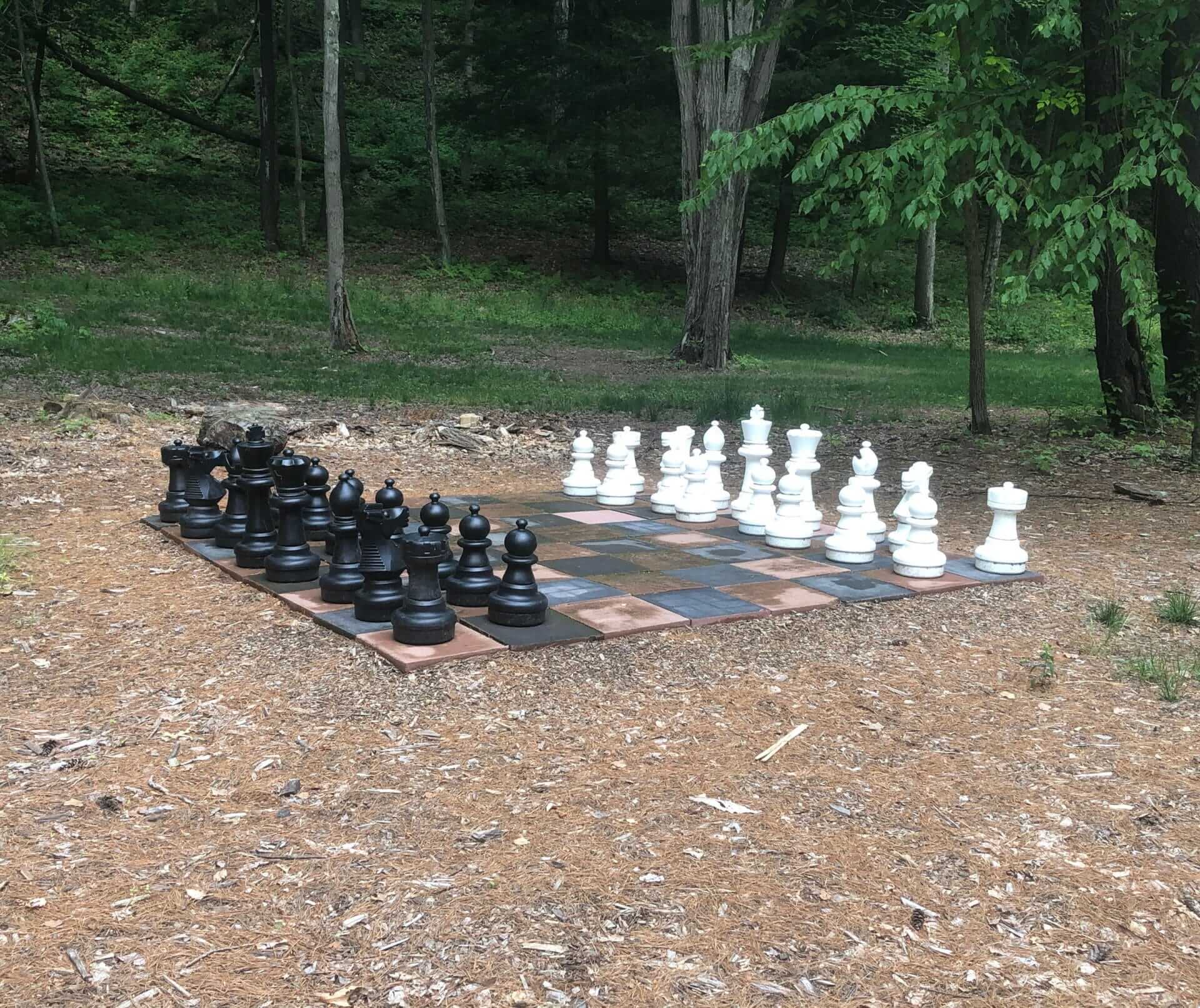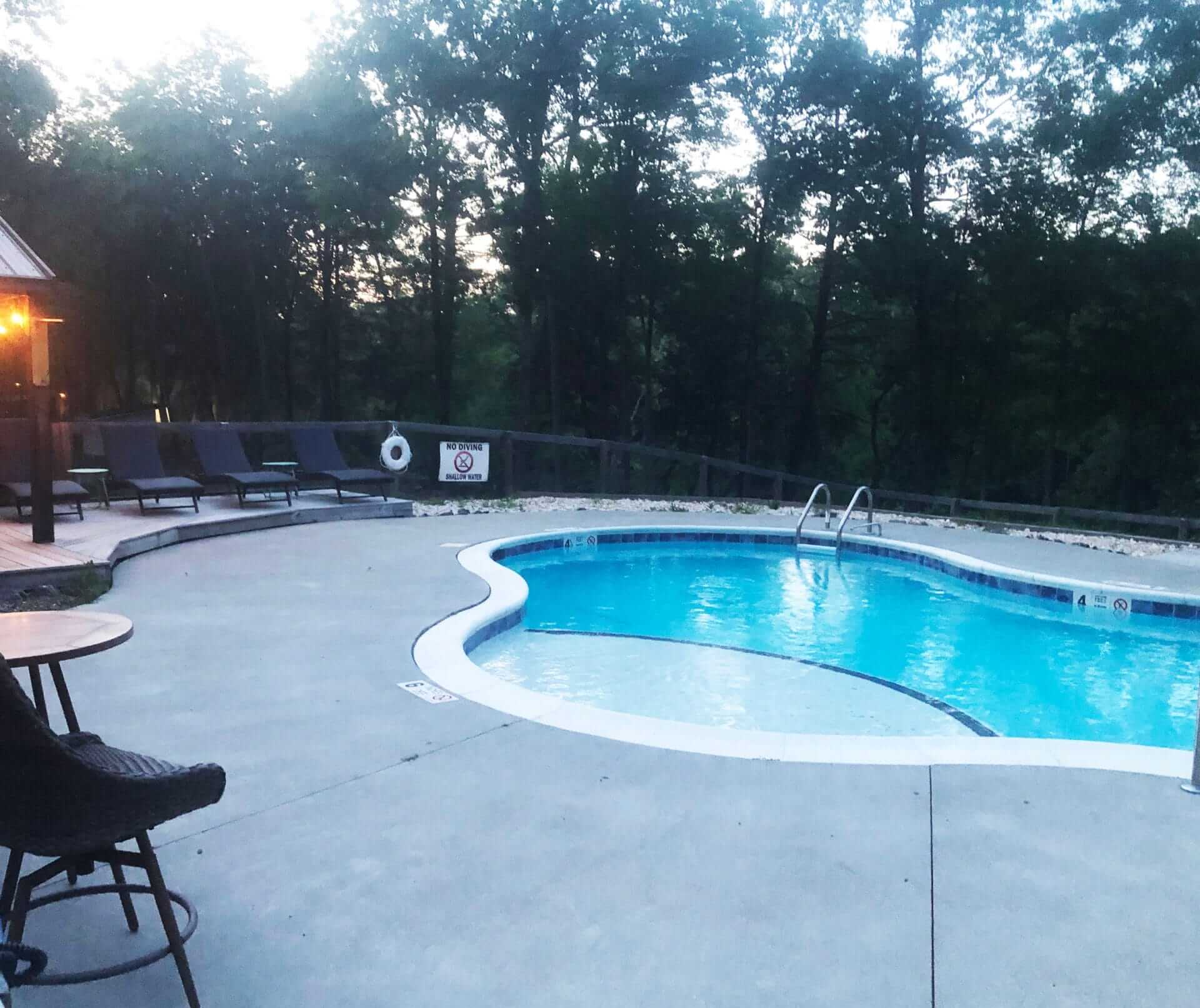 I had the pretty pool all to myself in the early evening. The next morning I awoke completely refreshed—and to the sound of bleating goats and sheep. I visited with the happy—and apparently hungry—herd, but did not go on their daily walk, which is apparently quite popular with guests. Next time I return I will walk with the animals, hike to the waterfall and go tubing.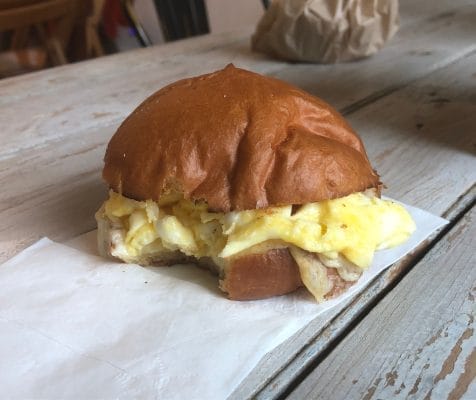 I headed back to the village and happily stumbled upon Willa's, a popular breakfast and lunch spot located in an urban chic setting on the creek. It was a weekday, yet there was still a line to order food. And no wonder. My egg sandwich, smothered with cheddar cheese and honey sriracha, and served on a fresh brioche roll was spectacular. Although I wasn't hungry after finishing it, I ordered a strawberry gluten-free muffin. I planned to save it for later, but a quick nibble informed me that this, too, was a special treat and I devoured the pastry quickly.
The biggest tourist draw in Catskill is the Thomas Cole National Historic Site. The former home of painter Thomas Cole (1801-1848), widely considered the founder of the Hudson River School of Painting, offers beautiful grounds to wander and an array of exhibits. On view through October 29 is an exhibit on how women reframed the American landscape. While the $18 tour fee may seem a bit steep—it is well worth it. I enjoyed seeing many original Cole paintings, as well as learning more about the time period and Cole's life. Apparently, many famous artists and literary figures came to visit Cole and his wife on this property. And the view from the side of the front porch? Well, it's easy to see why Cole was inspired to paint.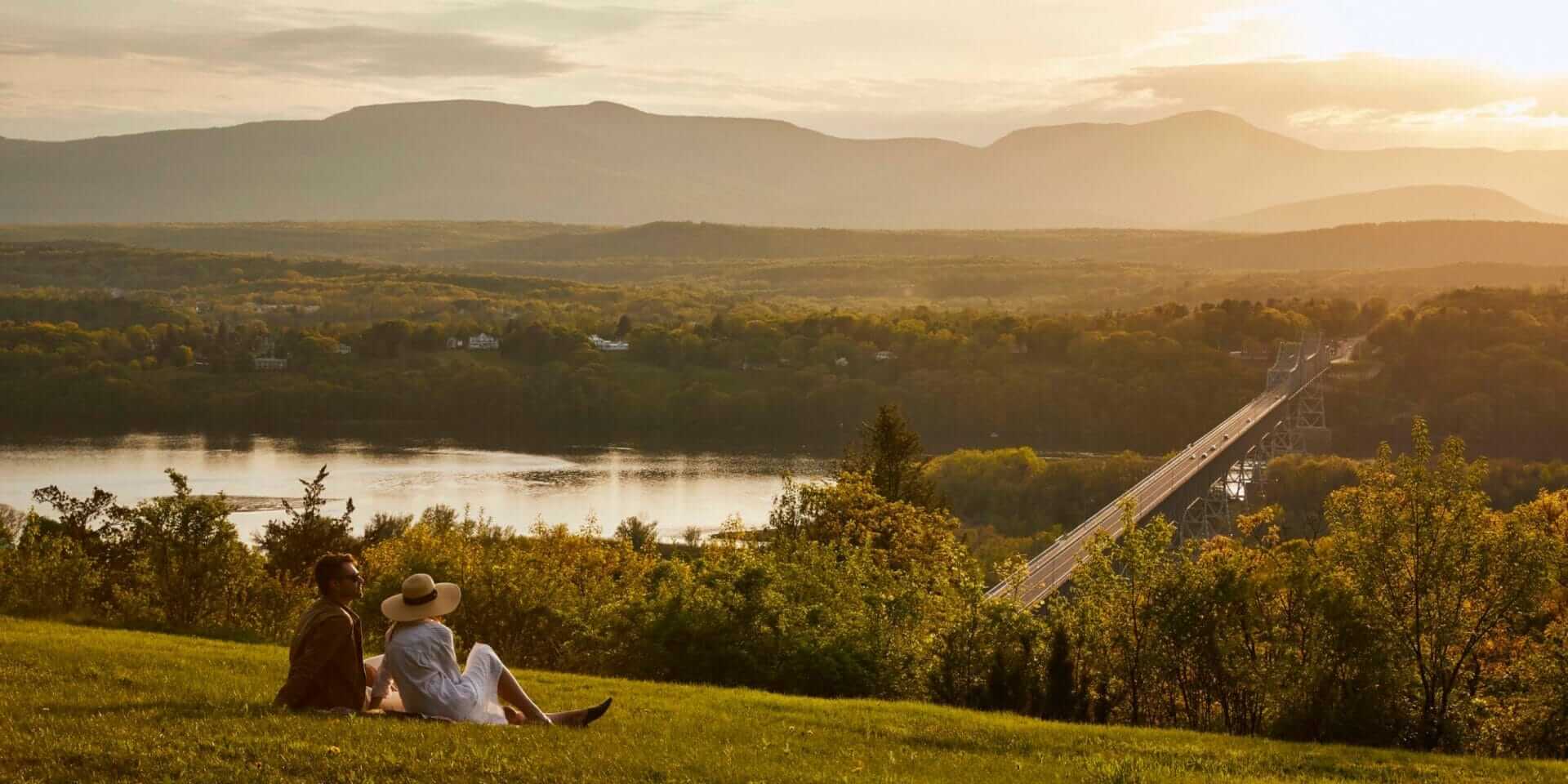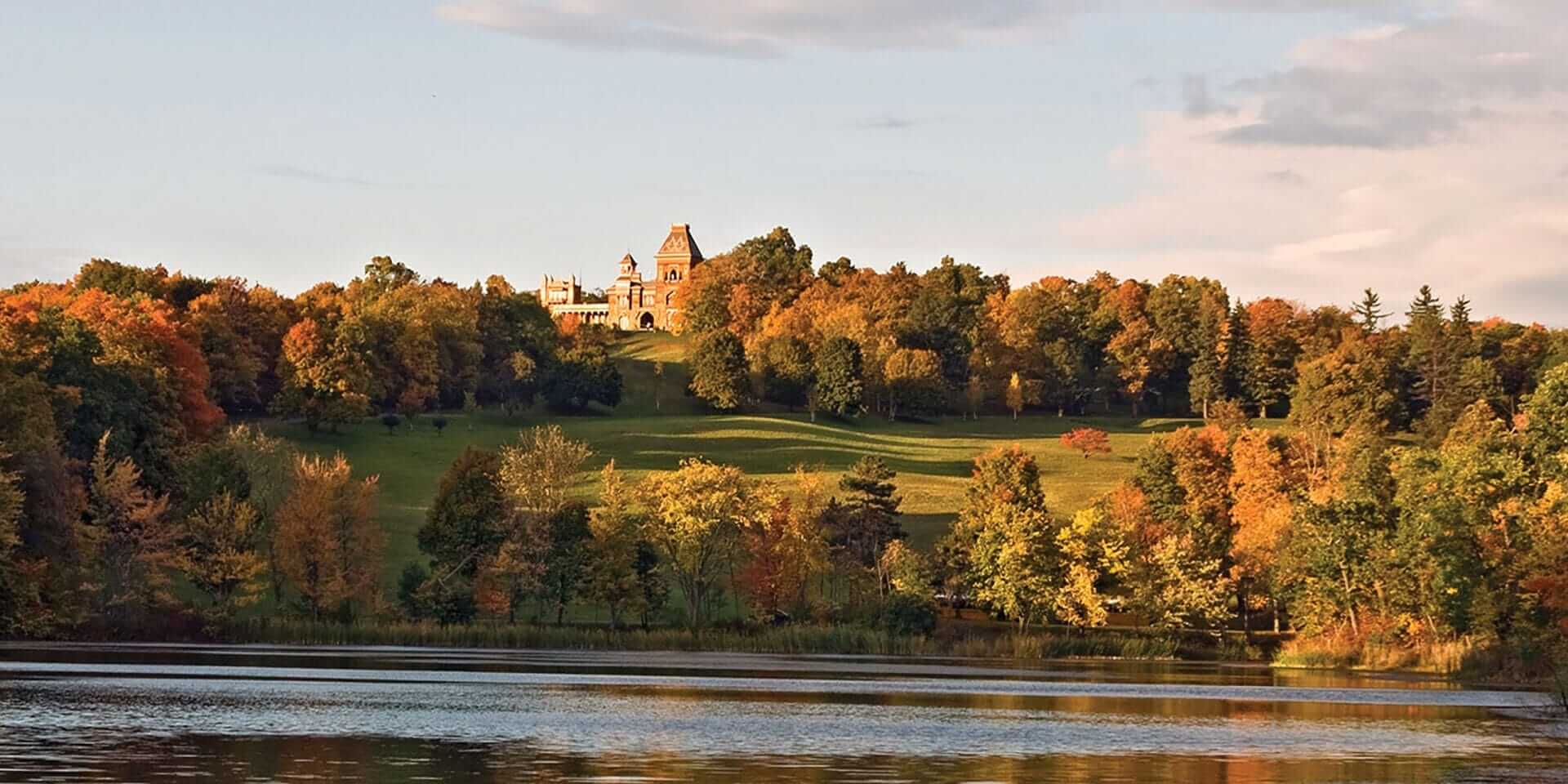 I set out on the Hudson River Skywalk, a 6-mile roundtrip pedestrian path that starts at the Thomas Cole House, travels over the Rip Van Winkle Bridge and ends at the Olana State Historic Site in Hudson, the former home of another Hudson River painting bigwig: Frederic Church. Unfortunately, the entrance to the walkway was closed that day; it seems an overeager falcon had been swooping down to scare pedestrians.  
But I will return soon to take in the sweeping views from the Skywalk; and to get some more pierogis. There is still much to explore in fun and funky Catskill.
TAKE AMTRAK TO Catskill 
Experience all of Catskill via Amtrak to the Hudson Station; Don't forget to use the See New York and Save 15% discount.
Catskill is six miles from the Hudson Station. Pick up your reserved #NYTRAIN Enterprise Rent-a-Car right at the Hudson Station. You can return the car at designated spaces at the Hudson Station or in the municipal lot across the street. Click here to reserve your car or call the Hudson office today at: 518-828-5492.