19julAll Day22Baseball Hall of Fame Induction Weekend(All Day) The National Baseball Hall of Fame and Museum, 25 Main Street, Cooperstown, NY 13326
Event Details
Baseball Hall of Fame Awards Presentation and Induction Ceremony
The National Baseball Hall of Fame inducts legends of the game and invites fans of all ages to participate in a weekend of interactive programs.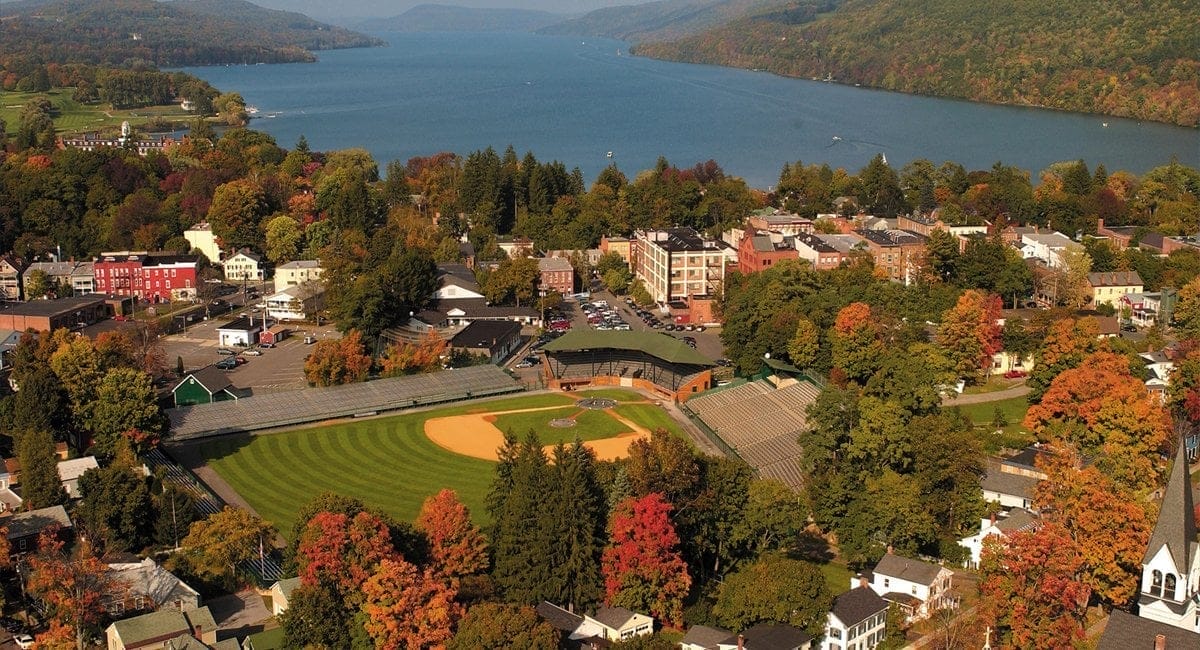 This July, the Baseball Hall of Fame Ceremony honors a new class of baseball legends. Whether or not you are a baseball fan, this ceremony is sure to inspire the spirit of the sport, letting everyone experience this exciting and special moment.
The Awards Presentation begins on Saturday, July 20. There, guests will be welcomed to the Doubleday Field to witness the presentation of the Ford C. Frick Award for baseball broadcasting excellence and the J.G. Taylor Spink Award for meritorious contributions to baseball writing. To conclude this day is the Parade of Legends. Watch as the Hall of Famers ride in trucks down Main Street and arrive at the museum steps which will be covered in a flowing red carpet, concluding with a private reception at the Museum. Fans are encouraged to attend the Awards Presentation prior to making their way to the Parade. The Parade starts on Main Street, at 6:00 p.m., on Saturday.
Rain or shine, join in the continued events on Sunday, July 21 for the Induction Ceremony. Outside of the Clark Sports Center, guests will be able to watch and listen to this historic event. Free of charge and with unlimited lawn seating, this ceremony lasts two to three hours.
Events during the Baseball Hall of Fame Weekend
A weekend-long celebration, the festivities begin on Friday, July 19 where Ozzie Smith and Hall of Famer guests can participate in the PLAY Ball game. For the 18th year, this fundraiser helps to support the hall of Fame educational programs, prices varying for Members and non-Members; PLAY Ball also requires advanced reservations. From 8:00 a.m., Players, legends, and attendees are all welcomed to a meet and greet and over two hours of playing ball. Each participant is able to play in the field and receive a personalized photo with baseball legends, as well as mementos to commemorate this special occasion. 
Prior to the PLAY Ball game, participants and Hall of Famers will share a special breakfast in the Hall of Fame's Plaque Gallery. This event is open to fans of all ages. Space is limited and registration is required by calling 607-547-0310.
On Monday, July 22, the Hall of Fame's newest members will participate in the Legends of the Game Roundtable at 10:30 a.m. This event is for Members only, costing $10 for adults and $5 for juniors. But keep your eyes and ears open, throughout the Hall of Fame Weekend there will be a series of educational programs and fan-friendly experiences open for all guests! These events are designed to connect different generations in fun activities and to showcase the timelessness of baseball.
History of the Baseball Hall of Fame
The National Baseball Hall of Fame and Museum is a nonprofit museum dedicated to preserving and honoring the history of baseball, it's players, umpires, managers, and everything in between. Open for over 75 years in the Village of Cooperstown, this museum prides itself on connecting generations and providing a place to show the historical development of baseball and its impact on our culture.
The Hall of Fame houses three entities: the museum, the actual Hall of Fame, and a research library that all work together to gather and preserve the history of baseball. Filled with memorabilia, baseball artifacts, works of art, literature, and photographs, this museum is educational, full of nostalgia, and perfect for people of all ages.
Time

july 19 (Friday) - 22 (Monday)
Location

The National Baseball Hall of Fame and Museum

25 Main Street, Cooperstown, NY 13326