The winter season is in full swing and the era of social distancing continues. There is no better time than winter to enjoy the cold fresh air of New York's hiking trails. Some of these trails are still open for biking and cross-country skiing, weather-permitting. With the official opening of the Empire State Trail announced Dec. 31st, we've selected trails that are readily accessible via Amtrak.
"The completion of the 750-mile state trail not only makes physical connection between locations across the state, but it also continues to build on how we are reimagining our natural wonders" said Kathy Hochul, Lieutenant Governor.
Whether you're looking for city or upstate trails, Amtrak is the perfect way to embark on your hiking adventure. Hiking the Empire State Trail is an ideal way to get the most out of the winter season while staying within the state. If you plan on biking, cross-country skiing or snowshoeing this winter season, Amtrak allows bicycles and ski equipment onboard its trains. Take full advantage of social distancing measures on these New York winter hiking trails along the Empire State Trail. Grab a mask and your snowshoes and hike these trails today!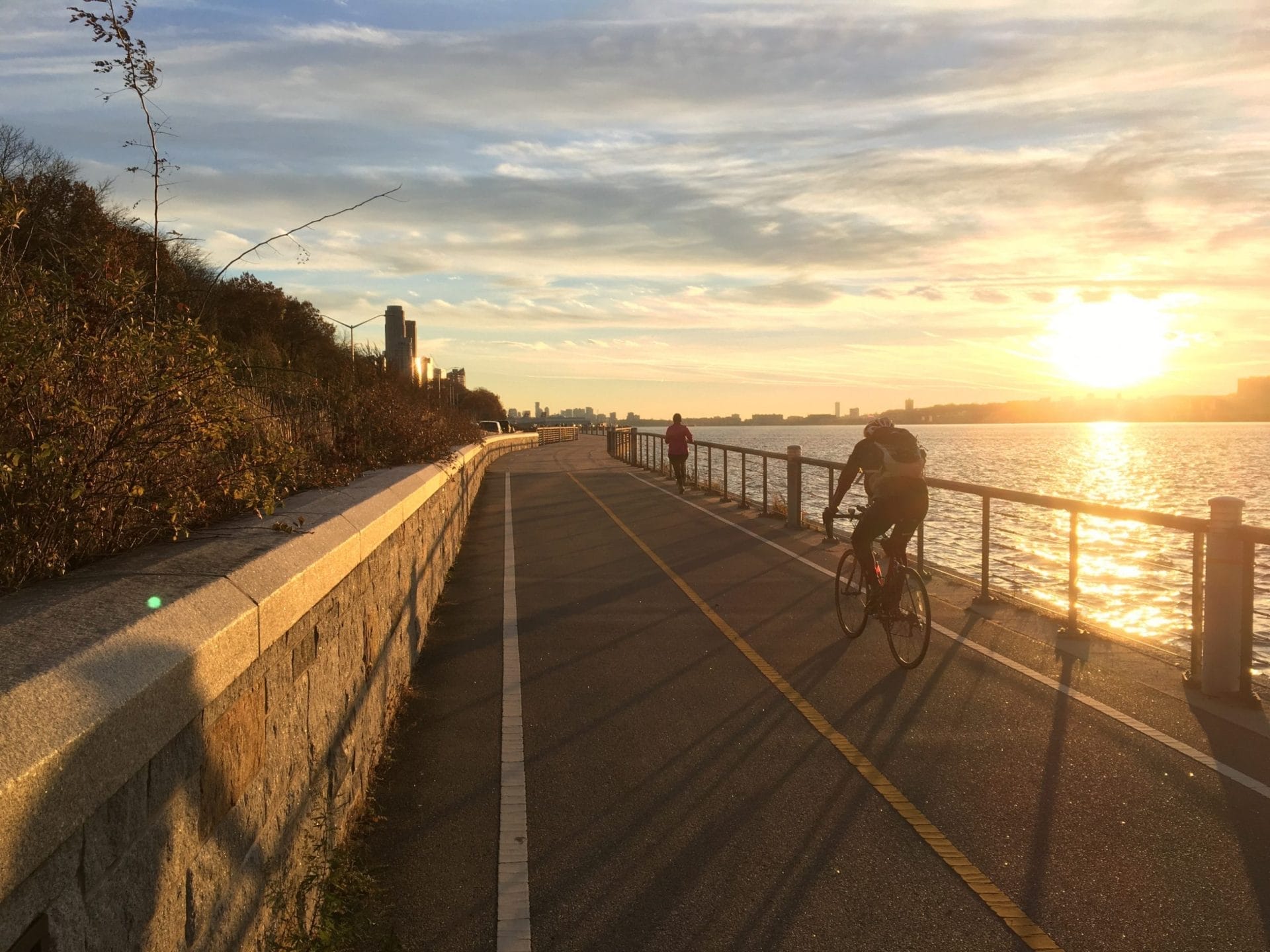 Manhattan Greenway Trail
Distance from New York Penn Station (NYP): 3.7 miles to The Battery
Ready to hike, but not looking to travel? The Manhattan Greenway Trail is the perfect destination for city residents who want to stay close to home this winter season. Strolling through the city may not provide you with mountain views, but it surely has its perks. This trail is the first segment of the Hudson Valley Greenway Trail. The trail takes hikers on a walk along the beautiful Hudson River. Starting at The Battery, hikers can begin wherever they want on the trail. While moving along the Hudson, hikers can observe or visit several locations such as the Hudson River Park and the Cherry Walk. It's easy to forget New York's natural environment when living in the concrete jungle, but the Greenway Trail will be sure to remind anyone that Manhattan has its own natural beauties.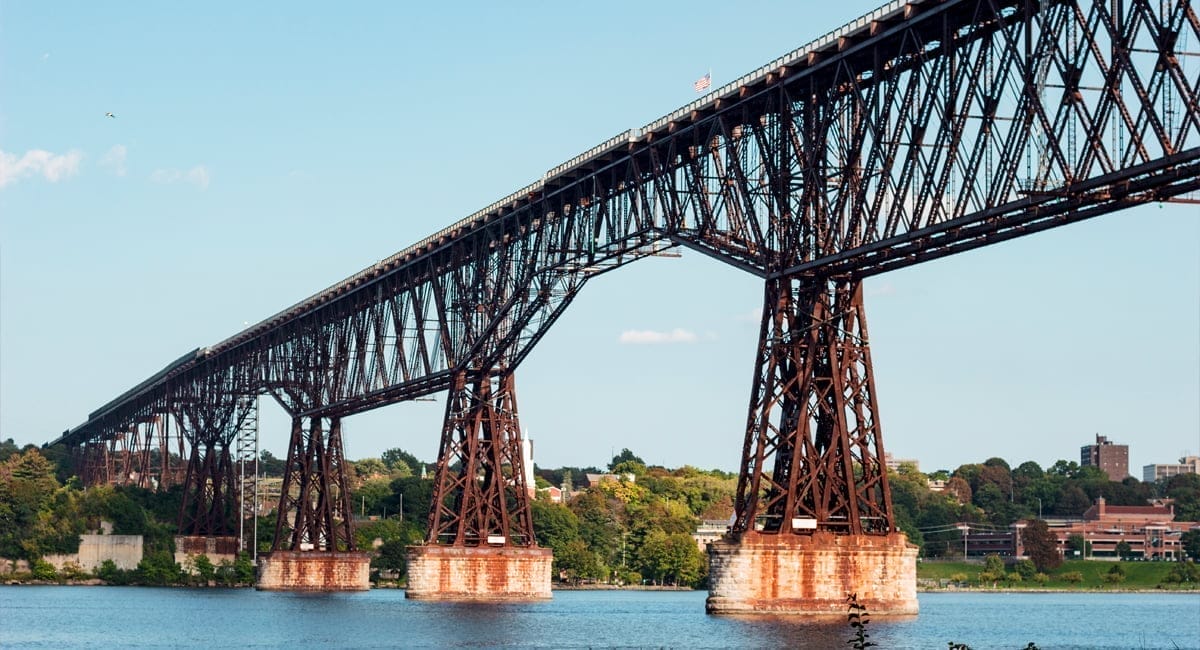 William R. Steinhaus Dutchess Rail Trail
Distance from Poughkeepsie Station (POU): 0.9 miles to Walkway Over the Hudson
Depending on which direction you're looking to hike in, taking Amtrak to Poughkeepsie Station provides hikers with access to two trails. The Walkway Over the Hudson is an attraction within itself that connects two trails with the Empire State Trail. On the Dutchess County side of the Walkway Over the Hudson, hikers can complete the William R. Steinhaus Dutchess Rail Trail. The Dutchess County trail is approximately 13.5 miles. Hiking this trail from this end takes you from Poughkeepsie over the Walkway Over the Hudson to Hopewell Junction. Hikers will be able to experience both beautiful winter scenery of the Hudson River and a wooded winter wonderland. Any unplowed section of the Dutchess Rail Trail is available for cross-country skiing and snowshoeing.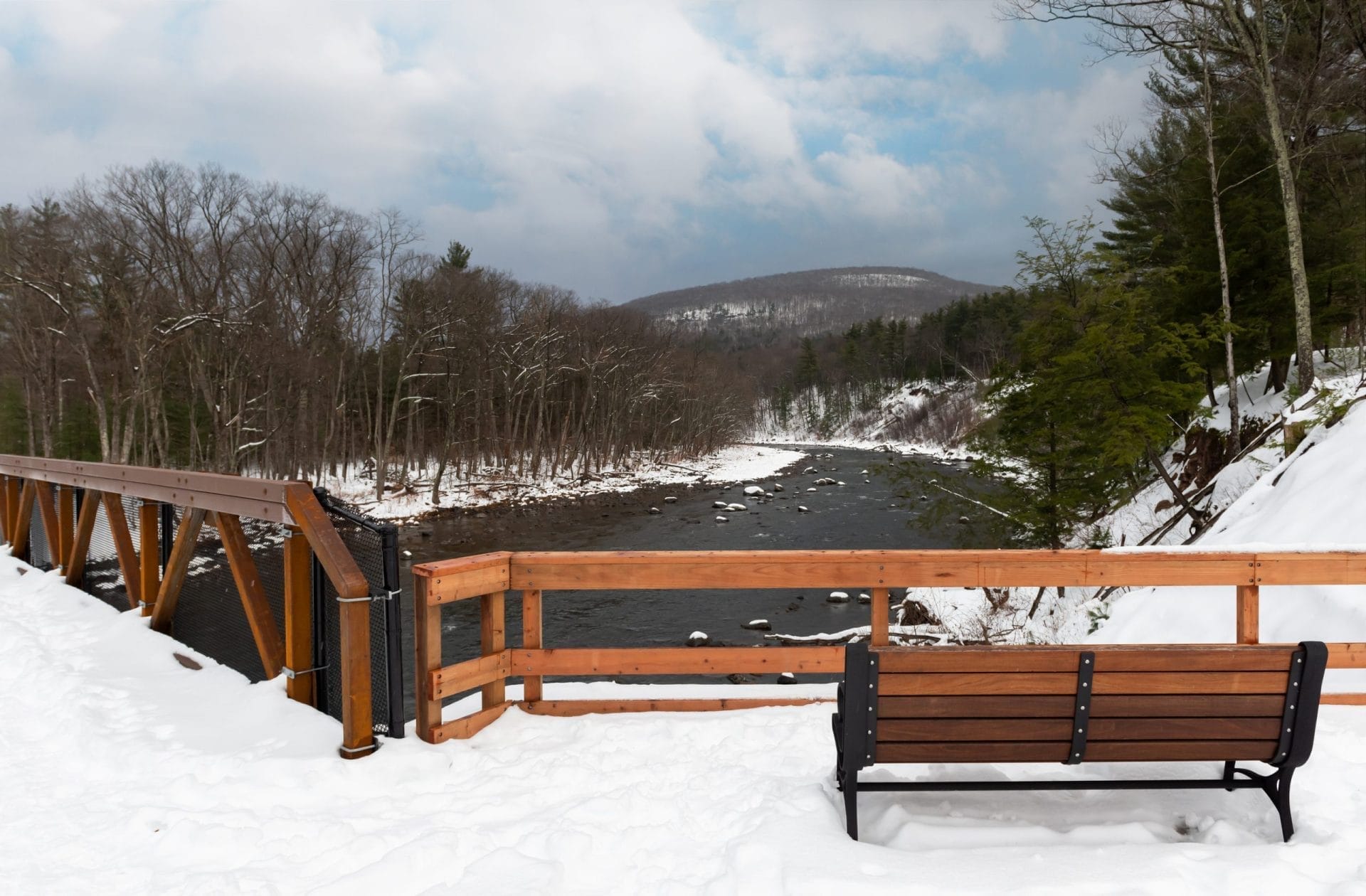 Hudson Valley Rail Trail
Distance from Poughkeepsie Station (POU): 0.9 miles to Walkway Over the Hudson
On the other side of the Walkway Over the Hudson is the Hudson Valley Rail Trail. Like the aforementioned Dutchess Rail Trail, hikers can take Amtrak to Poughkeepsie Station. For this trail, hikers should take the opposite side of the Walkway. The Hudson Valley Rail Trail takes hikers from Lloyd to New Paltz on a 9-mile hike. These nine miles are especially impressive during the winter months due to its wooded scenery. Typically, completion of this trail takes approximately three to five hours on foot and one hour by bicycle. Completing this trail offers a fun variety of activities, such as roller skating, horseback riding, biking. In the winter months, cross-country skiing and snowshoeing are available as well. No matter how you want to complete this trail, you'll be sure to enjoy yourself. If you forget to pack a lunch on the trail, there is a variety of eateries along the way.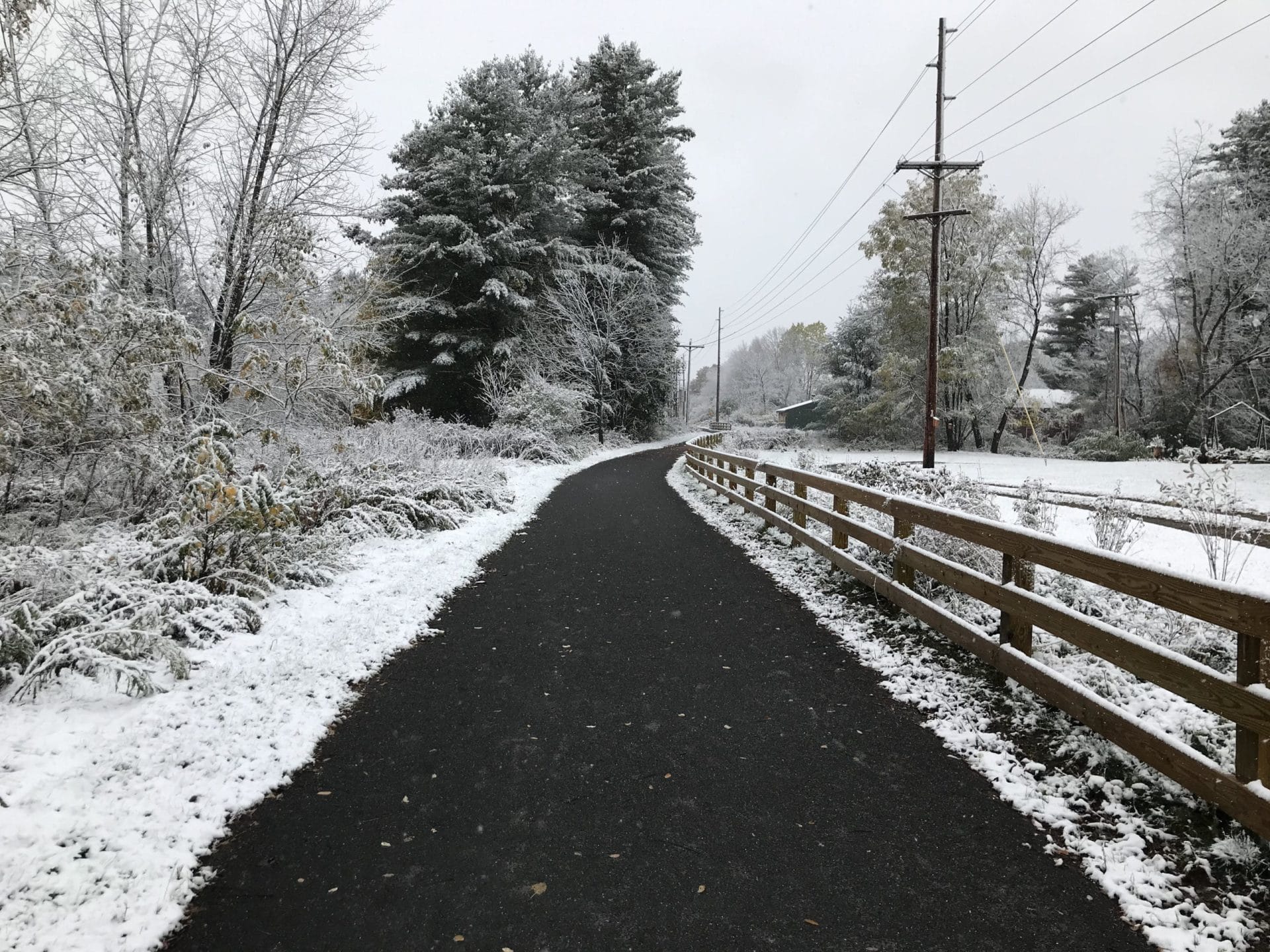 Albany-Hudson Electric Trail
Distance from Hudson Station (HUD): 2.6 miles from Lorenz Park.
Heading further upstate? The Albany-Hudson Electric Trail is a perfectly accessible traveling option beginning in Hudson. The history of this trail dates back to 1899 when a trolley began running along the trail. From Hudson to Albany, or vice versa, the trail stretches across 36 miles of land. For visitors who are looking to complete the entirety of the trail, there are multiple locations to spend your weekend while on your journey. Hikers opting for a shorter hike can walk from Hudson to Kinderhook for an 11-mile hike, lasting approximately four to six hours. Due to the weather conditions of the winter months, the Albany-Hudson Electric Trail will remain unplowed, making this trip the perfect opportunity to break out your snowshoes and cross-country skis. Be sure to check out American Glory BBQ in Hudson, NY to satisfy your hunger before or after your hike. For lodging, Wm. Farmer and Sons is a great resting place to visit off of the Albany-Hudson Election Trail.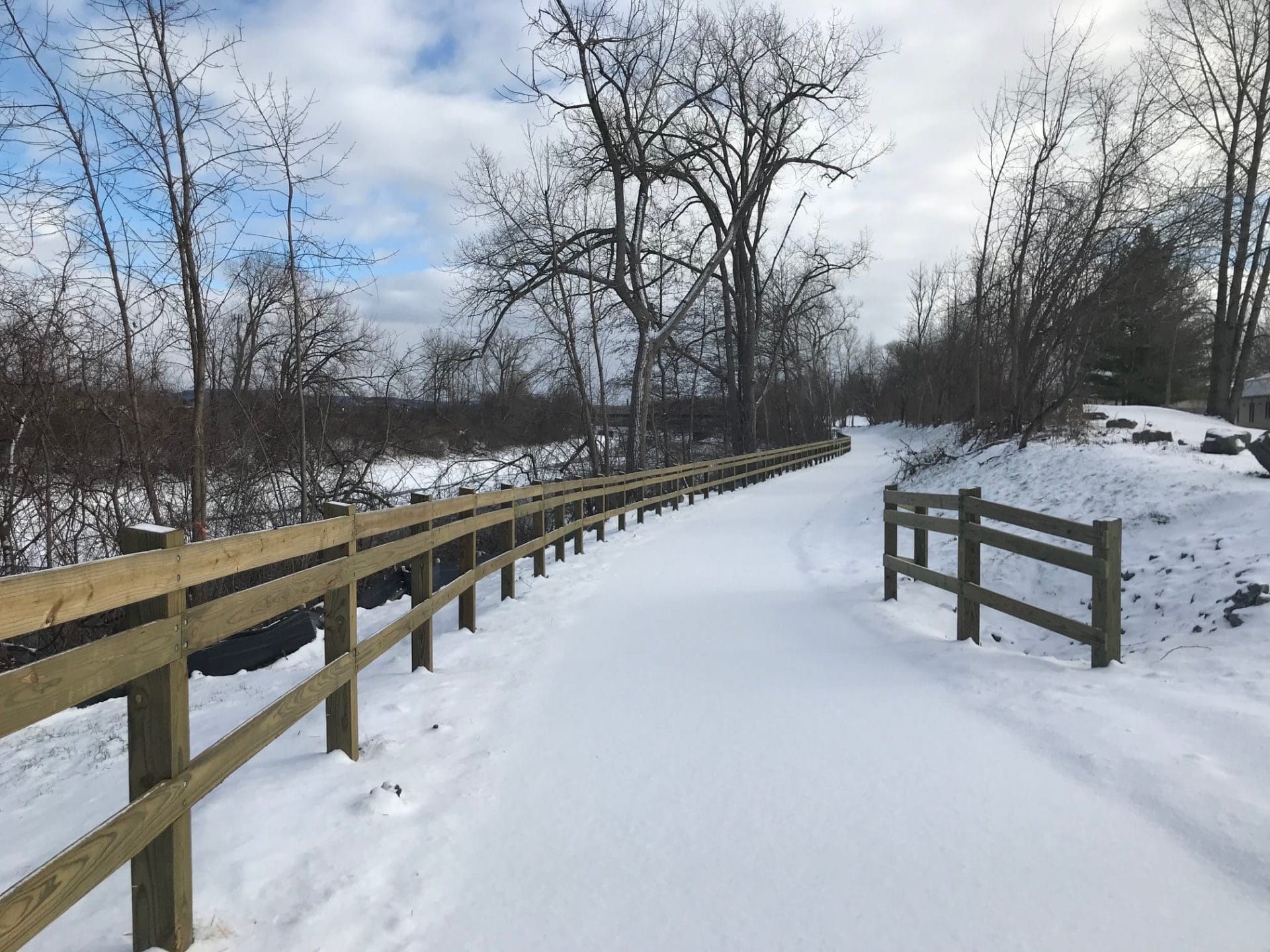 Mohawk Hudson Bike Hike Trail
Distance from Albany-Rensselaer Station (ALB): 0.3 miles to Riverfront Park.
Due to the current COVID-19 pandemic, much of the Champlain Valley Trail segment of the Empire State Trail is not currently accessible via Amtrak. Fortunately for train travelers, the Mohawk Hudson Bike Hike Trail segment is an exceptional hike that can still be reached by train. Hikers and bikers alike are encouraged to use their preferred method of traveling through nature on this 10 mile hike. The Mohawk Hudson Bike Hike Trail takes visitors from Albany to Peebles Island State Park. Typically lasting around three to five hours on foot and one hour by bike, this trail is an ideal way to make a day out of your hike.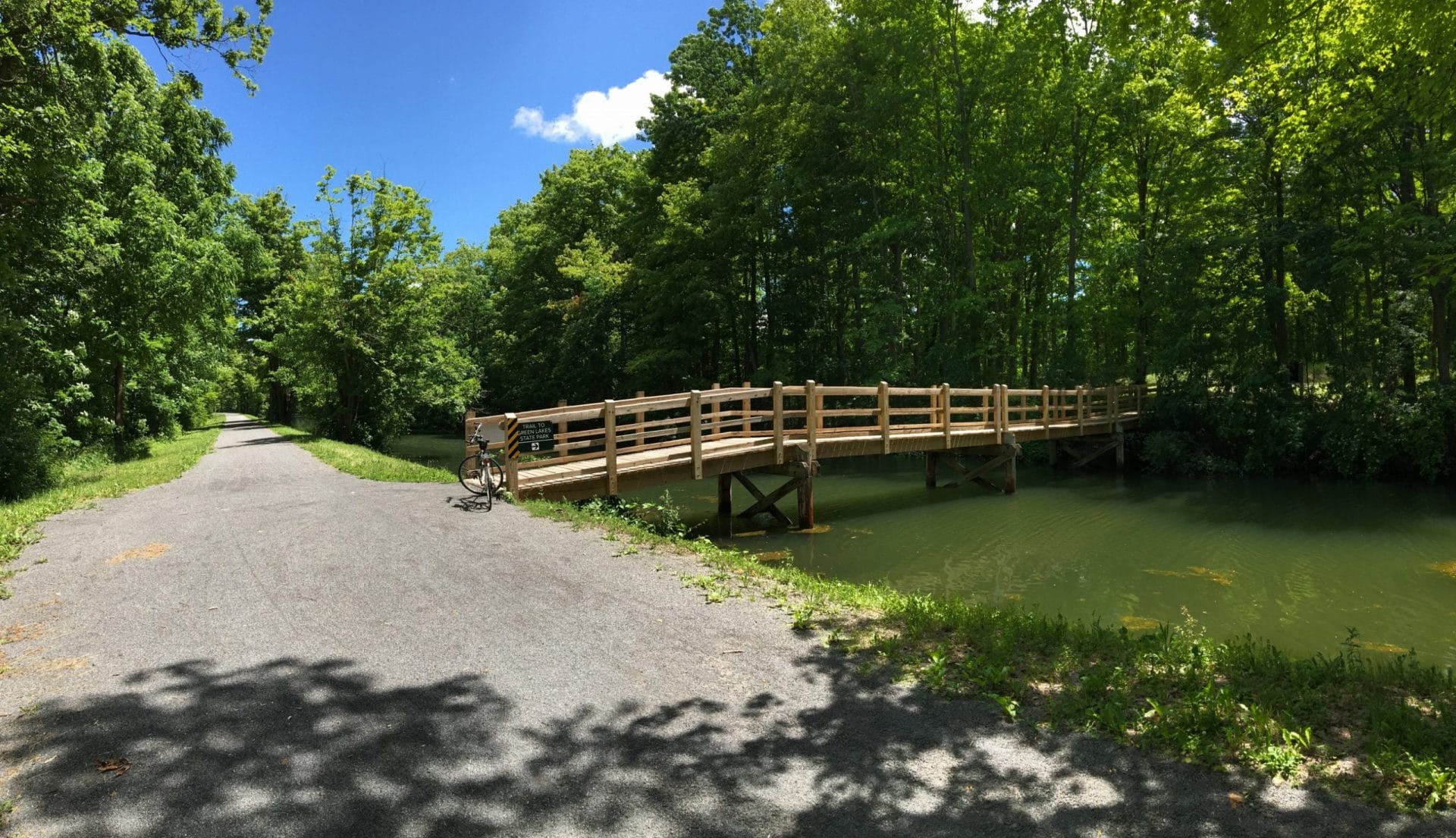 Empire State Trail
Distance from Syracuse Station (SYR): 3.3 miles to the beginning of the trail on Wallace Street
Playing the role of a connector between the Erie Canalway Trail, the Syracuse section of this trail shares the name of the Empire State Trail. This portion of the trail is a great option for hikers looking for something quick and easy. The Syracuse portion of the Empire State Trail is all on road and paved, making it an easy two to three hour hike or a brief thirty minute to one hour bike ride. This Syracuse to Dewitt section is only six miles. If you're someone who can't bear the cold for too long, this six mile hike is a great way to get out of the house while practicing social distancing without needing to commit to a lengthy hike. While on this trail, be sure to take full advantage of fun activities on the Erie Canalway, such as the Erie Canal Bike Tours.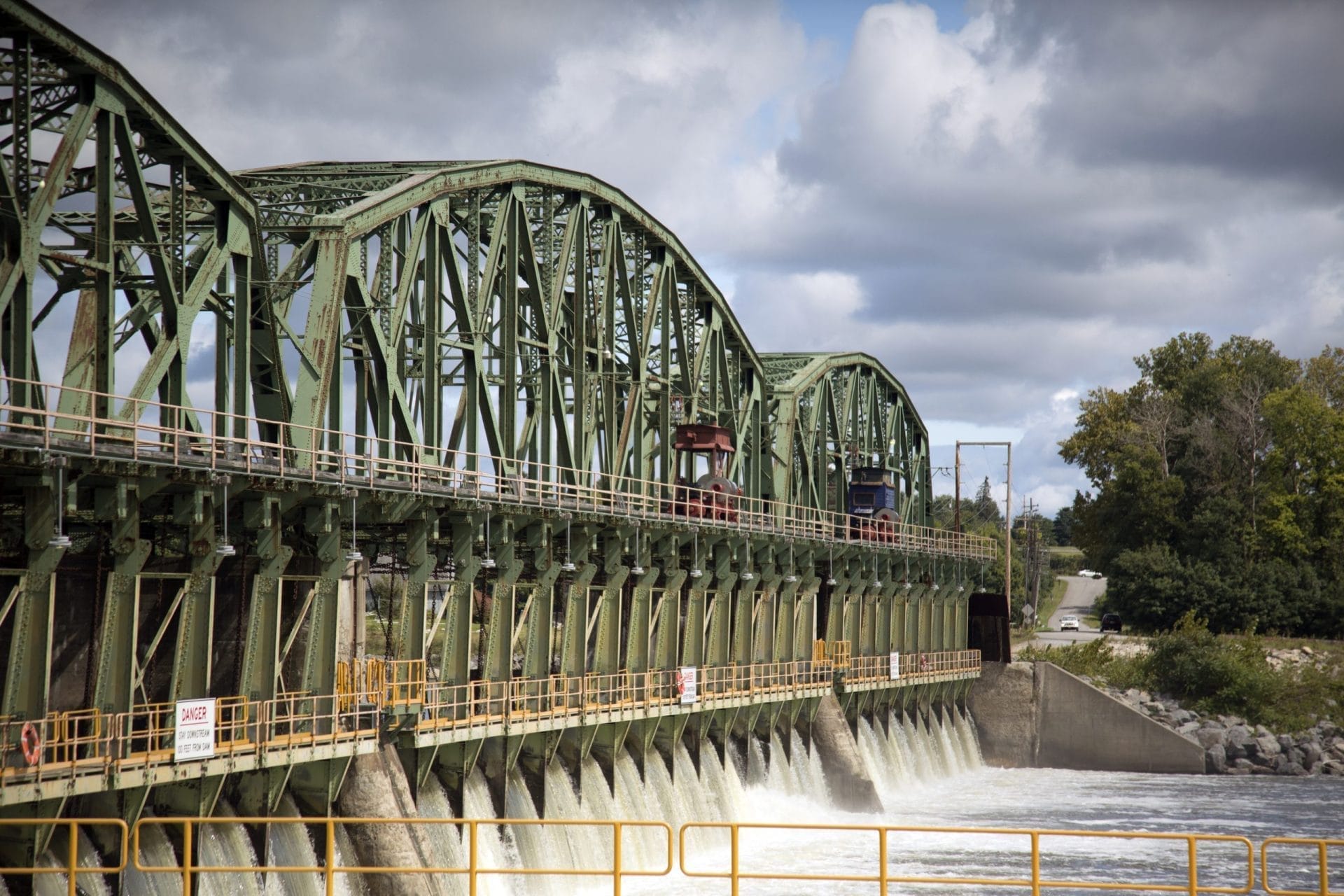 Erie Canalway Trail
Distance from Rochester Station (ROC): 3.6 miles to the Genesee Valley Park Gateway.
The Erie Canalway Trail itself encompasses a vast portion of Upstate New York, ranging from Tonawanda to Cohoes. Because of the great length of the trail, hikers may be interested in a shorter hike, while still being able to enjoy the Erie Canalway. By taking Amtrak to Rochester Station, hikers can begin their hike from Genesee Valley Park Gateway. From here you can opt for the shorter segment of Rochester to Fairport for a 14 mile hike, lasting around five to seven hours on foot, or one to one and a half hours by bicycle. Much like the other segments of the Empire State Trail, the Erie Canalway Trail is home to fascinating historical landmarks, such as the currently operational New York State Canal System.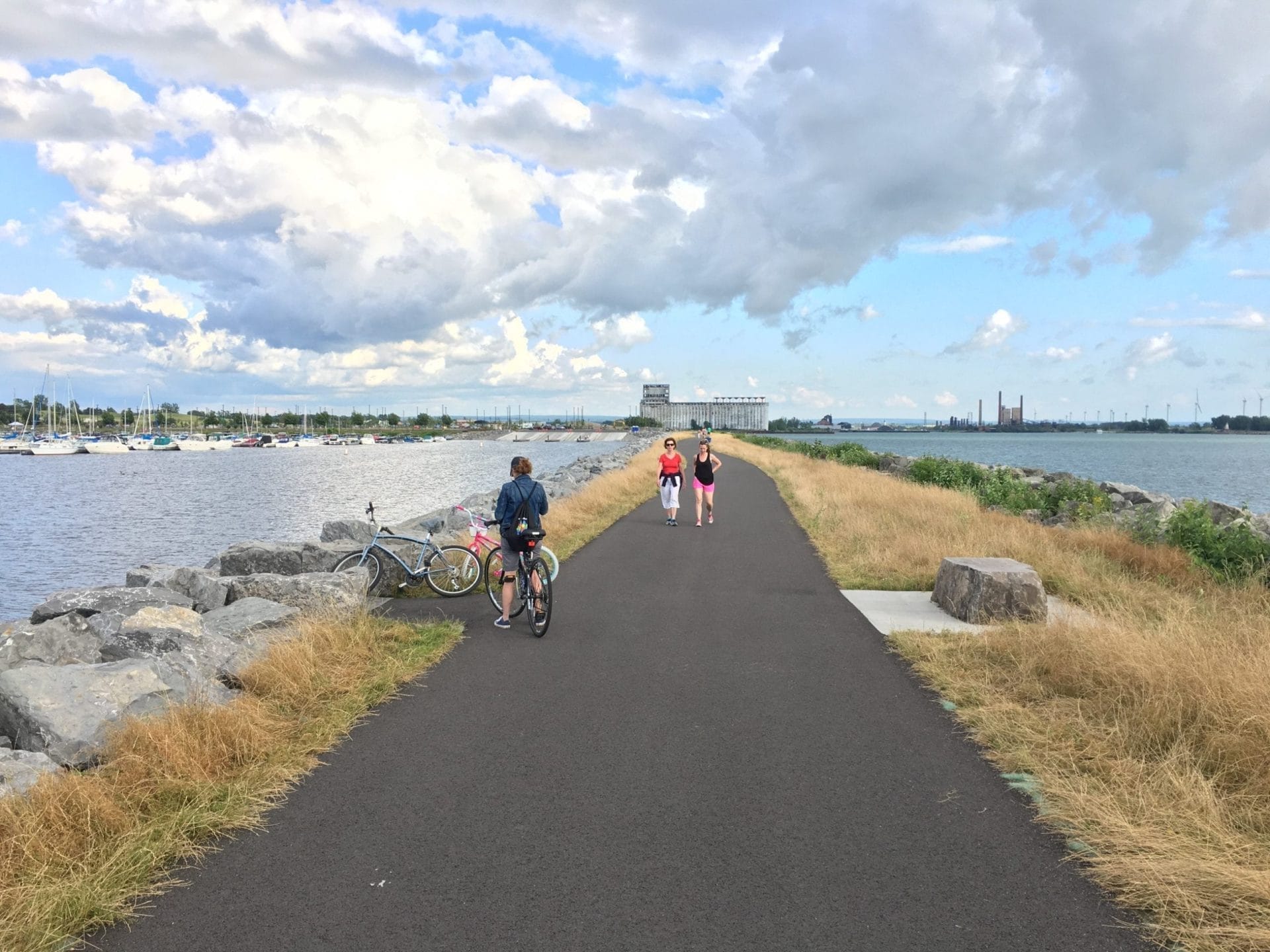 Shoreline Trail
Distance from Buffalo-Exchange Station (BFX): 1 mile to Marina Park South
Prefer hiking through Western New York? The Shoreline Trail is the perfect way to experience the winter months upstate. This particular trail is a segment of the Erie Canalway Trail. Buffalo, NY is certainly no stranger to snow during the winter, making it a prime location for cross-country skiers. Completion of the Shoreline Trail includes an eight mile hike from the City of Buffalo to Tonawanda. This trail usually takes hikers three to four hours to complete on foot and only one hour by bicycle. The Shoreline Trail is paved, making it the perfect opportunity for biking. Being that the trail is paved, it is also wheelchair accessible.
Hike any of these trails for the perfect winter adventure. For more information regarding the Empire State Trail, go to http://empiretrail.ny.gov